Home of Rogue Squadron
"Where we perform the impossible"
Last Updated: October 26, 1998
Want to donate needed harddrives? Robotech Research is looking for hardware! If you want to donate a harddrive to keep this page growing please E-mail me. olsonk@trans4.neep.wisc.edu
A new chat room is added, come discuss the Robotech and the RPG game at 8:00 CST on Wednesdays! Come stump the GM.
Welcome to the new and improved Robotech Research now located at robotech.neep.wisc.edu! Please feel free to explore. If you want to join Rogue Squadron and live near Eau Claire or Madison, Wisconsin, USA let me know
Help save Robotech and petition Cartoon Network to purchase the rights for the New Generation episodes. Sign the petition! The RDF needs your help. The Robotech petition is located here.
To all Rogue Squadron members: Gaming starts at 5:00 on October 10 1998.
Sign Robotech Research's Guestbook

View Robotech Research's Guestbook

Updated or added over the last two weeks:
Notes form KeN: None

Current Mission for Rogue Squadron
Date: 21 February 2030

Location: Low Earth Orbit

Mission: Attack Robotech Masters Fleet

Previous Missions Kill Sheet (1 August 1998):

Major David Olson - 2 Blue, 1 Green, 2 Warrior, 1 Warlock Bioroid and 1 Triumviroid
Staff Sergeant Milo Bloom -None
Staff Sergeant Daran Solarian - 4 Blue, 2 Warrior, 1 Warlock Bioroid and 2 Triumviroids
Sergeant Eirn Adkins - 2 Blue, 1 Red, 1 Warrior Bioroid and 3 Triumviroids
Private Slep - None
Private Gabriel Prescot - 1 Scout and 1 Warrior Bioroid

Next Meeting: Saturday October 10, 1998 5:00 pm at 3026 Aspen Ct.


Comments or Questions? E-mail me at olsonk@trans4.neep.wisc.edu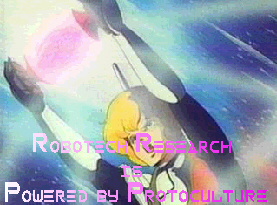 Legal Notices
"Robotech" and its associated terms and characters copyright Harmony Gold, Inc.
Robotech Revised Character Creation, Revised Character Sheets, Southern Cross Recruitment Manual, and Dragon's of the East are works derived from, or based on Palladium's Robotech RPG & Harmony Gold's Robotech Saga (c)1996 Palladium Books, All rights reserved world wide. No part of Palladium's work may be reproduced in part or whole, in any form or by any means, without permission from the publisher. Incidents, situations, institutions, governments and people are fictional and any similarity to characters or persons living or dead is strictly coincidental - except in regard to historical figures. Palladium Books, and RECON are registered trademarks owned and licensed by Kevin Siembieda and Palladium Books, Inc. Heroes Unlimited, Beyond the Supernatural, Ninjas & Superspies, Mega-Damage, S.D.C., I.S.P., P.P.E., are trademarks owned and licensed by Kevin Siembieda and Palladium Books, Inc.