---
Invid Quiltamma "Human Terminator"
(Version 1.03 - Last updated: 04/20/03)
Background and RPG Statistics by Kenneth Olson
Based on an original mecha design by BILL SPANGLER, TIM ELDRED and FRED PERRY.
Published in Eternity Comics' "Robotech Invid War"
BACKGROUND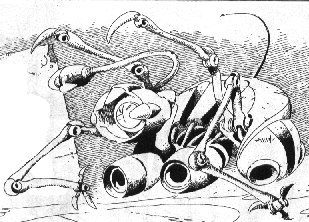 Upon arriving on Earth, the Invid Regis soon came to the realization that the previous occupants would not give up the planet without a fight. For similar reasons as the Invid Regent, she decided that she would have to augment her occupational forces while she was continuing her evolutionary experiments and developed the Human Terminator Inorganic towards this end.
The Invid Terminator took much from the her husbands designs, however there are some noticeable differences. One difference is that the terminator is not a front line unit, as the Regents Inorganics are, but used as a occupational force. As a result the Human Terminator only possess a single ranged weapon The Invid Regis knew that a majority of the human slaves resided in cities, and as a result ranged weapons would be of limited value. However, the terminator does possess considerable hand to hand capacities which could be used as an offensive weapon or used to capture resistance groups.
Several thousand terminators were produced during the first six years of the occupation of Earth. They preformed admirably against unarmed resistance groups and patrolling in urban areas. But they soon proved extremely vulnerable to the heavily armed resistance groups that controlled the surrounding wilderness. The Regis decided to discontinue production of the terminator in favor of expanding her evolutionary experiments. She felt that the results of these experiments would produce Invid that would be able to fight human resistance groups under any circumstance. The terminators numbers continued to decrease as units were constantly destroyed and not replaced. By the time the REF launched there final attack on earth only approximately 100 units were remaining.
RPG STATS
Vehicle Type: Invid Inorganic

Class: Invid Inorganic
Manufacturer: Regis
Crew: None
MDC BY LOCATION:
(1) Main Body                                            100
(2) Right/Left Antigrav Units (2)                        35  each
(2) Bottom Antigrav Units (2)                            25  each
(3) Legs (2)                                             15  each
(3) Arms (2)                                	 	 15  each
(3) Particle Beam Arm 				 	 35
    Head                                                 50
(3) Sensor Eye	                                         25


NOTES: 
Depleting the MDC of the main body will destroy the mecha
Destruction of Each antigrav unit will reduce the speed of the inorganic by 1/4
-3 To strike
SPEEDS:
RUNNING:

120 mph (192 kph)

LEAPING:

50 ft (15 m) high or 70 ft (21 m) long without thrusters.

Flying:

650 mph at altitudes under 5,000 feet.
STATISTICAL DATA:
HEIGHT:

5.0 ft

WIDTH:

6.0 ft

LENGTH:

12.0 ft

WEIGHT:

250 kg empty

PHYSICAL STRENGTH:

Equal to a P.S. of 30

CARGO:

None

POWER PLANT:

Two Invid Zgeri-4x protoculture generators. Each generator's maximum output is 2.5 MW at peak operating efficiency. The Invid terminator can operate at peak efficiency for 6 years.

Delta V:

Potentially unlimited with anti-grav units. However, these units were never used in space.
WEAPON SYSTEMS:
Particle Beam Cannon:

PRIMARY PURPOSE: Anti-personnel
SECONDARY PURPOSE: Anti-mecha
RANGE: 1,000 feet (304 m)
DAMAGE: 6d6 M.DC.
RATE OF FIRE: The particle beam cannon can fire four times per melee
PAYLOAD: Effectively Unlimited.

HAND TO HAND COMBAT: The Invid Terminator often engages in melee combat to capture or cripple its prey. In this area the terminator excels taking much from the design of the scrim

Blade/Claw: 3d4*3 MDC
Punch: 2d6*3 M.D
Tear/Pry: 2d4*3
Kick: 2d4*3
Body Block/Tackle: 2D6*3 M.D , 50% chance of knocking an opponent down, causing him to loose initiative and one attack that melee round.
Full Speed Body Block (only can use once per melee) 2d4*10 to target and 4d4 to Terminator, 95% chance of knocking opponent down, causing him to loose initiative and one attack that melee round.

Equipment of Note for Invid Terminator:
Protoculture Sensor: providing detection and tracking of active Protoculture-powered turbines. For detection of a high-power Veritech Fighter (such as an Alpha), good resolution extends out to 3km, fair resolution out to 6km, and poor resolution out to 16.8km. A typical Destroid is detectable at slightly more than half these distances, a Cyclone at four percent of these distances, and a Gallant rifle at about one percent of these distances. Similar mecha in service with the Regis from around 2035 to around 2040 operated equivalently at about twenty-five percent of the above ranges. Prior to around 2035, no Invid mecha were mounted with protoculture sensors.
Protoculture Targeting System: +3 to strike out to 2000 ft, +2 to 4000 ft, +1 out to 11,000 ft.
Optical Enhancement System: Visual (low spectral resolution) capable of up to 4x magnification. Night vision optics are also provided, but suffer even more from the poor spectral resolution.
External Audio Pickup: Range: 300 ft (91.5 m). A sound amplification system that can pick up normal conversation up to 300 feet away.
Short-range ultrasonic motion trackers
---
Random Hit Locations (Front):
| | |
| --- | --- |
| Location | Front |
| Main Body | 01-50 |
| Head | 51-70 |
| Lower Anti-Grav Units (2) | 71-80 |
| Side Anti-Grav Units (2) | 80-90 |
| Particle Beam Arm | 91-92 |
| Legs (2) | 93-94 |
| Arms (2) | 95-98 |
| Sensor Eye | 99-00 |
---
COMBAT BONUSES FOR THE TERMINATOR:
6 attacks per melee
+4 to strike with melee attacks, +3 with ranged attacks
+6 to parry
+5 to dodge in solder mode
+5 to initiative
Critical strikes on a roll of 18, 19, or 20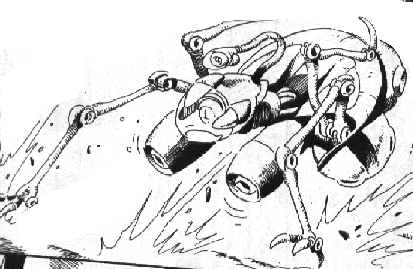 ---