---
Liraa Strike Scout
(Version 1.01 - Last updated: 5/21/98)
Concept and Background by Kenneth Olson
Background Information derived from Robotech Technical Files
HTML form provided by Dave Deitrich
BACKGROUND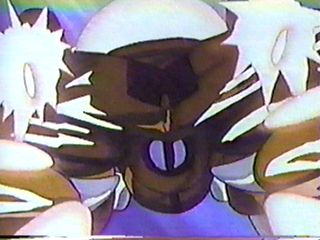 Notice Advanced Sensor Eye - Colored blue
Early in the occupation of the Earth, production facilities for the Iigaa and Gurab class of scouts, armored scouts, troopers and shock troopers were finished. These mecha were the easiest to design and build and as a natural result were the first to be produced on Earth. Soon after production began, the Invid Regis ordered facilities for the Gamo Pincer Command Units to be started. She quickly came to the realization that it would be several years for mass production of the Pincer units to begin. In the mean time, the Invid Regis knew that she would have to come up with an interim solution using the production facilities on hand to produce command mecha for her forces. The most obvious solution was to take the standard designs, and with some slight modifications make them into more powerful command units.
The first of these temporary units was the Liraa Strike Scout. Although outwardly similar to the armored scout, except for the blue sensor eye, the strike scout possesses several distinct improvements. First a larger power plant was added. The Zyerri class protoculture generator, typically found on the Invid Shock Trooper, along with a more powerful engine. Additional armor, a more advanced plasma cannon, and a highly sensitive protoculture sensor (shows as a blue eye on the "standard" armored scout body) was also added.
Several thousand Strike Units were produced. The design proved to be an effective one often surprising resistance groups with its improved weaponry, sensor capability, and armor; however, once the production of the Gamo Command Units began all research on the Strike Unit stopped. The most famous encounter of a Strike Scout against REF forces occurred in April 2043 when Lt. Commander Scott Bernard's resistance band encountered a reconnaissance group lead by a Strike Scout in the ruins of the REF's 7th Marine Division, code named point 'K'. This Invid group's mission was to observe the simuagent Ariel incorporation into the infamous resistance group. During the encounter, Scott Bernard commented on the improved maneuverability of what he thought was an armored scout although later analysis showed it to be a Strike Scout. The entire Invid reconnaissance group except for the Strike Scout was destroyed and the Strike Scout itself took heavy damage. However, it was able to continue to provide data to the Invid Regis after the battle.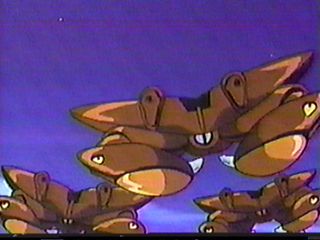 Strike Scout leading two standard Armor Scouts
RPG STATS
Vehicle Type: One person all weather combat mecha

Class: Invid combat mecha
Manufacturer: Invid Regis
Crew: One pilot. Any class of Invid can pilot the Strike Scout; however, usually type 3 were used.
MDC BY LOCATION:
| | |
| --- | --- |
| Location | Invid Strike Scout |
| Hand/Claw (2) | 20 |
| Forearms (2) | 60 |
| Upper Arms (2) | 25 |
| Legs & Feet (2) | 60 |
| Main Engine Thruster (rear) (1) | 30 |
| Pulse Beam Cannon (2) | 100 |
| (2) Sensor Eye | 20 |
| (1) Main Body | 100 |
| Reinforced Pilots Compartment | 20 |
		 
NOTES: 
Depleting the MDC of the main body will destroy the mecha.
The sensor eye is the most vulnerable place on the Invid's mecha body. Destruction of the sensor eye will destroy the mecha and pilot. However, it is a small target protected by surrounding shielding, thus, to hit the player must make a called shot at -3.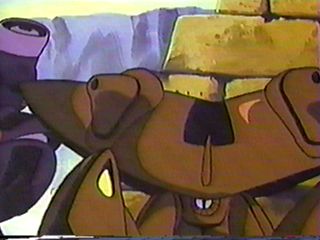 SPEEDS:
FLYING:

1200 kph in planetary atmospheres

RUNNING:

40 kph

LEAPING:

30 m
STATISTICAL DATA:
HEIGHT:

3.5 m

WEIGHT:

5.0 metric tonnes

PHYSICAL STRENGTH:

Equal to a P.S. of 40

CARGO:

None

POWER PLANT:

1 x Zyerri protoculture generator, same as shock trooper, with 6 protoculture canisters

Propulsion in Spaceborne operations:

Engines: one vectorable thruster port with total output of 75 kN

Delta V:

30 kps

Generator Endurance:

1 year of continual use
WEAPON SYSTEMS:

TWO PL-3X PLASMA CANNONS: The Invid Strike Scout has an experimental version of the standard PL-3L plasma cannons found on armored scouts. The PL-3X has a maximum range similar to that of the PL-3L; however, this experimental version fires bursts with 33% more energy.

PRIMARY PURPOSE: Assault
SECONDARY PURPOSE: Anti-mecha
RANGE: 4000 ft (1200m)
DAMAGE: One single blast 2d4 MDC, dual blasts 3d6, dual bursts 6d6
RATE OF FIRE: Six attacks per melee
PAYLOAD: Unlimited

HAND TO HAND COMBAT:. Like all Invid mecha the Invid Strike Scout possesses a considerable ability to engage in hand to hand combat

Punch/Claw: 4d6*3
Crush with Hand: 1d6*3
Tear or Pry: 1d6*3
Kick: 2d6*3
Body Block/Tackle: 2d6*3.
Stomp: 1d4*3 MDC (only effective against small objects)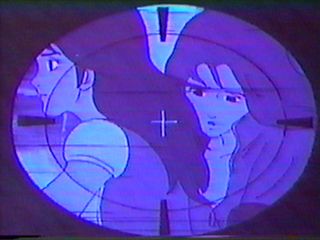 Sensor Display from Advanced Protoculture Sensor
STANDARD EQUIPMENT FOR INVID STRIKE SCOUT:
ADVANCED PROTOCULTURE SENSOR: The strike scout has an advanced version of the standard protoculture sensors, providing twice the detection range as the standard sensors found on all Invid mecha after 2035. Protoculture Sensors, providing detection and tracking of active Protoculture-powered turbines. For detection of a high-power Veritech Fighter (such as an Alpha), good resolution extends out to 6km, fair resolution out to 10km, and poor resolution out to 25km. A typical Destroid is detectable at slightly more than half these distances, a Cyclone at four percent of these distances, and a Gallant rifle at about one percent of these distances.
EXTERNAL AUDIO PICKUP: Range: 150 ft (91.5 m).
VISUAL: Capable of times 4 magnification
OPTICS: NIGHTVISION: Range: 200 meters. A passive light image intensifier that emits no light of its own, but relies on ambient light which is electronically amplified to produce a visible picture. However the system is more primitive than standard REF or Robotech forces.
SHORT RANGE ULTRASONIC MOTION TRACKERS: Range - 400 ft.
---

Wounded Strike Scout continues reconnaissance duty after entanglement with Scott Bernard
COMBAT BONUSES FOR INVID STRIKE SCOUT:
6 attacks per melee
+2 to roll with the punch
+1 to strike (+4/ +3 / +2 to strike with Protoculture sensor at short / medium / long)
+3 to parry
+4 to dodge
Related abilities: Prowl - 45%, Detect Ambush - 40%, Detect Concealment - 30%, Track - 30%
---
SOURCES USED IN CREATION OF DOCUMENT
Palladium's Robotech RPG: Invid Invasion
The Robotech Technical Files: Gurab Shock Trooper and Ligaa Armored Scout
---