---
HWR-01 Destroid Monster (a.k.a MAC-II G)

(Version 1.00 - Last updated: 5/20/98)
Original Concept by Smoke4free (Hanknet@aol.com)
BACKGROUND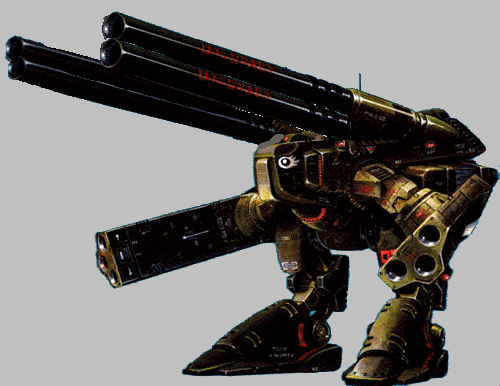 Immediately after the end of the First Robotech War, the Earth Defense Command came to the realization that future conflicts would not be fought with large numbers of Zentraedi but with smaller renegade units that had survived and were now thriving in South America, Africa, and South East Asia. With the pressure put on the mecha factories for producing mecha for the Robotech Expeditionary Forces, the RDF knew that they would have to make due with the units they had on hand.
Most of the Destroids and VF-1 series veritechs were already supremely adapted to fighting the Zentraedi under any circumstances and did not require any field modifications. However to the Robotech Bio-Engineers, the MAC-II series of destroids had limited use in ground based insurgency missions. This was for two main reasons. First the MAC-II has finite ammunition supplies, only 10 shots for each gun for the series I-III and 15 shots for the series IV, for its large Newport News projectile cannons. As a result, the MAC-II could not operate very far from its base of operations. In addition to the lack of ammunition, the MAC-II was extremely slow, possessing a top speed of only 35 kph.
The most obvious modification was to replace the 406 mm cannons with four PB-11 (extended) particle beam cannons. This resulted in a savings of 50 metric tons, while retaining the long range of the extended barrel PB-11. Although the maximum damage potential had decreased, the lack of ammunition would allow the MAC-II G to operate nearly indefinitely from RDF outposts. The weight savings increased the top speed to 50 kph. Although MAC-II pilots joked that instead of not being able to get to the battlefield during a conflict, they could now arrive to fire the final shot.
Some 50 MAC-II's were field upgraded to the G (for ground support) version. Fifteen of these units were placed immediately into action providing the ground support for Operation Dark Star, the containment of Khyron during Operation Star Saver in November of 2013. These mecha proved there worth destroying some 10 Zentraedi Pods in the first volley and destroying 25 units without suffering a single loss of their own. This was the final time that large groups of the MAC-II G would participate in an operation together. However, the MAC-II G series was highly successful, providing ground support for most of the major incursions into the Zentraedi Control zone.
RPG STATS
Vehicle Type:

Three or four man all weather heavy support Destroid

Class: Destroid
Manufacturer: Robotech Defense Forces
Crew: Three or Four - Commander, Pilot, and Weapons Officer (with optional sensors operator)
MDC BY LOCATION:
| | |
| --- | --- |
| Location | MAC-II G |
| Dual Particle Cannons (2) | 200 each |
| Upper Arms (2) | 100 each |
| Forearms/Tri Cannons (2) | 300 each |
| Legs (2) | 300 each |
| (1) Main Body | 400 |
| Reinforced Pilots Compartment | 250 |
NOTES:
Depleting the MDC of the main body will destroy the mecha.
SPEEDS:
RUNNING:

50 kph
STATISTICAL DATA:
HEIGHT:

22.5 m

DEPTH:

22.1 m (w/barrels), 13.1 m (w/o barrels)

BREADTH:

19.8 m

WEIGHT:

150.7 metric tons

PHYSICAL STRENGTH:

Equal to a P.S. of 60

CARGO:

Up to an additional eight passengers and/ or associated equipment

POWER PLANT:

WT-1001 Fusion Reactor 8.58 MW
CT-8P Fusion Reactor .66 MW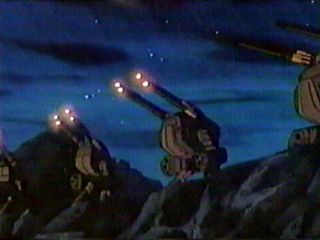 WEAPON SYSTEMS:
Dual Particle Cannons PB-11 (extended): The MAC-II G mounts two dual mounted extended PB-11. These weapons are in place of the Newport News mk6 406mm on the Mark I, II, and III or the Newport News mk8 381mm on the Mark IV. The PB-11 has a similar damage potential as the PB-11; however the longer barrel provides added collimnation and therefore increased range.

PRIMARY PURPOSE: Assault
SECONDARY PURPOSE: Anti-Mecha
RANGE: 12,700 m
DAMAGE: 5d10+25 for each single shot, 10d10+50 for each dual shot, or 20d10+100 for each quad shot (for GM's simplicity this is translated into 2d4*10, 4d4*10, and 8d4*10 respectively)
RATE OF FIRE: Equal to the combined attacks of the pilot and weapons officer.
PAYLOAD: Up to four times per melee for each cannon

2 x TRIPLE-BARREL RRG MK21 LASER CANNON: As with the MAC-II the MAC-II G has three laser cannons built into each arm.

PRIMARY PURPOSE:Assault/Defense
SECONDARY PURPOSE:Anti-mecha
RANGE: 16,000 m
DAMAGE: 3d4*10 for each volley
RATE OF FIRE: Equal to the combined attacks of the pilot and weapons officer
PAYLOAD: Eight triple bursts per melee

HAND TO HAND COMBAT: If necessary, the MAC-II G can engage in melee combat rather than use a weapon. The Condor is extremely agile and can execute most typical hand to hand combat moves, such as punches, jump kicks, leap attacks, rolling with impacts, etc.

DAMAGE:

Punch: 1D4*10
Stomp: 2D6*10 . (only effective against small objects)

STANDARD EQUIPMENT FOR THE MAC-II G:
COMBAT COMPUTER: The MAC-II G is equipped with a combat computer that can store and analyze data during combat with hostile forces. The combat computer tracks and identifies specific enemy targets, and has a database of over 10,000 images stored in memory. The computer can identify and track up to 250 targets simultaneously.
EXTERNAL AUDIO PICKUP: Range: 300 ft (91.5 m). A sound amplification system that can pick up normal conversation up to 300 feet away.
HEAT AND RADIATION SHIELDS: Special shielding prevents the penetration of life threatening head and radiation. A radiation detection and alarm system are linked with the shields and will sound an alarm if there is a rupture in the shields and what the levels of radiation are.
HOMING SIGNAL: The escape pod of the MAC-II G is equipped with a homing device that enables rescue teams to locate a disabled craft or ejected life pod. The range of the signal is 400 miles (640 km). Most RDF ships and veritechs can locate and track a homing signal, and the onboard computers will automatically notify their pilots if such a signal is detected.
LASER TARGETING SYSTEM: Range: 20 miles (160 km). Used for increased accuracy in the striking of enemy targets and is partly responsible for the mecha's strike bonus.
LOUDSPEAKER: A loudspeaker system is built into the craft, which can be used to amplify the pilot's voice up to 90 decibels.
OPTICS: INFRARED: Range: 2000 feet (610 m). This optical system projects a beam of infrared light that is invisible to the normal eye, but detectable by the mecha's sensors. The system allows the pilot to detect hidden/concealed objects by their IR reflectiveness. The beam will be visible to anyone with IR sensitive optics, however.
OPTICS: NIGHTVISION: Range: 2000 feet (610 m). A passive light image intensifier that emits no light of its own, but relies on ambient light which is electronically amplified to produce a visible picture.
OPTICS: THERMAL IMAGER: Range: 2000 feet (610 m). A passive optical heat sensor that detects infrared radiation projected by warm objects and converts that data into a false-color visible image. The system enables the pilot to see in the dark, in shadows, and through smoke, and also adds a +10% bonus to pilots using a tracking skill.
RADAR: 50 mile range.
RADIO/VIDEO COMMUNICATION: Long range, directional communications system with satellite relay capabilities. Range: 600 miles (960 km) or can be boosted indefinitely via satellite relay.
SELF-DESTRUCT: To prevent capture of an advance variable fighter by the enemy, the pilot can activate the MAC-II G self-destruct system, which will cause the fighter to explode after a delay of up to 60 minutes (time is set by the pilot). The explosive damage is contained within a 20 foot (6 m) area and inflicts 1D6x10 M.D. to everything within the radius of the explosion. All internal systems are obliterated. The escape pod will be automatically ejected prior to the explosion unless the pilot overrides the ejection sequence.
STANDARD SURVIVAL KIT: All REFs mecha come equipped with a portable survival kit. Inside the small reinforced box is a medium-sized flashlight, two hand flares, one rocket flare, a compass, infrared distancing binoculars, a small mirror, a pocket knife, dehydrated and concentrated food (can be stretched into a five day supply for one person) and basic first aid items (aspirin, bandages, disinfectants, etc.)
TACTICAL LIFE SUPPORT SYSTEM: The Condor's cockpit is pressurized, and also provides additional air feeds to the pilot's flight suit that provides him with pressurized breathing.
ELETTRONICA RADAR WARNING RECEIVER (RWR)
OLDEFT INFRA-RED WARNING RECEIVER (IRWR)
WESTINGHOUSE ALQ-250(V) ACTIVE SENSOR JAMMER

---
COMBAT BONUSES FOR MAC-IIG TRAINING:
2 attacks per melee (plus those of the pilot and weapons officer).
Add one additional action/attack at levels five and ten.
+1 to strike
+1 to parry
+0 to dodge
Can not roll with the punch
Critical strike same as pilot's hand-to-hand.
---

REFERENCES USED IN THIS DESIGN
Robotech Technical Files: HWR-00 Monster
Palladium Books: Robotech the Roll Playing Game