---
VHT-2K "The Gunslinger" Hovertank
(Version 1.02 - Last updated: 4/16/98)
Concept and Background by Kenneth Olson
Background Information derived from Robotech Technical Files
BACKGROUND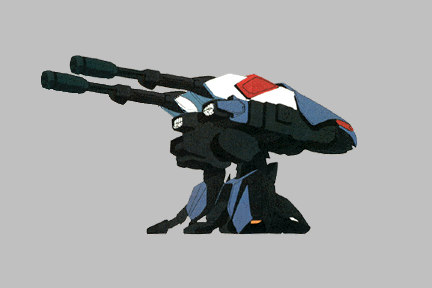 In early 2029, the Armies of the Southern Cross came to the realization that the hovertank for all its firepower was still underpowered. Under normal circumstances a single shot from the 120mm smoothbore cannon would destroy any blue or green bioroids. However, as the Robotech Masters increased the production of the more advanced Red and Bioroid Invid fighters, the much vaunted 120 mm smoothbore cannon proved inadequate. In an effort to increase the firepower of the hovertank, a new design VHT-1B was produced. This design removed the smoothbore cannon and replaced it with a particle beam cannon. This weapon had similar damage characteristics as the smoothbore weapon but without the ammunition requirements.
The VHT-1B proved to be an extremely successful design having the highest kill ratio of any of the mecha in the Armies of the Southern Cross. There were several problems. Although the particle cannon would inflect massive amounts of damage to any of the Robotech Master's Bioroids, an addition weapon system was needed to replace the Oerlikon triple barrel plasma pulse cannons. The pulse cannons were or limited use against bioroids. The Oerlikon weapon system is only truly effective against incoming missiles, which against the Robotech Masters has limited use. Combat engineers further discovered that although the main cannon had a payload of only 30 shots, with a recharge rate of 10 shots per hour, rarely would pilots deplete the weapon. Typically, pilots would fire 1-5 shots at extreme range and then transform in Battloid mode for close in combat.
Thus the VHT-2K project was born. Under the supervision of Miles Cochrane in Monument City, the VHT-2K would replace the ineffectual Oerlikon with a second main particle beam cannon. The engineers hoped that with the addition of a second cannon increased numbers of enemy units would be destroyed before the hovertank engaged the Bioroids at close range. The second cannon added addition weight to the standard hovertank, thus decreasing the speed in all modes. In addition, the second cannon takes up some of the space where the power generators in the VHT-1B are located. The smaller storage unit has a payload of 20 shots with a recharge rate of 10 shots per hour. This decrease in total payload was not thought to be a disadvantage because the hovertanks would still only be able to discharge 1-5 double shots before the enemy bioroids would close into the EU-11 range.
The initial production of 24 VHT-2K's was finished on July 29, 2030 just in time for the final attack on Monument city on August 8, 2030. One squadron was placed in defense of Newton and the other 12 placed in defense of Fokker Field outside of Monument city. The first squadron proved the designs worth, holding off 5 times their number. This group performed so admirably, that a Robotech Masters mother craft armed with a electro-particle beam destroyed the squadron along with the city's 15,000 persons. The second group also performed as expected obtaining a kill ration of 10 bioroids for each loss. The second squadron under the command of Captain Kris Stone was forced to retreat from the base once the sheer number of bioroids forced the group to retreat. Captain Stone was able to disengage his remaining five units.
At the end of the Second Robotech War, military resources for the Armies of the Southern Cross was extremely limited. However, the VHT-2K proved and extremely adept unit. An addition 100 were produced before the Inivd destroyed the remaining manufacturing facility outside of Tokyo. If it was possible, the VHT-2K proved even more suited for fights against the Invid. The main cannons could destroy any of the Invid mecha a distance. In addition the lack of ammunition based weaponry made the VHT-2K ideal for resistance groups. 37 Gunslingers survived the Invid occupation and participated on the final attack against reflex point.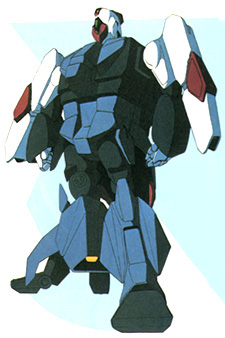 RPG STATS
Vehicle Type:

VHT-1K "The Gunslinger" Hovertank

Class: Advanced Veritec Hovertank
Manufacturer: Armies of the Southern Cross
Crew: One pilot wearing Tactical Life Support System.

A second person can either sit on the pilots lap or in the storage compartment behind the pilot
MDC BY LOCATION:
(1) Main Body                                            300
    Reinforced Pilots Compartment                        200
    Armored Hood	                                 50
    Head	 					 60
    Headlights (2 on top)		         	 5
    Hands (2)	          		   		 50
    Arms  (2)	 				  	 125
    Arm Shields (2)	 	 			 300
    Legs (2)		 			 	 200
    Retractable Hover Jets (2)			         55
(2) Rear, Lower Hover Jets (2)	 			 50
    Retractable Utility Arms (3)			 3
    Main Cannon (2)				         120
    EU-11 Gun Pod	 			 	 100

NOTES: 
Depleting the MDC of the main body will destroy the mecha
Note that the rear, lower hover jets are located on the rear underbelly or bottom of the transport mode, rear underside in tank mode, and lower back when in battloid mode. The front retractable hover jets are targets only in the transport mode. Loss of both prevents movement in that mode
Armor is laser resistant (all lasers do half damage)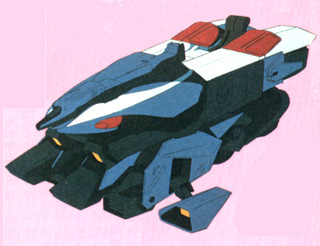 SPEEDS:
RUNNING, SOLDIER CONFIGURATION:

40 kph

LEAPING, SOLDIER CONFIGURATION:

10 m

Max Speed, TANK CONFIGURATION:

5 kph

Max Speed, HOVERTANK CONFIGURATION:

100 kph
Max sustained hover height: 1.5 meters
STATISTICAL DATA:
HEIGHT:

2.25 m in Hovertank
4.50 m in Tank
6.20 m in Battloid

WIDTH:

2.70 m in Hovertank
2.25 m in Tank

LENGTH:

6.00 m in Hovertank
7.75 m in Tank

WEIGHT:

21,000 kg fully loaded

PHYSICAL STRENGTH:

Equal to a P.S. of 60

CARGO:

Small compartment behind pilot's seat for personal belongings.

POWER PLANT:

4x P&W HJ-800 hover jets, max output of 71 kN of ground effect thrust each. Peak hovering performance at 1 meter altitude. 1 x Micronized SCRR-mk 11 protoculuture generator.

Propulsion in Spaceborne operations:

2x TurboUnion RP-2S rocket pods, attached to the leg mounted hover jets. Maximum thrust 103 kN each for up to 70 seconds.

Delta V:

5 kilometers/second with internal stores.

Generator Endurance:

8 years

COMPATIBLE FAST PACKS:

None.

WEAPON SYSTEMS:
Main Cannon: The Gunslinger possesses two 120 mm particle beam cannons

PRIMARY PURPOSE: Assault/Defense
SECONDARY PURPOSE: Anti-Aircraft
RANGE: 8,000 ft (2400m)
DAMAGE: 3d4*10 per each individual blase
RATE OF FIRE: In Tank/Guardian mode it can fire as many times equal to the pilots hand to hand attacks. In battloid mode, each gun can fire up to 2 times per melee at -5 to strike
PAYLOAD: Conditionally Unlimited. The main gun can shoot up to 20 times within one hour or less. Unfortunately the energy drain is incredible, the dualist uses the same energy generator as the standard hovertank. The particle beam cannon recharges at a rate of 10 shots per hour.
Notes: These weapons are incredibly unwieldy and can not shoot at incoming missiles.

EU-11: .

PRIMARY PURPOSE: Anti-mecha
SECONDARY PURPOSE: Assault/Defense
RANGE: 4000 feet (1200 m)
DAMAGE: 1d4*10
RATE OF FIRE: Single shots only
PAYLOAD: Effectively Unlimited.

HAND TO HAND COMBAT: If necessary, the Dualist can engage in melee combat rather than use a weapon..

Restrained punch: 1d4*3
Full Punch: 2d6*3
Power Punch: 2d6*3+18
Kick: 1d6*3
Leap Kick: 2d6*3
Body Block/Tackle: 2D6*3.
Stomp: 1d4*3 MDC (only effective against small objects)


STANDARD EQUIPMENT FOR THE VHT-2K:
COMBAT COMPUTER: The Raven is equipped with a combat computer which calculates, stores, and transmits data onto the cockpit computer screen or head-up display (HUD) of the pilot's helmet. Patches in with the targeting computer
EXTERNAL AUDIO PICKUP: Range: 300 ft (91.5 m). A sound amplification system that can pick up normal conversation up to 300 feet away.
HEAT AND RADIATION SHIELDS: Special shielding prevents the penetration of life threatening head and radiation. A radiation detection and alarm system are linked with the shields and will sound an alarm if there is a rupture in the shields and what the levels of radiation are.
HOMING SIGNAL: The escape pod of the Raven is equipped with a homing device that enables rescue teams to locate a disabled craft or ejected life pod. The range of the signal is 200 miles (320 km). Most RDF, Southern Cross, and REF ships and veritecs can locate and track a homing signal. The onboard computers will automatically notify their pilots if such a signal is detected.
LASER COMMUNICATIONS: Long range, directional communication system. Effective range: 100,000 miles
LASER TARGETING SYSTEM: Range: 50 miles (160 km). Used for increased accuracy in the striking of enemy targets and is partly responsible for the mecha's strike bonus.
LOUDSPEAKER: A loudspeaker system is built into the craft, which can be used to amplify the pilot's voice up to 90 decibels.
OPTICS: NIGHTVISION: Range: 2000 feet (610 m). A passive light image intensifier that emits no light of its own, but relies on ambient light which is electronically amplified to produce a visible picture.
OPTICS: THERMAL IMAGER: Range: 2000 feet (610 m). A passive optical heat sensor that detects infrared radiation projected by warm objects and converts that data into a false-color visible image. The system enables the pilot to see in the dark, in shadows, and through smoke, and also adds a +10% bonus to pilots using a tracking skill.
RADAR: Westinghouse TPG-144X band pulse doppler phased array medium range radar with battlefield surveillance mode. range 80 mile (128 km)
RADIO/VIDEO COMMUNICATION: Long range, directional communications system with satellite relay capabilities. Range: 600 miles (960 km) or can be boosted indefinitely via satellite relay.
SELF-DESTRUCT: To prevent capture of an advance variable fighter by the enemy, the pilot can activate the Raven's self-destruct system, which will cause the fighter to explode after a delay of up to 60 minutes (time is set by the pilot). The explosive damage is contained within a 20 foot (6 m) area and inflicts 1D6x10 M.D. to everything within the radius of the explosion. All internal systems are obliterated. The escape pod will be automatically ejected prior to the explosion unless the pilot overrides the ejection sequence.
STANDARD SURVIVAL KIT: All Southern Cross Hovertanks come equipped with a portable survival kit. Inside the small reinforced box is a medium-sized flashlight, two hand flares, one rocket flare, a compass, infrared distancing binoculars, a small mirror, a pocket knife, dehydrated and concentrated food (can be stretched into a five day supply for one person) and basic first aid items (aspirin, bandages, disinfectants, etc.)
---
COMBAT BONUSES FOR VHT-2K:
ADVANCEDCOMBAT TRAINING
3 attacks per melee (plus those of the pilot).
One additional attack at levels 6 and 11
+3 to roll with the punch
+1 to strike
+3 to parry
+3 to dodge in Hovertank, +0 in Tank, +1 in Battloid
Critical strike same as pilot's hand-to-hand.
BASIC COMBAT TRAINING
1 attack per melee (plus those of the pilot)
One addition attack at levels 7 and 12
+2 to roll with the punch
+0 to strike
+2 to dodge in Hovertank, otherwise +0
---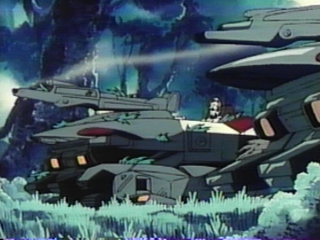 SOURCES USED IN CREATION OF DOCUMENT
Palladium's Robotech RPG Book IV: Southern Cross
The Robotech Technical Files: VHT-1 Hovertank
---