---
Bioroid Terran Fighter
(Version 1.04 - Last updated: 5/7/98)
RPG Stats and Background by Kenneth Olson
Based on an original mecha design by Fred Perry, ARNie, JoeMing Dunn, Doug Dlin
Published in Antarctic Press Robotech #6
BACKGROUND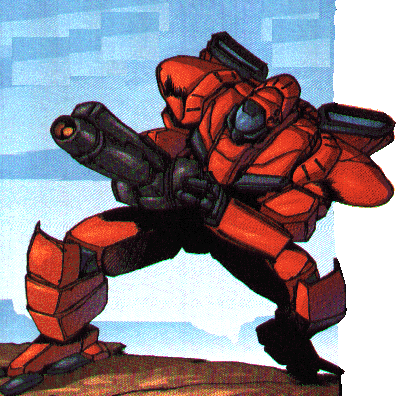 At the end of the Second Robotech War, the Robotech Masters became aware of the remaining Malcontent Zentraedi groups in and around Manaus. Although their numbers had been greatly decreased over 20 years, their fighting spirit had not. These remaining groups had become extremely adept at fighting the RDF and then the Armies of the Southern Cross. The Robotech Masters felt that they had discovered a worthy ally against the Armies of the Southern Cross. In the fall of 2029, a small group of Robotech Master Scientist landed outside of Manaus and set up a manufacturing facility to produce weapons of war for the Zentraedi. Thus the Bioroid Terran Fighter was born.
The Bioroid Terran fighter was produced using mostly salvaged materials from South America, much like the Stinger. However, unlike the Stinger, each of the Bioroid Terran fighters would look and perform similarly. Because of the relative primitive construction methods, although leap years ahead of Zentraedi production methods, the mental control was removed. In its place a conventional control system was installed. Thus the Terran fighter is not nearly as responsive as its original Bioroid brethren. However the Terran Fighter is far more armored. This was done in response to Zentraedi requests, as they had learned the importance of armored mecha and reinforced pilots compartments.
The original Bioroid Terran fighter manufacturing facility was destroyed by the elite RDF Rogue Squadron under somewhat mysterious circumstances near the end of the Second Robotech War. However, several hundred units were produced. The initial results were so promising that after the war, two downed motherships, one in Africa and one in North America, began production. The factory in Africa was destroyed soon after its initial production; however the North American site, located in what was the state of Arizona, was able to defend itself against persistent attacks by the Alpha Tactical Armored Corps. The Arizona Robotech State produced approximately 250 Terran fighters in the interim years between the end of the 2nd Robotech War and the beginning of the third. The Arizona factory was completely obliterated by the Invid; however dozens of the Terran fighters were able to escape and many ended up in resistance groups fighting against the Invid until the liberation of Earth.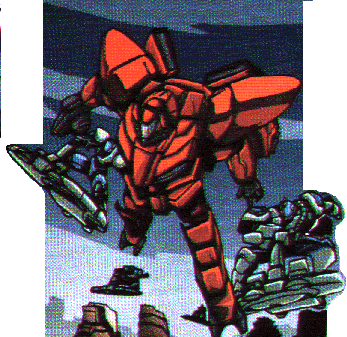 RPG STATS
Vehicle Type: One person all weather ground combat mecha

Class: Tirolian Bioroid
Manufacturer: Robotech Masters
Crew: One pilot. Although possible a second person can sit on the pilots lap. However, this was rarely if ever done.
MDC BY LOCATION:
| | |
| --- | --- |
| Location | |
| (1) Main Body | 300 |
| Head | 100 |
| Reinforced Pilots Compartment | 50 |
| Hands (2) | 40 |
| Arms (2) | 120 |
| Legs (2) | 175 |
| Hand Weapon | 100 |
| (2) Anti Grav Units (2) | 100 |
		 
NOTES: 
Depleting the MDC of the main body will destroy the mecha.
Destruction of the Anti-Grav units will send the Terran fighter plummeting to the ground.
SPEEDS:
RUNNING:

60 kph

FLYING:

700 kph

LEAPING, SOLDIER CONFIGURATION:

10 m
STATISTICAL DATA:
HEIGHT:

7.0m

WEIGHT:

13.5 metric tons

PHYSICAL STRENGTH:

Equal to a P.S. of 60

CARGO:

None

POWER PLANT:

1 x Zorr'lev-13-DCr protoculture generator

Propulsion in Spaceborne operations:

2x Anti-grav Tsei-3 units located on either side of the back

Delta V:

Conditionally unlimited

Generator Endurance:

7 years
WEAPON SYSTEMS:

Three barreled 85 mm Weapons Drum: For the exclusive use with the Terran Fighter. The Robotech scientists decided that the only weapon the Bioroid Terran Fighter would have is this massive projectile weapon.

PRIMARY PURPOSE: Assault/Defense
SECONDARY PURPOSE: Anti-Aircraft
RANGE: 6,000 ft (1800 m)
DAMAGE: short bursts 1d6*10, long bursts 2d6*10.
RATE OF FIRE: Equal to the total number of H-to-H attacks
PAYLOAD: 50 short bursts or 25 long

HAND TO HAND COMBAT:.

Restrained Punch 1d6*3
Full Punch: 4d6*3
Power Punch: 4d6*3+12
Tear or Pry: 3d6*3
Kick: 3d6*3
Leap Kick: 5d6*3
Leap Kick: 4d6*3
Body Block/Tackle: 4D6*3.
Stomp: 2d4*3 MDC (only effective against small objects)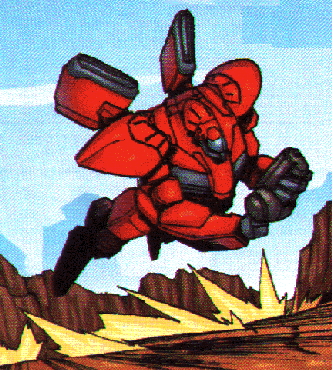 STANDARD EQUIPMENT FOR BIOROIDS:
CONVENTIONAL CCONTROL SYSTEMS: Unlike the other bioroids, the Terran fighter is controlled through conventional means. This means that the terran fighter is not as responsive as other bioroids (in game terms fewer hand to hand attacks). This was done in order to elimite the need to produce the sophisticated mental control gear necessary for standard bioroids.
COMBAT COMPUTER: The Terran Fighter possesses a combat computer that can track some 50 targets.
RADAR: One spherical phased array radar with surveillance modes, effective range over 40 km.
EXTERNAL AUDIO PICKUP: Range: 300 ft (91.5 m). A sound amplification system that can pick up normal conversation up to 300 feet away.
HEAT AND RADIATION SHIELDS: Special shielding prevents the penetration of life threatening heat and radiation. A radiation detection and alarm system are linked with the shields and will sound an alarm if there is a rupture in the shields and what the levels of radiation are.
LASER COMMUNICATIONS: Long range, directional communication system. Effective range: 100,000 miles
LASER TARGETING SYSTEM: Range: 50 miles (160 km). Used for increased accuracy in the striking of enemy targets and is partly responsible for the mecha's strike bonus.
LOUDSPEAKER: A loudspeaker system is built into the craft, which can be used to amplify the pilot's voice up to 90 decibels.
OPTICS: NIGHTVISION: Range: 2000 feet (610 m). A passive light image intensifier that emits no light of its own, but relies on ambient light which is electronically amplified to produce a visible picture.
OPTICS: THERMAL IMAGER: Range: 2000 feet (610 m). A passive optical heat sensor that detects infrared radiation projected by warm objects and converts that data into a false-color visible image. The system enables the pilot to see in the dark, in shadows, and through smoke, and also adds a +10% bonus to pilots using a tracking skill.
RADIO/VIDEO COMMUNICATION: Long range, directional communications system with satellite relay capabilities. Range: 600 miles (960 km) or can be boosted indefinitely via satellite relay.
ACTIVE PASSIVE JAMMING SYSTEMS: These systems can be used to jam both sensors and missiles.
---
COMBAT BONUSES FOR Bioroid Training:
HAND TO HAND COMBAT BONUS FOR TERRAN FIGHTER
4 attacks per melee plus those of the pilot
One additional attack at levels 5 and 10
+3 to roll with the punch
+2 to strike
+2 to parry
+3 dodge / +8 with sled although rarely used
---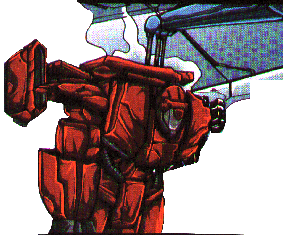 SOURCES USED IN CREATION OF DOCUMENT
Palladium's Robotech RPG Book IV: Southern Cross
The Robotech Technical Files: Bioroid
---