---
Officer Power Armor
(Version 1.00 - Last updated: 5/7/98)
Concept and Background by Kenneth Olson
Background Information derived from Robotech Technical Files
BACKGROUND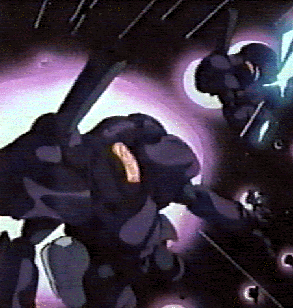 The Male Power armor was the primary mecha of the Zentraedi's Air Mobile Calvary. With its limited flight capabilities, the Male Power amour could be released from high orbit fighting its way to the surface. Upon reaching the surface, battloids of Male Power armors would entrench and hold any ground until reinforcements of Battle Pods landed. As the war against the Invid proceeded, the Robotech Masters came to the realization that command personnel for the Air Mobile Calvary were increasingly coming under fire from the planetary and mecha defenses. They decided that a new more advanced Officers Power Armor with increased sensor and amour capabilities was needed for their elite troops.
The Officer Power armor takes much from its predecessor, as the basic body shape remains the same. However, the forward impact cannon, which was largely ineffective, was removed. The weight saved was thus devoted to increased amour and the addition three more powerful plasma shock expansion thrusters, producing 33% more thrust. The only mounted weapon was the new PB-11, able to fire larger energy bursts at a higher rate of fire over the older PB-10 design found on the Male Power amour. An external pistol version of the Zentraedi Shock rifle was standard complement, as the designers could not bare to have a design with only one range weapon. To help the standard Zentraedi soldier distinguish between these two types of power armors, the Officer Power armor was colored purple
The Male Power Armor was produced only in limited qualities at the end of the Robotech Masters Empire, as lack of protoculutre and manufacturing facilities took a toll on the project. Only some 20,000 Officer Power armors were produced. A majority of these never saw combat with the Invid, but instead entered combat for the first time when Dolza attacked earth on June 18, 2011. A majority of these mecha were destroyed during the fight. However, several hundred survived and landed on the Earth's surface. The last Officer Power Armor was believed to have been destroyed in May 2032 while leading a raid against a Southern Cross outpost in South America.
RPG STATS
Vehicle Type: One person all weather ground combat mecha

Class: Zentraedi Power Armor
Manufacturer: Robotech Masters
Crew: One pilot
MDC BY LOCATION:
| | |
| --- | --- |
| Location | Officer Power Armor |
| (1) Main Body | 200 |
| Head/Helmet | 100 |
| Zentraedi Blaster | 40 |
| Hands (2) | 30 |
| Arms (2) | 75 |
| Legs (2) | 125 |
| Particle Beam | 75 |
| Engine Thruster | 50 |
		 
NOTES: 
Depleting the MDC of the main body will destroy the mecha.
SPEEDS:
FLYING:

800 kph in plantary atmospheres

RUNNING:

80 kph

LEAPING, SOLDIER CONFIGURATION:

30 m
STATISTICAL DATA:
HEIGHT:

15.5m

WEIGHT:

15.0 metric tonnes

PHYSICAL STRENGTH:

Equal to a P.S. of 60

CARGO:

None

POWER PLANT:

1 x Xot'zerr-7-DCr protoculture generator with multiple protoculture canisters

Propulsion in Spaceborne operations:

Engines: three plasma-shock expansion thrusters in the back, output 120 kN.

Delta V:

68 kps

Generator Endurance:

15 days of continuous use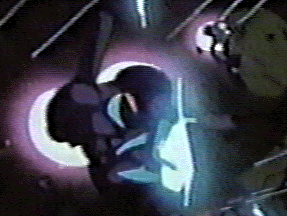 WEAPON SYSTEMS:
PARTICLE BEAM CANNON: The Officer Power armor has a PB-11 particle beam cannon. This cannon can discharge more energy per shot and fire more shots per minute than the standard PB-10 cannon found on male power armors

PRIMARY PURPOSE: Assault/Defense
SECONDARY PURPOSE: Anti-mecha
RANGE: 3200 m
DAMAGE: 5D10+25
RATE OF FIRE: Up to 4 times per melee
PAYLOAD: Unlimited

ZENTRAEDI BLASTER: The Zentraedi Blaster is a hand held weapon that is used instead of the standard laser pistol

PRIMARY PURPOSE: Assault/Defense
SECONDARY PURPOSE: Anti-mecha
RANGE: 1000 m
DAMAGE: single shots 3d6, short bursts 6d6
RATE OF FIRE: Equal to the total number of H-to-H attacks
PAYLOAD: 100 single shots or 33 short bursts

HAND TO HAND COMBAT:.

Restrained Punch 1d6*3
Full Punch: 2d6*3
Power Punch: 2d6*3+12
Tear or Pry: 1d6*3
Kick: 1d6*3
Leap Kick: 2d6*3
Leap Kick: 2d6*3
Body Block/Tackle: 2D6*3.
Stomp: 1d4*3 MDC (only effective against small objects)


STANDARD EQUIPMENT FOR OFFICER POWER ARMOR:
COMBAT COMPUTER: The combat computer can identify and track 48 targets.
RADAR: The Officer Power Armor possesses a short range radar with a range of 35km.
EXTERNAL AUDIO PICKUP: Range: 300 ft (91.5 m). A sound amplification system that can pick up normal conversation up to 300 feet away.
HEAT AND RADIATION SHIELDS: Special shielding prevents the penetration of life threatening heat and radiation. A radiation detection and alarm system are linked with the shields and will sound an alarm if there is a rupture in the shields and what the levels of radiation are.
LASER TARGETING SYSTEM: Range: 50 miles (160 km). Used for increased accuracy in the striking of enemy targets and is partly responsible for the mecha's strike bonus.
LOUDSPEAKER: A loudspeaker system is built into the craft, which can be used to amplify the pilot's voice up to 90 decibels.
OPTICS: NIGHTVISION: Range: 2000 feet (610 m). A passive light image intensifier that emits no light of its own, but relies on ambient light which is electronically amplified to produce a visible picture.
OPTICS: THERMAL IMAGER: Range: 2000 feet (610 m). A passive optical heat sensor that detects infrared radiation projected by warm objects and converts that data into a false-color visible image. The system enables the pilot to see in the dark, in shadows, and through smoke, and also adds a +10% bonus to pilots using a tracking skill.
OPTICS: Telescopic optics (x10 magnification)
RADIO/VIDEO COMMUNICATION: Long range, directional communications system with satellite relay capabilities. Range: 600 miles (960 km) or can be boosted indefinitely via satellite relay.
LOW POWER BROAD BAND SENSOR JAMMER: These systems can be used to jam both sensors and missiles; however the Zentraedi systems are no where near the effectiveness of the REF or the Robotech Masters
---
COMBAT BONUSES FOR OFFICER POWER ARMOR:
3 attacks per melee (plus those of the pilot)
+4 to roll with the punch
+2 to strike
+3 to parry
+3 to dodge
Critical strike are the same as the pilot's hand to hand
One additional attack at levels 5 and 10
---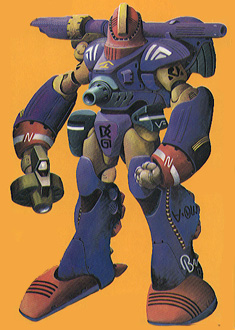 "Standard Male Power Armor"
SOURCES USED IN CREATION OF DOCUMENT
Palladium's Robotech RPG Book I: Macross
The Robotech Technical Files: Personal Body Suit
---