---
M-23 HIGHLANDER LIGHT BATTLE TANK
(Version 1.00 - Last updated: 6/15/98)
Concept and Background by Kenneth Olson
Background Information derived from Robotech Technical Files
BACKGROUND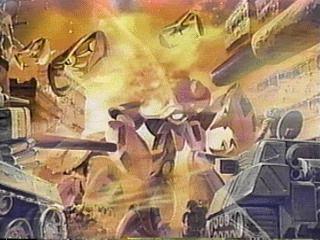 For background information refer to Robotech Technical Files: M-23 Highlander Light Battle Tank
RPG STATS
Vehicle Type: Armored Light Battle Tank

Class: RDF Vehicle
Manufacturer: Maschenbau GmbH and Mitsubishi Heavy Industries
Crew: 3 Crew: driver, gunner, and commander
MDC BY LOCATION:
| | |
| --- | --- |
| Location | Highlander |
| Turret (1) | 50 |
| Treds (2) | 10 |
| Main Body (2) | 80 |
| (2) | 100 |
| Main Engine Thruster (rear) (1) | 40 |
| (2) Sensor Eye | 30 |
| (1) Main Body | 140 |
| Reinforced Pilots Compartment | 60 |
		 
NOTES: 
Depleting the MDC of the main body will destroy the mecha.
The sensor eye is the most vulnerable place on the Invid's mecha body. Destruction of the sensor eye will destroy the mecha and pilot. However, it is a small target protected by surrounding shielding, thus, to hit the player must make a called shot at -3.
SPEEDS:
MAXIMUM ROAD SPEED:

120 kph

MAXIMUM CROSS-COUNTRY SPEED:

70 kph

FORDING DEPTH:

1.5 m
STATISTICAL DATA:
LENGTH:

5.4 m

WIDTH

3.0 m

HEIGHT

2.4 m

WEIGHT:

28.0 metric tonnes

CARGO:

None

POWER PLANT:

1 x Turbomeca auxiliary power unit supporting the engines alternator for power when the engine is off.

ENGINE:

1 MTU MB 575 Ka 275 diesel 4 stroke 12 cylinder multifuel, turbocharged, liquid cooled engine providing 1350 hp at 3500 rpm

FUEL CAPACITY:

1000 liters of diesel or petrol fuel

MAXIMUM RANGE, DIESEL:

550 km

MAXIMUM RANGE, PETROL:

480 km
WEAPON SYSTEMS:
1 x 80mm LIQUID-PROPELLED MOTION-STABLIZED SMOOTHBORE CANNON: Feed is automatic via an autoloader, firing at a sustained rate of 30 rounds per minute.

PRIMARY PURPOSE: Assault
SECONDARY PURPOSE: Anti-mecha
RANGE: Armor Piercing Spin Stablized Discarding Sabot Rounds (APSSDS) 3000m, High Explosive Armor Piercing 2500m, and Standard HESH 2700m.
DAMAGE: APSSDS 3d6 per shot, HEAP 1d4*10 per shot, and HESH 6d6 per shot.
RATE OF FIRE: 7 times per melee
PAYLOAD: 60 rounds, typically 25% APSSDS, 25% HESH, and 50% HEAP
NOTES: APSSDS crits on 17,18,19,20. HEAP crits on 19,20.

ALL MODELS 2 x STINGER II SURFACE TO AIR MISSLES: for air defense. They are located on the right side of the main turret under the smoke discharger.

PRIMARY PURPOSE: Anti-Aircraft
SECONDARY PURPOSE: Anti-missile
RANGE: Varies with missile type
DAMAGE: Varies with missile type
RATE OF FIRE: One at a time or in volleys of 2.
PAYLOAD: 2 short range missiles.

All Models 1x7.62 mm MACHINEGUN: is located in the main turret.

PRIMARY PURPOSE: Anti-personnel
RANGE:
DAMAGE:
RATE OF FIRE: Equal to the number of attacks of the gunnery officer
PAYLOAD: 2000 rounds

All models 1x12.7mm MACHINE GUN: in the commanders cupola turret.

PRIMARY PURPOSE: Anti-personnel
RANGE:
DAMAGE:
RATE OF FIRE: Equal to the number of attacks of the pilot.
PAYLOAD: 500 rounds

HAND TO HAND COMBAT:. As a vehicle the anaconda does not engage in physical combat as a mecha can. However, it can ram or crush items in its path

Ram: 1d6*3
Crush (only effective against small targes): 2d6*3
STANDARD EQUIPMENT FOR THE HIGHLANDER:
COMBAT COMPUTER: The combat computer tracks and identifies specific enemy targets, and has a database of over 500 images stored in memory. The computer can identify and track up to 10 targets simultaneously.
LASER TARGETING SYSTEM: Thomson LT-4 laser ranger and designator (10km)
OPTICS: NIGHTVISION: Range: 2000 feet (610 m). A passive light image intensifier that emits no light of its own, but relies on ambient light which is electronically amplified to produce a visible picture.
OPTICS: THERMAL IMAGER: Range: 2000 feet (610 m). A passive optical heat sensor that detects infrared radiation projected by warm objects and converts that data into a false-color visible image. The system enables the pilot to see in the dark, in shadows, and through smoke, and also adds a +10% bonus to pilots using a tracking skill.
RADAR: Westinghouse APG-144 X-band pulse-doppler phased array radar (50km)
RADIO/VIDEO COMMUNICATION: Long range, directional communications system with satellite relay capabilities. Range: 100 miles (960 km) or can be boosted indefinitely via satellite relay.
SELF-DESTRUCT: To prevent capture the pilot can activate the Anaconda self-destruct system, which will cause the vehicle to explode after a delay of up to 60 minutes (time is set by the pilot). The explosive damage is contained within a 50 foot (6 m) area and inflicts 4D6x10 M.D. to everything within the radius of the explosion. All internal systems are obliterated.
STANDARD SURVIVAL KIT: All RDF vehicles come equipped with a portable survival kit. Inside the small reinforced box is a medium-sized flashlight, two hand flares, one rocket flare, a compass, infrared distancing binoculars, a small mirror, a pocket knife, dehydrated and concentrated food (can be stretched into a five day supply for one person) and basic first aid items (aspirin, bandages, disinfectants, etc.)
TACTICAL LIFE SUPPORT SYSTEM: The Anaconda'scockpit is pressurized, and also provides additional air feeds to the pilot's flight suit that provides him with pressurized breathing.
OlDelft Infra-red Warning Receiver (IRWR)
SELENIA GLADIATOR ACTIVE/PASSIVE SENSOR JAMMERS
SMOKE DISPENSERS: 2 x 12 smoke dispensers capable of firing a smoke grenade up to 50m mounted on top of the main turret.

---
COMBAT BONUSES FOR HIGHLANDER:
Number of attacks equal to the combine number of the pilot, gunnery officer, and commander.
+1 to strike
+1 to dodge above 20 kph.
---
SOURCES USED IN CREATION OF DOCUMENT
Palladium's Robotech RPG: Macross
The Robotech Technical Files: M-23 Highlander Light Battle Tank
---