---
LOCKHEED SF-2 HUNTER SPACE FIGHTER
(Version 1.00 - Last updated: 7/21/98)
RPG Statistics by Kenneth Olson
Background Information derived from Robotech Technical Files
BACKGROUND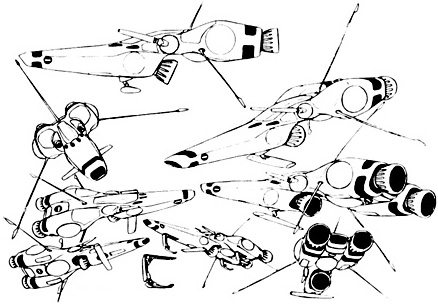 See Robotech Technical Files: SF-2 Hunter Space Fighter
RPG STATS
Vehicle Type: SF-2 Hunter Space Fighter

Class: One Man aerospace fighter
Manufacturer: Lockheed Aerospace
Crew: One pilot wearing Tactical Life Support System.
MDC BY LOCATION:
| | |
| --- | --- |
| Location | Hunter |
| Main Body | 50 |
| Reinforced Pilots Compartment | 25 |
| Engine Thrusters (3) | 25 |
| Laser Cannons (2) | 15 |
| Short Range Missile Launchers (2) | 15 |
| Antennae (3) | 1 |
NOTES:
Destroying the MDC of the main body or the Pilots Compartment will destroy the mecha
MAX ENGINE THRUST:
3 x ROCKETDYNE DRoE-2 REACTION ENGINE: Two engines are located in the tail section and one halfway on the ventral hull. Each engine provides 80 kN of thrusts.
ASSORTED AUXILIARY MANEUVERING THRUSTERS

STATISTICAL DATA:
HEIGHT:

3.1m

WIDTH:

3.6m

LENGTH:

8.3m

WEIGHT:

8,100 kg empty.

CARGO:

Small compartment behind pilot's seat for personal belongings

Delta V:

50 kps

POWERPLANT:

5 x protoculuture cells for power generation.
WEAPON SYSTEMS:
2 x MAUSER RoV-20 LASER CANNONS: Each cannon fires short bursts with an output of 4 MJ up to 60 times a minute..

PRIMARY PURPOSE: Assault
SECONDARY PURPOSE: Anti-Mecha
RANGE: 1500 m
DAMAGE: 3d6 for each single bursts.
RATE OF FIRE: Bursts equal to the combined attacks of the pilot.
PAYLOAD: Effectively unlimited

2 x MEDIUM RANGE MISSILES: Two medium range missiles, one mounted on each side of the nose, are mounted on the Hunter.

PRIMARY PURPOSE: Assault/Defense
SECONDARY PURPOSE: Anti-mecha
RANGE: Varies
DAMAGE: Varies
RATE OF FIRE: One at a time or in volleys of two.
PAYLOAD: 2 medium range missile.
STANDARD EQUIPMENT FOR THE HUNTER:
AUTO-PILOT: The Hunter is equipped with a computerized auto-pilot, allowing the pilot to relax or even sleep during long voyages. The auto- pilot can be programmed with a single destination or a complex flight plan involving multiple speeds, directions, and destinations. The onboard computer will alert the pilot when the fighter is near its destination, and can also be set to automatically signal when sensors detect objects near the fighter.
COMBAT COMPUTER: The combat computer tracks and identifies specific enemy targets, and has a database of over 200 images stored in memory. The computer can identify and track up to 25 targets simultaneously.
LASER TARGETING SYSTEM: Range: 100 miles (160 km). Used for increased accuracy in the striking of enemy targets and is partly responsible for the fighter's strike bonus.
HUGHES AWG-20S X-BAND DOPPLE RADAR: 150 mile range.
RADIO/VIDEO COMMUNICATION: Long range, directional communications system with satellite relay capabilities. Range: 300 miles (960 km) or can be boosted indefinitely via satellite relay.
STANDARD SURVIVAL KIT: All RDF come equipped with a portable survival kit. Inside the small reinforced box is a medium-sized flashlight, two hand flares, one rocket flare, a compass, infrared distancing binoculars, a small mirror, a pocket knife, dehydrated and concentrated food (can be stretched into a five day supply for one person) and basic first aid items (aspirin, bandages, disinfectants, etc.)
TACTICAL LIFE SUPPORT SYSTEM: The Hunter cockpit is pressurized, and also provides additional air feeds to the pilot's flight suit that provides him with pressurized breathing. The RDF flight suit also contains an upper and lower g-suit that promotes blood circulation even during high-g turns, thus decreasing the possibility of pilot's blacking out in combat.
ELETTRONICA RADAR WARNING RECEIVER (RWR)
OLDEFT INFRA-RED WARNING RECEIVER (IRWR)
WESTINGHOUSE ALQ-200 ACTIVE RADAR JAMMER
CHAFF AND FLARE DISPENSERS: 12 chaff and 12 flares

---
COMBAT BONUSES FOR HUNTER TRAINING:
1 attacks per melee (plus those of the pilot).
Add one additional action/attack at levels six and eleven.
+0 to strike
+2 to dodge
---
REFERENCES USED IN THIS DESIGN
Robotech Technical Files: SF-2 Hunter Space Fighter