---
GU-XX DUAL 35mm THREE BARREL ROTARY GUN POD
(Version 1.0 - Last updated: 01/13/02)
Background and RPG Statistics by Kenneth Olson
---
BACKGROUND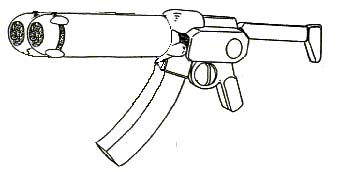 This is an experimental version of the standard GU-XX. The barrel length is reduced to allow for the extra barrel underneath. This modification shortens the range of the weapon. In addition a special clip is needed for this weapon, other than the standard GU-XX clip. This gun is know to jam on occasion.
RPG STATS
PRIMARY PURPOSE: Assault
SECONDARY PURPOSE: Anti-Mecha
RANGE: 3937ft (1200 m) for APSSDS, or 3821 ft (1000 m) for all others
DAMAGE:

APSSDS: 1d4*10 short burst, 2d4*10 medium burst, 2D6*10 full melee burst, criticals (17-20)
HEAP: 8d6 short burst, 2d6*10 medium burst, 4d6*10 full melee burst. does criticals (19,20)
Standard: 8d6 short burst, 2d4*10 medium burst, 4d4*10 full melee burst. Does criticals on 20.
Tracer rounds: reduce damage by .25% but add +2 to strike.

RATE OF FIRE: 2000 rounds per minute. Short or medium bursts count as one attack. The pilot can fire as many bursts as his combined hand to hand attacks per melee.
PAYLOAD: 600 rounds of internal ammunition or 30 short bursts, 15 medium bursts, 7 full melee bursts
---
REFERENCES USED IN THIS DESIGN
Palladium Books: "The Sentinels"