---
Invid Armor and Small Arms
(Version 1.0 - Last updated: 11/30/01)
Background and RPG Statistics by Kenneth Olson
Background Information derived from Robotech Technical Files
Armor
Small Arms
---
ARMOR STATISTICAL DATA:

SOLUGI LIGHT ARMOR: First introduced in 2042, the Solugi Light armor was designed to provide the newly created Invid humoids a measure of protection against anti-personal weaponry. Evolved humoid Invid required great resource to create, and the Regent wanted to offer every means of protection possible; although the Solugi Light Armor does not provide nearly the protection afforded to the wearers of REF CVR-3 and -4 armor.
The Solugi Light Armor consists of a under suit composed of an organic compound which provides a similar level of protection as Kevlar. The suit is capable of stopping all low velocity rounds of less than 9mm in caliber. Additional protection can be added to the chest, less, arms, and neck through the addition of harden armor capable of resisting more powerful rounds.
A more capable heavy armor with full environmental capabilities was in the early design stages; however, it was not introduced by the end of the Third Robotech War. As a result, the Solugi light armor was used in all combat roles by humoid Invid throughout the rest of the conflict with the REF.
MDC BY LOCATION:
| | |
| --- | --- |
| Location | Body Suit / Carapace Additions |
| Neck | 0 / 200 SDC |
| Arms (2) | 50 / 200 SDC |
| Legs (2) | 75 / 300 SDC |
| Torso | 100 / 500 SDC |
NOTES: 
The Solugi light armor will not take any damage from weapons with a PV of 3 or lower
Weapons with a PV of 5 or higher will penetrate the armor, half the damage will be transferred to the user.
STATISTICAL DATA:
INTRODUCED:

2042 CE

WEIGHT:

2.5 kg

CARGO:

Optional utility belt

PROPULSION IN SPACEBORNE OPERATIONS:

None

DELTA V:

None

ENDURANCE:

N/A
---
SMALL ARMS STATISTICAL DATA: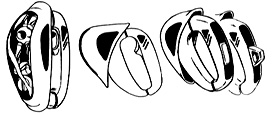 SOLUGI PARTICLE PISTOL: The first personal weapon designed exclusively for the use by humanoid Invid, the Solugi was reversed engineered from captured REF Gallant HP-90's. The Solugi Pistol is powered from an energy clip which is built into its grip and is capable of firing up to twenty 2 kJ shots in semi-automatic fire.
Although, the Solugi pistol is not capable of disabling mecha, the weapon proved to be an extremely effective against personnel. Although, an upgraded rifle version was planned, the Solugi pistol continued to be the primary sidearm for the Invid Regis throughout the end of the 3rd Robotech War.
INTRODUCED: 2042 CE
WEIGHT: 0.6 kg
LENGTH: 22 cm
EFFECTIVE RANGE: 60 m
CARTRIDGE: Protoculture clip stored in handle, effective energy capacity 40 kJ
DAMAGE: 6D6 SDC per single shot
RATE OF FIRE: semi-automatic
PAYLOAD: 20 rounds
---
SOURCES USED IN CREATION OF DOCUMENT
Palladium's Robotech RPG: Book Five Invid Invasion
Robotech Technical Files: Invid Armor and Small Arms
---