---
Larib Invid Aerospace Combat Mecha- "Invid Razorback"
(Version 1.00 - Last updated: 5/12/98)
RPG Translation and History by Kenneth Olson
Based on an original mecha design by John and Jason Waltrip
Published in Eternity Comics: "Robotech The Sentinels Book 4 #8."
BACKGROUND
History of Black Death Destroyers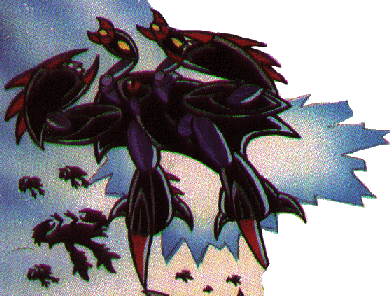 The Invid Tick proved to be entirely inadequate as an aerospace superiority mecha, a new Black Death Destroyer was obviously needed. The Razorback was to be heavily armored and possess a sizable amount of ranged weaponry. The basic airframe was taken from the armored scout. Added to this was 3 x Zyerri protoculture generators, one normally powers an Invid Shock Trooper, which were needed to provide the power to propel the heavily armed and armored mecha. Ten, of the venerable, PL-3L plasma cannons were added to provide massed ranged attacks.
Although, production of the Tick continued until Optera was conquered by REF forces, the some 25,000 Razor Backs were produced during the final year of the Sentinels conflict. The Razor Back proved to be an extremely successful design. This highly armed and armored mecha when massed could take on the best that the Sentinels could throw at them. However, the lack of protoculture needed to supply these energy intensive units limited the number produced. As a result production of the Razor Back ended with the invasion of Optera. However, several hundred survived the invasion and rejoined the Invid Regis to participate in the invasion of Earth and the subsequent occupation.
RPG STATS
Vehicle Type: One person all weather aerospace combat mecha

Class: Invid combat mecha
Manufacturer: Invid Regent
Crew: One pilot type 1 or 2 Invid - The cockpit is too small to accomate some of the larger invid classes.
MDC BY LOCATION:
| | |
| --- | --- |
| Location | Invid Warrior |
| Hand/Claw (2) | 20 |
| Forearms (2) | 125 |
| Upper Arms (2) | 50 |
| Legs & Feet (2) | 100 |
| Main Engine Thruster (rear) (2) | 50 |
| Pulse Beam Cannon (2) | 50 |
| (2) Sensor Eye | 20 |
| (1) Main Body | 150 |
| Reinforced Pilots Compartment | 50 |
		 
NOTES: 
Depleting the MDC of the main body will destroy the mecha.
The sensor eye is the most vulnerable place on the Invid's mecha body. Destruction of the sensor eye will destroy the mecha and pilot. However, it is a small target protected by surrounding shielding, thus, to hit the player must make a called shot at -3.
SPEEDS:
FLYING:

1000 kph in plantary atmospheres

RUNNING:

120 kph

LEAPING:

30 m
STATISTICAL DATA:
HEIGHT:

5.0 m

WEIGHT:

9.0 metric tonnes

PHYSICAL STRENGTH:

Equal to a P.S. of 60

CARGO:

None

POWER PLANT:

3 x Zyerri protoculture generator, 3X as shock trooper, with 18 protoculture canisters

Propulsion in Spaceborne operations:

Engines: two vectorable thruster port with total output of 120 kN

Delta V:

50 kps

Generator Endurance:

1 month of continual use
WEAPON SYSTEMS:
TEN PL-3L PLASMA CANNONS: The Invid Razor Back has four plasma cannons mounted in each arm and two on top of the main body. Each cannon is the same design as that on the armored scout (see picture above). Each arm and the two plasma cannons on top are independently targets

PRIMARY PURPOSE: Assault
SECONDARY PURPOSE: Anti-mecha
RANGE: 4000 ft (1200m)
DAMAGE: One single blast 1d6 MDC, single burst 3d6
RATE OF FIRE: Five attacks per melee
PAYLOAD: Unlimited

HAND TO HAND COMBAT:. Like all Invid mecha the Invid warrrior possesses a considerable ability to engage in hand to hand combat

Punch/Claw: 4d6*3
Crush with Hand: 1d6*3
Tear or Pry: 1d6*3
Kick: 2d6*3
Body Block/Tackle: 2d6*3.
Stomp: 1d4*3 MDC (only effective against small objects)

STANDARD EQUIPMENT FOR INVID AEROSPACE COMBAT MECHA:
EXTERNAL AUDIO PICKUP: Range: 150 ft (91.5 m).
VISUAL: Capable of times 4 magnification
OPTICS: NIGHTVISION: Range: 200 meters. A passive light image intensifier that emits no light of its own, but relies on ambient light which is electronically amplified to produce a visible picture. However the system is more primitive than standard REF or Robotech forces.
SHORT RANGE ULTRASONIC MOTION TRACKERS: Range - 400 ft.
---
COMBAT BONUSES FOR INVID AEROSPACE COMBAT MECHA:
6 attacks per melee
+2 on initiative
+1 to strike
+3 to parry
+4 to dodge
Related abilities: Prowl - 45%, Detect Ambush - 40%, Detect Concealment - 30%, Track - 30%
---
SOURCES USED IN CREATION OF DOCUMENT
Palladium's Robotech RPG: Invid Invasion
The Robotech Technical Files: Gurab Shock Trooper and Ligaa Armored Scout
---