---
Marglar Recon Unit - "Invid Arachnid"
(Version 1.00 - Last updated: 5/12/98)
RPG Translation and History by Kenneth Olson
Based on an original mecha design by John and Jason Waltrip
Published in Eternity Comics "Robotech The Sentinels Book 4 #8."
BACKGROUND
History of Black Death Destroyers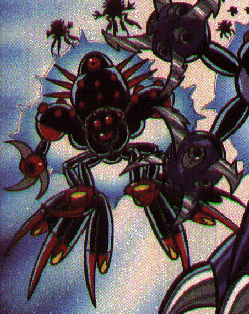 Early in the design of the Black Death Destroyers, Invid research scientists became aware of the need for a replacement for the venerable Crann design. The Invid Regent was fully supportive of the project. He foresaw a time in which every Invid mecha would be either one of his Inorganics or one of his Black Death Destroyers. Taking from the Crann, the Marglar was to be moderately armed, as compared to other Black Death Destroyers, but highly mobile. Thus the Marglar was given flight ability. The Margar was also given a revolutionary new protoculture sensor. Although not nearly as sensitive as those appearing later in the Regis forces, the sensor provided a great tactical advantage.
Approximately 1,000 Arachnids were created. Most were stationed in the outer planetary systems of the Invid Empire. However, the limited number and lateness in the deployment did little to determine the outcome of the war. Theoretically, the use of a protoculture sensor should have prevented the REF from surprising Invid outposts. However, this proved not the case. The Regent ordered that all the Black Death Destroyers deployed in groups. This prevented ,the highly adept at reconnaissance, Marglar from patrolling areas outside the Invid outposts and detect any incoming REF attack groups. Although, the Marglar was highly successful, none survived through the Sentinels campaigns. However, part of the Marglar survives as the Regis incorporated the protoculture sensor as standard equipment on all her mecha after 2035.
RPG STATS
Vehicle Type: One person all weather aerospace-reconnaissance mecha

Class: Invid combat mecha
Manufacturer: Invid Regent / Regis
Crew: One pilot type 3 or 4 Invid
MDC BY LOCATION:
| | |
| --- | --- |
| Location | Invid Warrior |
| Hand/Claw (2) | 20 |
| Forearms (2) | 125 |
| Upper Arms (2) | 50 |
| Legs & Feet (2) | 200 |
| Main Engine Thruster (rear) (1) | 50 |
| (3) Protoculture sensor [top of body] (1) | 20 |
| (2) Sensor Eye | 20 |
| (1) Main Body | 250 |
| Reinforced Pilots Compartment | 50 |
		 
NOTES: 
Depleting the MDC of the main body will destroy the mecha.
The sensor eye is the most vulnerable place on the Invid's mecha body. Destruction of the sensor eye will destroy the mecha and pilot. However, it is a small target protected by surrounding shielding, thus, to hit the player must make a called shot at -3.
The protoculture sensor is located on the top of the body. However, it is a small target, -3 to strike.
SPEEDS:
FLYING:

400 kph in planetary atmospheres

RUNNING:

80 kph

LEAPING:

20 m
STATISTICAL DATA:
HEIGHT:

5.0 m

WEIGHT:

12.0 metric tonnes

PHYSICAL STRENGTH:

Equal to a P.S. of 60

CARGO:

None

POWER PLANT:

2 x Zyerri protoculture generator, same as shock trooper, with 12 protoculture canisters

Propulsion in Spaceborne operations:

Engines: two vectorable thruster port with total output of 90 kN

Delta V:

25 kps

Generator Endurance:

1 month of continual use
WEAPON SYSTEMS:

FOUR PL-3L PLASMA CANNONS: The Invid Arachnid has four plasma cannons mounted on each.. Each cannon is the same design as that on the armored scout (see picture above). All four are targeted together.

PRIMARY PURPOSE: Assault
SECONDARY PURPOSE: Anti-mecha
RANGE: 4000 ft (1200m)
DAMAGE: One single blast 1D6 MDC, dual blasts 2D6, quadruple blast 4D6, or quadruple bursts 8D6
RATE OF FIRE: Five attacks per melee
PAYLOAD: Unlimited

HAND TO HAND COMBAT:. Like all Invid mecha the Invid Arachnid possesses a considerable ability to engage in hand to hand combat

Punch/Claw: 4d6*3
Crush with Hand: 1d6*3
Tear or Pry: 1d6*3
Kick: 2d6*3
Body Block/Tackle: 2d6*3.
Stomp: 1d4*3 MDC (only effective against small objects)

STANDARD EQUIPMENT FOR INVID ARACHNID:
PROTOCULTURE SENSOR: The Arachnid has a first generation protoculutre sensor, providing detection and tracking of active Protoculture-powered turbines. For detection of a high-power Veritech Fighter (such as an Alpha), good resolution extends out to 2km, fair resolution out to 5km, and poor resolution out to 12km. A typical Destroid is detectable at slightly more than half these distances, a Cyclone at four percent of these distances, and a Gallant rifle at about one percent of these distances. This was the first and only Invid Regent mecha that had a protoculture sensor
EXTERNAL AUDIO PICKUP: Range: 150 ft (91.5 m).
OPTICS [VISUAL]: Capable of times 4 magnification
OPTICS [NIGHTVISION]: Range: 200 meters. A passive light image intensifier that emits no light of its own, but relies on ambient light which is electronically amplified to produce a visible picture. However the system is more primitive than standard REF or Robotech forces.
SHORT RANGE ULTRASONIC MOTION TRACKERS: Range - 400 ft.
---
COMBAT BONUSES FOR INVID ARACHNID:
6 attacks per melee
+2 on initiative
+2 strike (+3/+2/+1 with Protoculture sensor at short/medium/long)
+3 parry
+2 dodge
+3 to roll with the punch
Related abilities: Prowl - 65%, Detect Ambush - 70%, Detect Concealment - 30%, Track - 30%
---
SOURCES USED IN CREATION OF DOCUMENT
Palladium's Robotech RPG: Invid Invasion
The Robotech Technical Files: Gurab Shock Trooper and Ligaa Armored Scout
---