---
Iglam Invid Scout - "Invid Tick"
(Version 1.00 - Last updated: 5/13/98)
RPG Translation and History by Kenneth Olson
Based on an original mecha design by John and Jason Waltrip
Published in Eternity Comics "Robotech The Sentinels Book 4 #8."
BACKGROUND
History of Black Death Destroyers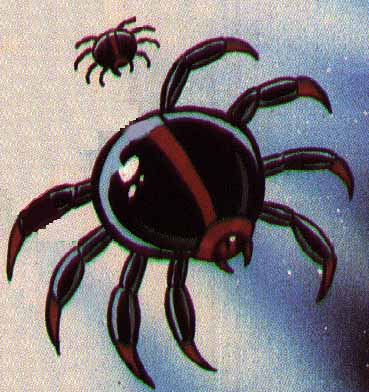 The Invid Tick, as called by the REF forces, was to be a replacement for the Invid Scout. The Regent wanted a mecha that would defeat the REF by quick attacks with massive numbers. To these ends, the Invid Tick was engineered using a simple design that could be mass produced and given the largest powerplant possible, Xegurra protoculture generator used in the scout and armored scout. The Invid Tick was not given any ranged weapons for two reasons. First, any melee weapons would increase the cost of the design and most importantly they were not needed as the Tick was to engage the REF forces at close range. At that point, massive numbers Iglam scouts would overwhelm any veritech or destroid opposition.
Approximately 100,000 Invid Ticks were produced during the Sentinels wars. A majority of these were destroyed leading up to the invasion of Optera. Most of the remaining, 1,000 or so units were destroyed in defense of Optera. However, rumors abound that some 20 or so units were spotted by resistance groups on Earth during the Invid occupation. In general, the Iglam Scout proved to be even less effective than the Invid Scout, for which it was supposed to replace, as the designed proved to be severely hampered by the lack of ranged weapons and under armored design.
RPG STATS
Vehicle Type: One person all weather aerospace combat mecha

Class: Invid combat mecha
Manufacturer: Invid Regent
Crew: One pilot type 1 Invid - The cockpit is too small to accommodate any other type of Invid
MDC BY LOCATION:
| | |
| --- | --- |
| Location | Invid Tick |
| Arm/Leg (6) | 20 |
| Manibles (2) | 5 |
| (2) Sensor Eye | 10 |
| (1) Main Body | 50 |
| Reinforced Pilots Compartment | 5 |
		 
NOTES: 
Depleting the MDC of the main body will destroy the mecha.
The sensor eye is the most vulnerable place on the Invid's mecha body. Destruction of the sensor eye will destroy the mecha and pilot. However, it is a small target protected by surrounding shielding, thus, to hit the player must make a called shot at -3.
SPEEDS:
FLYING:

1000 kph in planetary atmospheres

RUNNING:

40 kph

LEAPING:

30 m
STATISTICAL DATA:
HEIGHT:

2.0 m

WEIGHT:

1.5 metric tonnes

PHYSICAL STRENGTH:

Equal to a P.S. of 40

CARGO:

None

POWER PLANT:

1 x Xegurra protoculture generator, same as scout, with 2 protoculture canisters

Propulsion in Spaceborne operations:

Engines: one vectorable thruster port with total output of 50 kN

Delta V:

25 kps

Generator Endurance:

1 year of continual use
WEAPON SYSTEMS:
HAND TO HAND COMBAT:. The Invid Tick can only engage in hand to hand combat.

Punch/Claw (per arm up to three arms can be used in one attack): 2d4*3
Body Block/Tackle: 2d6*3.
Bite: 1d6*3
Burrow (The Invid Tick can burrow into the body of the enemy mecha) 3d6*3 per melee

STANDARD EQUIPMENT FOR INVID TICK:
EXTERNAL AUDIO PICKUP: Range: 150 ft (91.5 m).
VISUAL: Capable of times 4 magnification
OPTICS: NIGHTVISION: Range: 200 meters. A passive light image intensifier that emits no light of its own, but relies on ambient light which is electronically amplified to produce a visible picture. However the system is more primitive than standard REF or Robotech forces.
SHORT RANGE ULTRASONIC MOTION TRACKERS: Range - 400 ft.
---
COMBAT BONUSES FOR INVID TICK:
5 attacks per melee
+2 to roll with the punch
+2 to strike
+3 to parry
+3 to dodge
Related abilities: Prowl - 45%, Detect Ambush - 40%, Detect Concealment - 30%, Track - 30%
---
SOURCES USED IN CREATION OF DOCUMENT
Palladium's Robotech RPG: Invid Invasion
The Robotech Technical Files: Gurab Shock Trooper and Ligaa Armored Scout
---