---
Odeon Assault Inorganic
(Version 1.01 - Last updated: 12/04/02)
Background and RPG Statistics by Kenneth Olson
Background Information derived from Robotech Technical Files
Drawing by Kevin Long and colorized by Mike Perry
BACKGROUND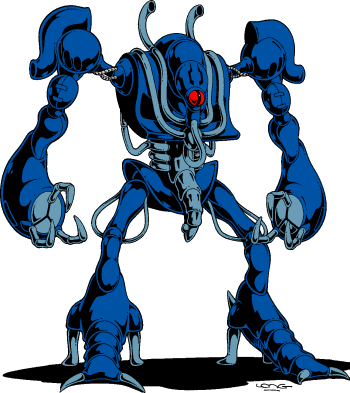 Developed by the Invid to stem their increasing casualties and to provide an automated defense system for conquered planetary systems, the Invid Regent first introduced the Inorganic mid way through the Robotech Wars. Originally, they were only used in defensive purposes as the offensive qualities of the Inorganics were suspect; however by the time of the assault of Tirol, the Regent made extensive use of his inorganic units.
The Inorganics are not robots in the truest sense of the word as each unit is incapable of independent action. Each mecha is controlled from a centralized Invid Brain which issues commands through, as of yet undetermined by REF intelligence, subspace channel. Every Invid Brain is capable of controlling upwards of 2,000 units in combat or five times that number when close attention is not warranted.
The Odeon was designed to to function as the primary assault unit for the Invid Regent. Although, the unit is the slowest of all Inorganics units it is the most heavily armored. The Odeon was the most common inorganic in all of the Invid Regents. REF intelligence believes that over 50 million units were produced during the the wars against the Robotech Masters and then the subsequent Sentinel engagements.
The Inorganics are a marvel of Invid technology. Each unit is "created" from a matrix material composed of ceramic, metallic, organic compound. Miniaturized protoculture generators are also included in the matrix of the material. Similar to the function that mitochondria perform in the animal cells, the micronized protoculture generators provide power to a localized area. This design provides a level of protection to the Inorganic design which makes the unit all but invulnerable to critical strikes because the power is distributed throughout the unit. After the body of the unit is completed, specialized components such as sensors and joints are added to complete the mecha.
The armor is immune to all anti-personal weaponry and provides excellent protection against light anti-mecha weaponry because of the sloped armor design. Only direct strikes by anti-mecha weapons rated as medium (equivalent to a 55mm GU-11) or higher have any hope of inflicting damage against the units.
The Odeon's only ranged weapon is a single IHM-3 laser cannon mounted in the right arm. The laser is capable firing 10 MJ bursts of energy to an effective range of 1.2 kilometers. When not equipped, the Odeon is forced to rely on hits inherent hand to hand abilities to engage enemy units.
RPG STATS
Vehicle Type: Combat mecha

Class: Invid Inorganic
Manufacturer: Invid Regent
Crew: None
MDC BY LOCATION:
| | |
| --- | --- |
| Location | Odeon |
| Hands (2) | 50 each |
| Arms (2) | 100 each |
| Legs (2) | 150 each |
| *Head | 150 |
| **Main Body | 250 |
| IHM-3 Laser | 30 |
		 
NOTES: 
*Destruction of the head will destroy all of the external sensors for the unit, except for seismic and acoustic. However, the unit can still be controlled by the nearest Invid brain using other inorganic sensors in the area.
** Depleting the MDC of the main body will destroy the mecha.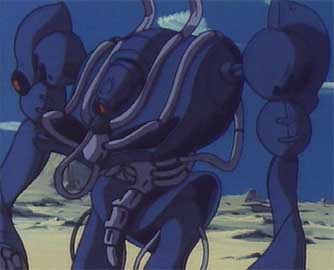 SPEEDS:
RUNNING:

60 kph

SWIMMING:

10 kph

LEAPING:

10 m
STATISTICAL DATA:
HEIGHT:

5.2 m

DEPTH:

1.2

BREADTH:

2.4m

WEIGHT:

3.4 metric tonnes

PHYSICAL STRENGTH:

Equal to a P.S. of 60

CARGO:

None

POWER PLANT:

Micronized Rellera protoculture cell energizers scattered throughout exoskeleton, protoculture equivalent to 6 canisters

PROPULSION IN SPACEBORNE OPERATIONS:

None

DELTA V:

None

GENERATOR ENDURANCE:

1000 hours of operational use

BOOSTER UNITS:

None
WEAPON SYSTEMS:
IHM-3 TRI-FINGER LASER: The Odeon can make use of a IHM-3 laser cannon. The cannon is capable of firing 15 MJ bursts of energy out to an effective targeting range of 1.2 km for fast moving mecha units. The cannon is designed to fit over the three fingers of the Odeon which effectively prohibits any non-Invid units from use. The cannon is powered by its own internal protoculture generator; however, when high rates of fire are necessary, power can be drawn directly from the Inorganic's reserve

PRIMARY PURPOSE: Assault
SECONDARY PURPOSE: Anti-mecha
RANGE: 4000 ft (1200m)
DAMAGE: Three settings: 2D6, 4D6, or 1D6*10 MDC per blast
RATE OF FIRE: Four times per melee
PAYLOAD: Conditionally unlimited
NOTES: +1 to strike; hand to hand bonuses do not apply

HAND TO HAND COMBAT:. When not armed with the IHM-3 laser, the Odeon is capable of power hand to hand attacks.

Punch: 1D4*10 MDC
Crush with Hand: 3D6 MDC
Tear or Pry: 4D6 MDC
Kick: 5D6 MDC
Body Block/Tackle: 3D6 MDC
Stomp: 5D6 MDC (only effective against small objects)

STANDARD EQUIPMENT FOR ODEON
EXTERNAL AUDIO PICKUP: Range 150 ft (91.5 m) for normal conversation.
on
MOTION TRACKERS: Short range ultrasonic motion trackers, Range 400 ft.
OPTICS [NIGHTVISION]: Range: 200 meters. A passive light image intensifier that emits no light of its own, but relies on ambient light which is electronically amplified to produce a visible picture. However the system is more primitive than standard REF or Robotech forces.
OPTICS [THERMAL IMAGER]: Range: 2000 feet (610 m). A passive optical heat sensor that detects infrared radiation projected by warm objects and converts that data into a false-color visible image. The system enables the Inorganic to see in the dark, in shadows, and through smoke.
OPTICS [VISUAL]: Capable of times 4 magnification.
RADAR X-BAND IMTR-1R: The Odeon possesses a short range radar (range 15 kilometers for alpha size target). The design is quiet limited as compared to complimentary Earth mecha; however, it does possess limited track (up to 5 targets) and search capabilities.
---
COMBAT BONUSES FOR INVID ODEON:
Two melee attacks or Four attacks with IHM-3 laser
+0 to strike (+1 with IHM-3)
+1 to parry
+0 to dodge
+1 to roll with the impact
Related abilities: Prowl - 15%, Detect Ambush - 10%, Detect Concealment - 10%, Track - 20%
---
Random Hit Locations
When there is an equal chance of hitting both sides from 1d6
1-3 hits the right side
4-6 hits the left
When there is a preferred side, roll 1d10
1-8 hits the preferred side
9-10 hits the opposite side
| | | | | | |
| --- | --- | --- | --- | --- | --- |
| Odeon | FRONT | BACK | SIDES | TOP | BOTTOM |
| Hands (Arms) | 01-04 | 01-02 | 01-05 | 01-04 | 01-04 |
| Arms (Main Body) | 05-20 | 03-15 | 06-25 | 05-15 | 05-25 |
| Legs (Main Body) | 21-45 | 16-40 | 26-50 | 16-25 | 26-60 |
| Head (Main Body) | 46-60 | 45-55 | 51-65 | 26-60 | 61-62 |
| Main Body | 61-95 | 56-96 | 66-90 | 61-90 | 63-90 |
| Hand Gun (Hands) | 96-00 | 97-00 | 91-00 | 91-00 | 91-00 |
---
SOURCES USED IN CREATION OF DOCUMENT
Palladium's Robotech RPG: Sentinels
Robotech.com: Invid Scout, Armored
The Robotech Technical Files: Odeon
---