---
Kerogga Scout Mecha
(Version 1.0 - Last updated: 10/18/01)
Concept and Background by Kenneth Olson
Background Information derived from Robotech Technical Files
Based off an original design presented in Artimic Design Works (pg 16)
BACKGROUND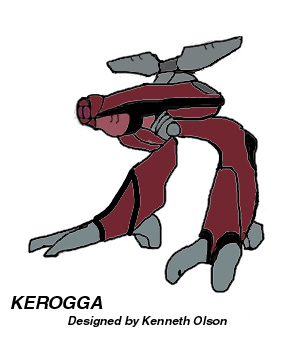 The Kerogga scout mecha was first deployed some 20 years after the razing of Opterra, approximately at the same time as the Ligaa Light Aerospace Mecha. The Kerogga was the first mecha deployed by Invid forces which mounted a first generation IMSC-1X phased array radar. The system is quite advanced for its time with most of the components copied directly from captured Zentraedi and Robotech Master components. The radar is capable of full search, track, and SAR operational modes with passive ESM techniques. The system is capable of detecting a 0 dBsm target at 50 km with alpha and beta fighter detection occurring at 66 km and 88km respectively
The Kerogga was designed only for reconnaissance and scouting, and as such only possesses limited combat capabilities. However, Keroggas never entered into combat without assistance from frontline Invid combat mecha Typically, one Kerogga was assigned to every Clamship battalion (approximately 500 Invid Scouts or 250 Shock Troopers).
The Kerogga provided the Invid forces with long range radar detection and tracking. Up until its initial deployment Invid forces were limited to detection at visual range only. However, by the time of Invid Invasion of Tirol all of the Kerogga mecha had been placed into reserve as more advanced phased array systems had been mounted into all Ligaa mecha. No Kerogga were encountered by REF forces during the Sentinel campaigns; however, several non-functioning units were captured and examined by REF intelligence.
RPG STATS
Vehicle Type: One person all weather mecha

Class: Reconnaissance
Manufacturer: Invid Regent / Regis
Crew: One pilot
MDC BY LOCATION:
| | |
| --- | --- |
| Location | Kerogga |
| Antenna (2) | 3 each |
| Sensor Connector | 2 |
| Legs & Feet (2) | 10 each |
| Main Engine Thruster (rear) (1) | 5 |
| * Sensor Eye | 1 |
| ** Main Body | 15 |
| Reinforced Pilots Compartment | 5 |
		 
NOTES: 
* The sensor eye is the most vulnerable place on the Invid's mecha body. Destruction of the sensor eye will destroy the mecha and pilot. However, it is a small target protected by surrounding shielding, thus, to hit the player must make a called shot at -3.
** Depleting the MDC of the main body will destroy the mecha.
SPEEDS:
FLYING:

250 kph in planetary atmospheres
2 km service ceiling

RUNNING:

70 kph

LEAPING:

60 m w/o boosters
STATISTICAL DATA:
HEIGHT:

1.9 m

DEPTH:

2.1

WEIGHT:

1.1 metric tonnes

PHYSICAL STRENGTH:

Equal to a P.S. of 30

CARGO:

None

POWER PLANT:

1 x Wtiya protoculture cell energizer with 2 protoculture canisters

PROPULSION IN SPACEBORNE OPERATIONS:

Engines: one IE-1 one vectorable plasma shock thruster with total output of 21 kN

DELTA V:

20 kps

GENERATOR ENDURANCE:

120 hours of operational use

BOOSTER UNITS:

None
WEAPON SYSTEMS:
HAND TO HAND COMBAT:. The Kerogga is not designed to directly confront the enemy. As a result, the mecha is only capable of limited hand to hand combat.

Kick: 4D4*10 SDC
Body Block: 2D6*10 SDC
Stomp: 3D6*10 SDC (only effective against small objects)

STANDARD EQUIPMENT FOR KEROGGA SCOUT:
IMSC-1X VARIABLE FREQUENCY MULTI-MODE PHASED ARRAY RADAR: The Kerogga possesses the first Invid deployable radar system. The system is quite advanced for its time with most of the components copied directly from captured Zentraedi and Robotech Master components. The radar is capable of full search, track, and SAR operational modes with passive ESM techniques. The system is capable of detecting a 0 dBsm target at 50 km with alpha and beta fighter detection occurring at 66 km and 88km respectively
EXTERNAL AUDIO PICKUP: Range: 150 ft (91.5 m).
VISUAL: Capable of times 4 magnification
OPTICS: NIGHTVISION: Range: 200 meters. A passive light image intensifier that emits no light of its own, but relies on ambient light which is electronically amplified to produce a visible picture. However the system is more primitive than standard REF or Robotech forces.
SHORT RANGE ULTRASONIC MOTION TRACKERS: Range: 400 ft.
---
COMBAT BONUSES FOR INVID KEROGGA:
Five attacks per melee
+0 to strike
+2 to dodge on ground
+4 to dodge in flight
+2 to roll with the impact
Related abilities: Prowl - 65%, Detect Ambush - 50%, Detect Concealment - 40%, Track - 40%
Note: Because of its small size attackers must role a natural 9 or above (without combat bonuses) to strike the Kerogga
---
SOURCES USED IN CREATION OF DOCUMENT
Palladium's Robotech RPG: Invid Invasion
Robotech.com: Invid Scout, Armored
The Robotech Technical Files: Gurab Shock Trooper and Ligaa Armored Scout
Kerooga Drawings: By Harvey Johnston found on Robotech Reference Guide
---