---
ADR-04 Mk IX "Matador Zal" Air Defense Robot
(Version 1.0 - Last updated: 03/22/02)
Background and RPG Statistics by Kenneth Olson
BACKGROUND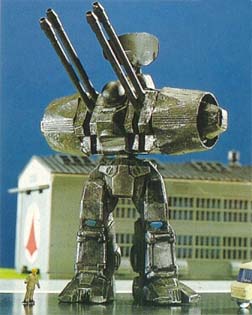 The ADR-04 Mk IX Matador ZAL was the final pre-production prototype for what would eventually become the ADR-04 Mk X "Defender". A total of ten units were produced from February until March 2009 before the manufacturing lines were switched over for full production of the "Defender" in June. Although, externally the Mk IX and X units appear to have little in common except for the Vicker-Chrysler leg assemblies found on all first generation RDF destroids, all of the internal systems are virtually identical to those on the Defender.
The Matador ZAL, like the later Defender, would mount four caseless autocannons in two over/under mounts in the torso. Although, both units make use of Rheinmetall models, the Matador mounts four Type PFG-943 70mm instead of the larger 78mm found on the Defender. The PFG-943 are capable of firing 200 rounds per minute of hyper-velocity caseless ammunition with an initial shell velocity of over 3.5 kilometers per second. Although mounting the autocannons in the torso does not allow the field of fire provided by arm mounts, it does minimize the complexity of the system and allow the addition of two large ammunition bins in arm mounts. Each ammunition bin has a capacity of 800 rounds and are easily replenished in the field.
Both the Matador and Defender are armored with a third generation Chobham laminar plate. Although, not as heavily armored as front line RDF models, the Matador is immune to all anti-personal weaponry as well as light anti-vehicle weaponry up to 25mm in caliber. However, a couple of direct hits by medium or a single hit from heavy anti-mecha weaponry can disable the unit. The Matador Zal's cockpit is pressurized and when fully sealed will provide full protection against nuclear, biological, and chemical weapons.
The Matador mounts a powerful long range AN/SPS-50 UHF surveillance radar. The radar is mounted on top of the unit and is scanned mechanically both in azimuth and in elevation to provide all aspect coverage with an estimated detection range of 150 kilometers against a 0 dBsm target. Once a potential target has been detected and tracked to within 40 kilometers, the AN/SPS-50 hands off to the the Westinghouse TPG-144 X-band pulsed Doppler phased array mounted on top of the Matador Zal in a conformal array. In addition to the radar systems, the Matador possesses IR and nightvision systems to allow the unit to operate in all conditions.
Initial testing began in March of 2009, when the first five units reached operational status. During testing later that same months, two units were unable to complete a series of live fire tests. The source of the failures were later traced to a malfunctioning protoculture generator and a problem in the combat computer and quickly fixed. The remaining four months of testing proved to the RDF that a majority of the combat systems were ready for full deployment on the ADR-04 Mk X Defender. Once the Defender program reached operational status, seven of the original ten units were stripped of pair parts and the other three were placed into mothballs. All of the remaining units were believed to have been destroyed during the Zentraedi assault on Earth and as a result none of the Matadors ever saw combat action.

RPG STATS
Vehicle Type: Air Defense Robot

Class: Non-transformable Destroid
Manufacturer: Vickers
Crew: One

Service History:

Pre-production destroid which served with the RDF Army from 2009 until 2010
MDC BY LOCATION:
| | |
| --- | --- |
| Location | Matador Zal |
| * Head Sensors | 30 |
| Surveillance Radar | 15 |
| Ammunition Bins (2) | 100 each |
| Autocannons (4) | 50 each |
| Legs (2) | 175 each |
| Reinforced Pilot's Compartment | 150 |
| ** Main Body | 200 |
	 
NOTES: 
*Destruction of the head will destroy all of the external sensors for the unit, except for seismic and acoustic.
** Depleting the MDC of the main body will destroy the mecha.
SPEEDS:
RUNNING:

51 kph / 65 kph (fully loaded / empty)

UNDERWATER PERFORMANCE:

15 kph

LEAPING:

10 m
STATISTICAL DATA:
HEIGHT:

12.1 m (not including surveillance radar)

DEPTH:

9.4 m

BREADTH:

5.0 m

WEIGHT:

22.8 metric tons (dry)
29.1 metric tons (fully loaded)

PHYSICAL STRENGTH:

Equal to a P.S. of 60

CARGO:

None

POWER PLANT:

1 RRL-1 miniaturized protoculture-cell energizer with 36 standard canisters of protoculture

PROPULSION IN SPACEBORNE OPERATIONS:

N/A

DELTA V:

N/A

GENERATOR ENDURANCE:

2000 hours of operational use

BOOSTER UNITS:

None
WEAPON SYSTEMS:
4 x REINMETALL TYPE PFG-943 70MM AUTOCANNONS: Two pair of 70mm caseless hypervelocity autocannons are mounted on either side of the torso. Each cannon is capable of firing up to 250 rounds per minute with an initial shell velocity of 3500 meters per second. The standard load out is typically a mix of APHE (Armor Piercing High Explosive), MKPF-AP (Multiple Kinetic Penetrator Flechette - Armor Piercing) and HEI-T (High Explosive Incendiary - Tracer) rounds with terminal laser guidance. Each pair of weapons are fed by two ammunition binds, easily replenished in the field, mounted on either side of unit with a maximum capacity of 400 rounds per gun.

PRIMARY PURPOSE: Air Defense
SECONDARY PURPOSE: Anti-missile
RANGE: 14000 m
DAMAGE: 1D6 MDC for single round, 2D6 for short burst (3 rounds), or 5D6 for long burst (10 rounds)
RATE OF FIRE: Bursts equal to the combined attacks of the pilot
PAYLOAD: 400 rounds per gun (130 short bursts or 40 long bursts)

HAND TO HAND COMBAT:. Because of the Matador Zal's lack of arms and hands, the unit is only capable of limited hand to hand attacks.

Kick: 5D6 MDC
Body Block/Tackle: 3D6 MDC
Stomp: 5D6 MDC (only effective against small objects)

STANDARD EQUIPMENT FOR MATADOR ZAL
COMBAT COMPUTER: The Matador Zal is equipped with a combat computer which calculates, stores, and transmits data onto the cockpit computer screen or head-up display (HUD) of the pilot's helmet. Patches in with the targeting computer
EXTERNAL AUDIO PICKUP: Range: 300 ft (91.5 m). A sound amplification system that can pick up normal conversation up to 300 feet away.
ELECTRONIC JAMMERS: Selenia Ground Warrior Active IR and Radar jammer capable of interfering with both infra-red and radar electronic systems.
HEAT AND RADIATION SHIELDS: Special shielding prevents the penetration of life threatening head and radiation. A radiation detection and alarm system are linked with the shields and will sound an alarm if there is a rupture in the shields and what the levels of radiation are.
HOMING SIGNAL: Range of the signal is 100 miles (320 km). Most RDF, Southern Cross, and REF ships and veritechs can locate and track a homing signal. The onboard computers will automatically notify their pilots if such a signal is detected.
LASER COMMUNICATIONS: Long range, directional communication system. Effective range: 100,000 miles
LASER TARGETING SYSTEM: Range: 50 miles (160 km). Used for increased accuracy in the striking of enemy targets and is partly responsible for the mecha's strike bonus.
LOUDSPEAKER: A loudspeaker system is built into the craft, which can be used to amplify the pilot's voice up to 90 decibels.
OPTICS (INFRARED): Range: 2000 feet (610 m). This optical system projects a beam of infrared light that is invisible to the normal eye, but detectable by the mecha's sensors. The system allows the pilot to detect hidden/concealed objects by their IR reflectiveness. The beam will be visible to anyone with IR sensitive optics, however.
OPTICS (NIGHTVISION): Range: 2000 feet (610 m). A passive light image intensifier that emits no light of its own, but relies on ambient light which is electronically amplified to produce a visible picture.
OPTICS (THERMAL IMAGER): Range: 2000 feet (610 m). A passive optical heat sensor that detects infrared radiation projected by warm objects and converts that data into a false-color visible image. The system enables the pilot to see in the dark, in shadows, and through smoke, and also adds a +10% bonus to pilots using a tracking skill.
RADAR JAMMER AIL ALQ-54: On board self-protection jammer providing broadband protection. Estimated system effective radiative power 60 dBW.
RADAR (SURVEILLANCE): Hughes AN/SPS-50 UHF-band radar. Estimated range against 0 dBsm target 150 km.
RADAR (TARGETING): Westinghouse TPG-144 X band pulse Doppler phased array medium range radar with battlefield surveillance mode. Estimated range against 0 dBsm target 40 km.
RADIO/VIDEO COMMUNICATION: Long range, directional communications system with satellite relay capabilities. Range: 600 miles (960 km) or can be boosted indefinitely via satellite relay.
SELF-DESTRUCT: To prevent capture by the enemy, the pilot can activate the self-destruct system, which will cause the mecha to explode after a delay of up to 60 minutes (time is set by the pilot). The explosive damage is contained within a 20 foot (6 m) area and inflicts 1D6x10 M.D. to everything within the radius of the explosion. All internal systems are obliterated.
STANDARD SURVIVAL KIT: All RDF come equipped with a portable survival kit. Inside the small reinforced box is a medium-sized flashlight, two hand flares, one rocket flare, a compass, infrared distancing binoculars, a small mirror, a pocket knife, dehydrated and concentrated food (can be stretched into a five day supply for one person) and basic first aid items (aspirin, bandages, disinfectants, etc.)
TACTICAL LIFE SUPPORT SYSTEM: The Matador Zal cockpit is pressurized, and also provides additional air feeds to the pilot's flight suit that provides him with pressurized breathing.
---
COMBAT BONUSES FOR MATADOR ZAL:
Two melee attacks (plus those of the pilot)
+0 to roll with punch
+1 to strike
+0 to parry
+1 to dodge
One additional attack at levels six and eleven
---
RANDOM HIT LOCATIONS
When there is an equal chance of hitting both sides from 1D6
1-3 hits the right side
4-6 hits the left
When there is a preferred side, roll 1D10
1-8 hits the preferred side
9-10 hits the opposite side
| | | | | | |
| --- | --- | --- | --- | --- | --- |
| Matador Zal | FRONT | BACK | SIDES | TOP | BOTTOM |
| Head Sensors (Main Body) | 01-05 | 01-02 | 01-02 | 01-10 | - |
| Surveillance Radar (Main Body) | 06-15 | 03-20 | 03-20 | 11-25 | 01-05 |
| Ammunition Bins (Main Body) | 16-40 | 21-50 | 21-50 | 26-50 | 06-25 |
| Autocannons (Main Body) | 41-45 | 51-53 | 51-60 | 51-60 | 26-32 |
| Legs (Main Body) | 46-65 | 54-70 | 61-85 | 61-70 | 33-70 |
| Pilot's Compartment | - | 71-72 | - | - | 71-72 |
| Main Body | 66-00 | 73-00 | 86-00 | 71-00 | 73-00 |
---
SOURCES USED IN CREATION OF DOCUMENT
Palladium's Robotech RPG: Book One Macross
Robotech Technical Files: ADR-04 Defender
---