---
VF-2 "JOTUN"
(Version 1.01 - Last updated: 11/12/00)
RPG Translation and Background by Kenneth Olson Kenneth Olson
Pictures by Robert Morgenstern
Background Information derived from Robotech Technical Files
BACKGROUND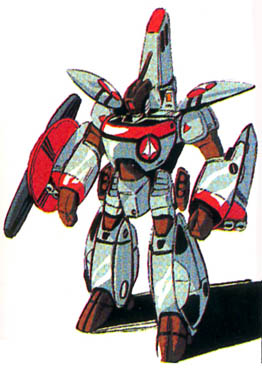 After several months of fighting the Zentraedi, Robotech weapons specialists on board the SDF-1 came to the realization that the VF-1, although an extremely maneuverable mecha, was not nearly armed nor armored enough to survive conflicts with the more numerous Zentraedi forces. The first attempt to upgrade the basic VF-1 design (or the armored variant) functioned as promised however the additional armor and missile load severely decreased mobility. The Robotech Research group decided in early 2010 to create more advanced design which would retain the weaponry and armor advantage of the initial armored Veritech while maintaining the maneuverability of the standard VF-1.
Two competing groups of engineers endeavored to create the upgrade to the classic VF-1. The first mecha, and ultimately the more successful, was the VF-1 "Super". The "Super" variant of the VF-1 enhanced its space combat capability through the mounting of additional missile packs, thrusters and armor. The second design was the VF-2 "Jotun" Assault Valkyrie. This design tried to improve the basic VF through a more radical means. The basic internal structure was keep; however, some 10 tons of armor was added. Two NP-FP-01 fuel and thruster packs were built in as part of the basic structure. On the right arm an anti-projectile shield was added. A carbine version of the PB-11, normally mounted on the RDF Excalibur, was placed on top of the shield to replace the venerable GU-11 55mm gun pod.
Although, the total internal missile payload of the VF-2 was less than the super VF (36 for the VF-2 verse 38 for the super), the number of missiles was still a vast improvement over the standard VF-1. Two hip mounted MM-3 missiles were added. Each launcher was capable of rotating 180 degrees providing the VF-2 protection from the rear when in battloid mode. Two NP-AR-02 missile launchers were added under each arm. These launchers had an increased payload of six missiles per launcher verses the NP-AR-01 found on the super VF with only three. In order to offset the massive increase in weight a NP-BP-01C booster/missile launcher was taken from the super valkyrie design and added to the rear providing additional maneuverability along with sixteen short range missiles.
Although, the Jotun was more powerfully armed and armored, the super valkyrie had superior mobility. In addition, upgrades could convert a standard VF-1 to a "Super" in less than an hour. Whereas, conversion of an older VF-1 to a Jotun required at a minimum a major rebuild. Another disadvantage for the VF-2 was that the Jotun was optimized for space based operations which would limit its effectiveness combating the malcontent Zentraedi later in the First Robotech War; whereas the VF-1 "super" could be reconverted into the standard model and used in atmospheric operations.
The VF-2 proved to be extremely adept in space combat. Some 10 units were built before the Zentraedi Assault on the Earth in July 2012. They were assigned mainly as defensive units guarding the SDF-1 and allied ships while the more numerous and maneuverable VF-1 supers were sent out with Reflex weaponry to knock out Zentreaedi ships and large groups of mecha. The VF-2 groups took heavy casualties during the battle often outnumbered 50 to 1. Only three of the original ten VF-2s survived the battle. In the five years preceding the end of the First Robotech War 150 VF-2 were produced. These units were placed on board the surviving ARMD space platforms protecting the earth from any space born threats. The remaining units were subsequently mothballed once the VBF-1 "Beta" fighter was developed and none are believed to have been included in the REF inventory once they left the Terran system.
Service History:
RPG STATS
Vehicle Type: VF-2 Jotun

Class: Variable Assault Fighter
Manufacturer: Robotech Defense Forces
Crew: One pilot wearing Tactical Life Support System.
MDC BY LOCATION:
| | |
| --- | --- |
| Location | Jotun |
| Head Lasers | 25 |
| * Head | 75 |
| Hands (2) | 30 |
| Arms (2) | 100 |
| Shoulders (2) | 75 |
| PB-11 | 50 |
| Arm Shield | 200 |
| Legs/Engine Thrusters (2) | 200 |
| ** Main Body | 300 |
| Reinforced Pilots Compartment | 200 |
| Retractable Utility Arms (3) | 3 |
| Wings (2) | 100 |
| GU-11 | 100 |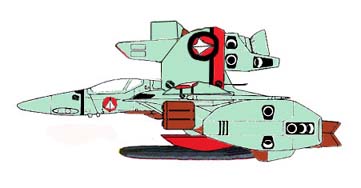 NOTES:
* Destroying the sensor head of the Jotun will knock out the mecha's major sensor systems, including all of the optics systems (infrared, nightvision, thermal). Radar and communications will be unaffected.
** Depleting the MDC of the main body will destroy the mecha.
SPEEDS:
RUNNING, SOLDIER CONFIGURATION:

160 kph

LEAPING, SOLDIER CONFIGURATION:

50 ft (15 m) high or 70 ft (21 m) long without thrusters.

FLYING, SOLDIER CONFIGURATION:

300 kph

FLYING, GERWALK/SOLDIER CONFIGURATION:

Mach One (670 mph/1072 kmph) maximum speed limit in an Earth-like atmosphere. Can also hover in place indefinitely.

FLYING, FIGHTER CONFIGURATION:

Max level speed at sea level : Mach 1.0
note: The VF-2 was used exclusively in space born operations
MAX ENGINE THRUST:
Two Nakajima/P&W/Rolls-Royce FF-2001D fusion turbines: total engine output 256 kN total at max. power; 503 kN are available with overboost. Exhaust nozzles allow for vector thrust, serving in place of conventional elevators. System includes two reverse-vernier thrusters, on blisters outboard of each intake; exhaust comes directly from main turbine at a maximum of 20% thrust.
Four Nakajima NBS-1 high-thrust vernier thrusters, one on the ventral in fighter mode, three in the 'backpack' in
Guardian and Battloid modes.
Pratt and Wittney - EF-2001 booster engines in the FAST pack, capable of a total of 2354 kN of thrust. Total propellant capacity 11,000 kg in FAST pack and CTB-04 conformal fuel tanks on legs.

STATISTICAL DATA:
HEIGHT:

15.4m in soldier configuration.
10.8 m in gerwalk configuration.
5.0 m in fighter configuration.

WIDTH:

8.6m at shoulders in soldier and gerwalk configuration.
14.8m with wings at maximum extension.

LENGTH:

5.0m in soldier configuration.
11.3m in gerwalk configuration.
14.0m in fighter configuration.

WEIGHT:

25,000 kg empty.

PHYSICAL STRENGTH:

Equal to a P.S. of 60

CARGO:

Small compartment behind pilot's seat for personal belongings

POWER PLANT:

2 x RRL-2 miniaturized protoculuture-cell energizer providing 800 MW of total power

Delta V:

150 kps

COMPATIBLE FAST PACKS:

None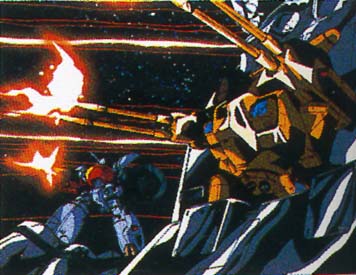 WEAPON SYSTEMS:
MAUSER PBC-11C CARBINE PARTICLE BEAM CANNON : The VF-2 GU-11 was replaced with a carbine version of the PB-11 found on the RDF Excaliber. The weapon is able to fire 15 MJ bursts up to 30 times per minute at a range of 5 kilometers.

PRIMARY PURPOSE: Assault
SECONDARY PURPOSE: Anti-Mecha
RANGE: 5,000 m
DAMAGE: 1D6*10 for each shot
RATE OF FIRE: 7 times per melee
PAYLOAD: Unlimited

MAUSER RoV-20 LASER CANNON: The standard RoV-20 head laser was kept for the VF-2; however, all models have only a single weapon mounted on the top of the head. This was done to keep the total power requirements low enough that only a moderate increase in power from the protoculture energizer was needed over the standard VF-1

PRIMARY PURPOSE: Anti-missile
SECONDARY PURPOSE: Assault
RANGE: 600 m
DAMAGE: 2d6 MDC for each single shot
RATE OF FIRE: Single shots equal to the combined attacks of the pilot up to eight times per melee.
PAYLOAD: Conditionally unlimited.

HMMP-02 MISSILE LAUNCHER: A single HMMP-02 missile system from the super veritech was added to the rear of the mecha. Only a single system was included because of the difficulties that arose when the additional armor and the

PRIMARY PURPOSE: Assault/Defense
SECONDARY PURPOSE: Anti-mecha
RANGE: Varies
DAMAGE: Varies
RATE OF FIRE: One at a time or in volleys of 2, 3 or 4
PAYLOAD: 16 short range missiles

2x NP-AR-02: Mounted on either arm are two modified versions of the NP-AR-01 found on the super veritech. Each launcher can hold 6 short range missiles instead of the standard three found on the super veritech

PRIMARY PURPOSE: Assault/Defense
SECONDARY PURPOSE: Anti-mecha
RANGE: Varies
DAMAGE: Varies
RATE OF FIRE: One at a time or in volleys of 2, 3, or 4
PAYLOAD: 6 short range missiles per launcher

2 x MM-3 MULTIMISSILE SYSTEM: Mounted on either ship are two MM-3 missile systems. Each launcher can rotate 180 degrees. This allows the VF-2 to fire missiles towards the rear in battloid mode if necessary.

PRIMARY PURPOSE: Anti-missile
SECONDARY PURPOSE: Assault
RANGE: Varies
DAMAGE: Varies
RATE OF FIRE: One at a time or in volleys of 2, or 3, or all six
PAYLOAD: 3 short range missiles per launcher

BODY/WING HARD POINTS: Two fixed hard points are mounted on each wing. These hardpoints can be used to carry 15 short range missiles, 5 medium range missiles or 2 long range missiles.

HAND TO HAND COMBAT: If necessary, the Jotun can engage in melee combat rather than use a weapon. The VF-2 is extremely agile and can execute most typical hand to hand combat moves, such as punches, jump kicks, leap attacks, rolling with impacts, etc.

DAMAGE:

Punch in Battloid: 3D6*3
Punch in Guardian: 3D4*3
Kick: 3D6*3
Leap Kick: 6D6*3
Body Flip/Throw: 3D6*3
Body Block/Tackle: 3D6*3
Stomp: 6D6*3 . (only effective against small objects)



STANDARD EQUIPMENT FOR THE JOTUN:
AUTO-PILOT: The Jotun is equipped with a computerized auto-pilot, allowing the pilot to relax or even sleep during long voyages. The auto- pilot can be programmed with a single destination or a complex flight plan involving multiple speeds, directions, and destinations. The onboard computer will alert the pilot when the fighter is near its destination, and can also be set to automatically signal when sensors detect objects near the mecha. The auto-pilot was designed with long intra-system space journeys in mind.
COMBAT COMPUTER: The combat computer tracks and identifies specific enemy targets, and has a database of over 10,000 images stored in memory. The computer can identify and track up to 250 targets simultaneously.
EXTERNAL AUDIO PICKUP: Range: 300 ft (91.5 m). A sound amplification system that can pick up normal conversation up to 300 feet away.
HEAT AND RADIATION SHIELDS: Special shielding prevents the penetration of life threatening head and radiation. A radiation detection and alarm system are linked with the shields and will sound an alarm if there is a rupture in the shields and what the levels of radiation are.
HOMING SIGNAL: The escape pod of the VF-2 is equipped with a homing device that enables rescue teams to locate a disabled craft or ejected life pod. The range of the signal is 400 miles (640 km). Most RDF ships and veritechs can locate and track a homing signal, and the onboard computers will automatically notify their pilots if such a signal is detected.
THOMSON LT-3 LASER TARGETING SYSTEM: Range: 100 miles (160 km). Used for increased accuracy in the striking of enemy targets and is partly responsible for the mecha's strike bonus.
LOUDSPEAKER: A loudspeaker system is built into the craft, which can be used to amplify the pilot's voice up to 90 decibels.
OPTICS: INFRARED: Range: 2000 feet (610 m). This optical system projects a beam of infrared light that is invisible to the normal eye, but detectable by the mecha's sensors. The system allows the pilot to detect hidden/concealed objects by their IR reflectiveness. The beam will be visible to anyone with IR sensitive optics, however.
OPTICS: NIGHTVISION: Range: 2000 feet (610 m). A passive light image intensifier that emits no light of its own, but relies on ambient light which is electronically amplified to produce a visible picture.
ZEISS TS-2 OPTICS: THERMAL IMAGER: Range: 2000 feet (610 m). A passive optical heat sensor that detects infrared radiation projected by warm objects and converts that data into a false-color visible image. The system enables the pilot to see in the dark, in shadows, and through smoke, and also adds a +10% bonus to pilots using a tracking skill.
HUGHES AWG-20 RADAR: X-band pulse Doppler radar with 100 mile range.
RADIO/VIDEO COMMUNICATION: Long range, directional communications system with satellite relay capabilities. Range: 600 miles (960 km) or can be boosted indefinitely via satellite relay.
SELF-DESTRUCT: To prevent capture of an advance variable fighter by the enemy, the pilot can activate the VF-I2 self-destruct system, which will cause the fighter to explode after a delay of up to 60 minutes (time is set by the pilot). The explosive damage is contained within a 20 foot (6 m) area and inflicts 1D6x10 M.D. to everything within the radius of the explosion. All internal systems are obliterated. The escape pod will be automatically ejected prior to the explosion unless the pilot overrides the ejection sequence.
STANDARD SURVIVAL KIT: All RDF veritechs come equipped with a portable survival kit. Inside the small reinforced box is a medium-sized flashlight, two hand flares, one rocket flare, a compass, infrared distancing binoculars, a small mirror, a pocket knife, dehydrated and concentrated food (can be stretched into a five day supply for one person) and basic first aid items (aspirin, bandages, disinfectants, etc.)
TACTICAL LIFE SUPPORT SYSTEM: The Jotun's cockpit is pressurized, and also provides additional air feeds to the pilot's flight suit that provides him with pressurized breathing. The RDF flight suit also contains an upper and lower g-suit that promotes blood circulation even during high-g turns, thus decreasing the possibility of pilot's blacking out in combat.
ELETTRONICA RADAR WARNING RECEIVER (RWR)
OLDELFT INFRA-RED WARNING RECEIVER (IRWR)
WESTINGHOUSE ALQ-200 (V) ACTIVE SENSOR JAMMER
CHAFF/FLARE DISPENSERS: 12 chaff and 12 flares are stored in each lower leg
---
COMBAT BONUSES FOR JOTUN TRAINING:
2 attacks per melee (plus those of the pilot).
Add one additional action/attack at levels six and eleven.
+1 to strike
+4 to parry with arm shield
+1 to dodge in solder, +3 in guardian, and +5 in jet mode.
+2 to roll with a punch or fall with an impact, reducing damage by half.
Critical strike same as pilot's hand-to-hand.
---
REFERENCES USED IN THIS DESIGN
Robotech Technical Files: Veritech Valkyrie
Palladium Books: "Robotech The Roll Playing Game"