---
VF-X-24 "GHOST" VERITECH FIGHTER
(Version 1.00 - Last updated: 12/12/01)
Concept and Background by Kenneth Olson
Based on an original mecha design published in Macross Design Works
BACKGROUND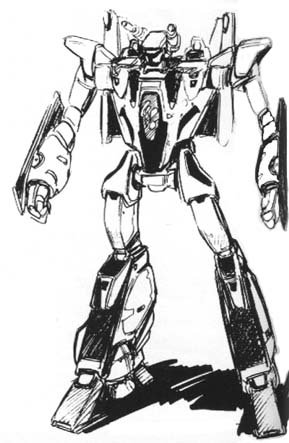 At the conclusion of the First Robotech War, the United Earth Government ordered a top down review of the Robotech Defense Forces. At the minimum, a new variable aerospace superiority veritech would have to be designed for the Robotech Expeditionary Forces. By 2014 two main competitors had worked themselves to the forefront, an upgraded version of the VF-4 "Lightning" and newer VF-6 "Alpha" fighter. Boeing Aerospace had also submitted a design for consideration, the VF-X-24 or "Ghost" fighter.
The VF-X-24 was designed from the ground up as a second generation variable fighter. Armored with the most advanced Chobham armor available at the time, the VF-X-24 was immune to all small arms and light anti-mecha weaponry. Only weapons of 55mm or greater posed a serious threat of penetrating the armor and inflicting damage to internal systems. To further increase the defensive protection of the mecha, two anti-projectile arm shields are available in battloid mode.
The VF-X-24 was designed to fight the Robotech Masters. The craft makes use of passive and active radar reduction techniques. The Ghost was designed to have a median all aspect RCS of less than 0 dBsm through extensive use of radar absorbing materials. In addition, the Ghost possesses a RRG mk1 EM absorbing field which reduces the radar cross section to minus 20 dBsm through the use of active radar lessening techniques. In addition to the passive systems designed to defeat enemy systems, the Ghost was outfitted with the most advanced sensor package available. Along with the standard package of RWR, IRWR, chaff, flares, and ALQ-250 sensor jammers, the Ghost possesses a Hughes APG-110 X band pulse-Doppler radar capable of long range detection and tracking of targets at all altitudes.
Although not possessing the heaviest weaponry and relaying on stealth to defeat enemies, the Ghost nevertheless does possess considerable firepower. The VF-X-24 has two internal MLT-4 missile launchers located under the main fuselage. Each launcher can hold up to four medium range stiletto missiles which can fire in fighter or guardian mode; however, the launchers are blocked by the structure of the mecha in battloid mode. The unit has two Mauser LX-24 laser cannons located in mounts on either side of the side. Each laser is an upgraded version of the cannons placed on the VF-1 "Valkyrie" and can fire 7 MJ pulses up to 40 times per minute. In addition to the internal systems, the Ghost has four hardpoints mounted under the main fuselage capable of mounting either missiles, conventional bombs, or a single gun pod.
The first Ghost fighter was delivered to the RDF in January 2019. However, by this time the REF had made its preference for the VF-6 clear. As a result only 30 craft were completed with the final unit delivered later that same year. The decision to use the VF-6 was most fortunate for the REF as the Invid do not make much use of all the sensors for which the Ghost was designed to defeat. In addition, the relative lack of weaponry would have placed the Ghost at a sever disadvantage compared to the VF-6 alpha.
If the Robotech Masters had not invaded Earth in 2029, the history of the VF-X-24 would have been over. However, the remaining 20 operational craft were brought back into service in 2029 and formed into the 215th Fighter Squadron out of RDF Albuquerque base and dubbed the "Ghost Riders". During the final two years of the 2nd Robotech War the 215th racked up an impressive 25 to 1 kill ratio often destroying whole compliments of bioroids before they could even respond with counter fire. The unit was disbanded in July 2030 for lack of replacement aircraft. All the remaining units are believed to have been destroyed when the Invid invaded Earth and obliterated RDF Albuquerque base.
RPG STATS
Vehicle Type: VF-X-24

Class: Variable Fighter
Manufacturer: Boeing Aerospace
Crew: One, pilot wearing Tactical Life Support System

Service History:

VF-X-24: RDF from 2019-2025 and from 2029-2030
MDC BY LOCATION:
| | |
| --- | --- |
| Location | Ghost |
| Head Lasers (2) | 25 each |
| Head Sensor Probe | 35 |
| * Head | 75 |
| Hands (2) | 30 each |
| Arms (2) | 125 each |
| Arm Shields / Tail Fins (2) | 150 each |
| Legs (2) | 200 each |
| Engine Thrusters (4) | 50 each |
| ** Main Body | 250 |
| Reinforced Pilots Compartment | 200 |
| Retractable Utility Arms (2) | 3 each |
| Wings (2) | 150 each |
| Forward Canards (2) | 25 each |
| Tails (2) | 150 each |
| GU-20 | 100 |
NOTES:
* Destroying the head of the Ghost will knock out the mecha's major sensor systems, including all of the optics systems (infrared, nightvision, thermal). Radar and communications will be unaffected.
** Depleting the MDC of the main body will destroy the mecha.
SPEEDS:
RUNNING, SOLDIER CONFIGURATION:

150 kph

LEAPING, SOLDIER CONFIGURATION:

50 ft (15 m) high or 70 ft (21 m) long without thrusters.

FLYING, SOLDIER CONFIGURATION:

300 kph

FLYING, GERWALK/SOLDIER CONFIGURATION:

Mach One (670 mph/1072 kmph) maximum speed limit in an Earth-like atmosphere. Can also hover in place indefinitely.

FLYING, FIGHTER CONFIGURATION:

Max level speed at sea level : Mach 1.5
Max level speed at 10km: Mach 4.5
Max level speed at 30+ km: 9500 kph
Stall speed : 150 kph (VTOL rectification possible)
Initial climb rate : over 35000m per minute
Service ceiling: Ghost can enter into low orbit
MAX ENGINE THRUST:
4 x PRATT AND WHITNEY MRK-10 FUSION TURBINES: Total engine output 350 kN at max. power; 620 kN are available with overboost. Exhaust nozzles allow for vector thrust, serving in place of conventional elevators. System includes two reverse-vernier thrusters, on blisters outboard of each intake; exhaust comes directly from main turbine at a maximum of 20% thrust.

STATISTICAL DATA:
HEIGHT:

13.0 m in soldier configuration.
9.2 m in gerwalk configuration.
4.1 m in fighter configuration.

WIDTH:

8.1 m at shoulders in soldier and gerwalk configuration.
14.1 m with wings at maximum extension.

LENGTH:

14.1 m in gerwalk configuration.
16.1 m in fighter configuration.

WEIGHT:

17,100 kg empty.

PHYSICAL STRENGTH:

Equal to a P.S. of 60

CARGO:

Small compartment behind pilot's and weapon officer's seat for personal belongings

POWER PLANT:

Two RT-5E miniaturized protoculture-cell energizers providing a total of 800 MW total power

DELTA V:

100 kps

COMPATIBLE FAST PACKS

None
WEAPON SYSTEMS:
2 x MLT-4 INTERNAL MEDIUM RANGE MISSILE LAUNCHERS: Two internal MLT-4 missile launchers are located in the main body. By placing the missiles inside the unit, the radar cross section is Each launcher is capable of holding four medium range missiles, typically Stiletto medium range missiles, internally. The missiles can only be fired while the mecha is in fighter or guardian mode and the launcher bay doors are obstructed while in batteloid.

PRIMARY PURPOSE: Assault
SECONDARY PURPOSE: Anti-Mecha
RANGE: Varies with missile type, typically 30 km
DAMAGE: Varies with missile type, typically 2D6*10
RATE OF FIRE: One at a time or in volleys of two, three, or all four.
PAYLOAD: Four medium range missiles per launcher for a total of eight.

2 x MAUSER LX-24 HEAD LASERS: Two developmental Mauser LX-24 lasers are mounted on the head. These head lasers were designed to be the primary weapon of the Ghost fighter and hence replace the standard gun pods found on earlier vertiech designs. Each head laser can fire 7 MJ pulses of energy up to 40 times per minute. The lasers are capable of firing in all modes, although only in guardian and battloid can they traverse 360 degrees in azimuth.

PRIMARY PURPOSE: Anti-missile
SECONDARY PURPOSE: Assault
RANGE: 1200 m
DAMAGE: 5D6 for each Head lasers or 1D6*10 if both are fired
RATE OF FIRE: Single shots equal to the combined attacks of the pilot up to ten times per melee.
PAYLOAD: Conditionally unlimited.

(Optional) 4 x BODY/WING HARD POINTS: Although not recommended as the Ghost is capable of mounting weapons on four hard points, one on each wing and two under the main boy. The addition of weaponry on the hardpoints, however, degrades the passive radar protection that the design of the Ghost fighter provides and hence is not recommended. Each hard point can mount up to 1000 kg of weaponry.

PAYLOAD HARDPOINTS: Up to 1000 kg of weapons (15 short range, 5 medium, 1 long, or gun pod)

HAND TO HAND COMBAT: If necessary, the Ghost can engage in melee combat rather than use a weapon. The VF-X-24 is extremely agile and can execute most typical hand to hand combat moves, such as punches, jump kicks, leap attacks, rolling with impacts, etc.

DAMAGE:

Punch in Battloid: 6D6
Punch in Guardian: 6D4
Kick: 6D6
Leap Kick: 1D4*10
Body Flip/Throw: 5D6
Body Block/Tackle: 4D6
Stomp: 1D6*10 . (only effective against small objects)
STANDARD EQUIPMENT FOR THE GHOST:
ACTIVE SENSOR JAMMER: Westinghouse ALQ-250(V) active jammer providing broad band protection from VHF to Ku band.
AUTO-PILOT: All veritechs are equipped with a computerized auto-pilot, allowing the pilot to relax or even sleep during long voyages. The auto- pilot can be programmed with a single destination or a complex flight plan involving multiple speeds, directions, and destinations. The onboard computer will alert the pilot when the fighter is near its destination, and can also be set to automatically signal when sensors detect objects near the mecha. The auto-pilot was designed with long intra-system space journeys in mind.
CHAFF AND FLARE DISPENSERS 40 chaff and 40 flares are stored in each lower leg
COMBAT COMPUTER: The combat computer tracks and identifies specific enemy targets, and has a database of over 10,000 images stored in memory. The computer can identify and track up to 250 targets simultaneously.
EXTERNAL AUDIO PICKUP: Range: 300 ft (91.5 m). A sound amplification system that can pick up normal conversation up to 300 feet away.
HEAT AND RADIATION SHIELDS: Special shielding prevents the penetration of life threatening head and radiation. A radiation detection and alarm system are linked with the shields and will sound an alarm if there is a rupture in the shields and what the levels of radiation are.
HOMING SIGNAL: The escape pod of the mecha is equipped with a homing device that enables rescue teams to locate a disabled craft or ejected life pod. The range of the signal is 400 miles (640 km). Most allied ships and veritechs can locate and track a homing signal, and the onboard computers will automatically notify their pilots if such a signal is detected.
LASER TARGETING SYSTEM: Range: 100 miles (160 km). Used for increased accuracy in the striking of enemy targets and is partly responsible for the mecha's strike bonus.
LOUDSPEAKER: A loudspeaker system is built into the craft, which can be used to amplify the pilot's voice up to 90 decibels.
OPTICS: INFRARED: Range: 2000 feet (610 m). This optical system projects a beam of infrared light that is invisible to the normal eye, but detectable by the mecha's sensors. The system allows the pilot to detect hidden/concealed objects by their IR reflectiveness. The beam will be visible to anyone with IR sensitive optics, however.
OLDELFT INFRA-RED WARNING RECEIVER (IRWR)
OPTICS: NIGHTVISION: Range: 2000 feet (610 m). A passive light image intensifier that emits no light of its own, but relies on ambient light which is electronically amplified to produce a visible picture.
OPTICS: THERMAL IMAGER: Range: 2000 feet (610 m). A passive optical heat sensor that detects infrared radiation projected by warm objects and converts that data into a false-color visible image. The system enables the pilot to see in the dark, in shadows, and through smoke, and also adds a +10% bonus to pilots using a tracking skill.
RADAR: Huges X-band pulse Doppler radar. Detection range against 0 dBsm target 150 km
RADAR ABSORBING ELECTROMAGNETIC SKIN COVER: RRG mark 1 strongly absorbing EM radiation from radio through ultra-violet wavelengths, and emitting only weakly in these bandwidths
RADAR ABSORBING FIELD GENERATOR: RRG MK1 radar absorption field which downshifts and dampens all EM radation and emitting only weakly in these wavelengths. NOTE: Once the mecha has lost half of its main body MDC, there is a 50% chance that the stealth system will fail every time the main body of the craft is hit. Once the stealth system has failed, it will not work again until repaired at a RDF base.
RADAR WARNING RECEIVER (RWR): Elettronica radar warning receiver providing all-aspect protection.
RADIO/VIDEO COMMUNICATION: Long range, directional communications system with satellite relay capabilities. Range: 600 miles (960 km) or can be boosted indefinitely via satellite relay.
SELF-DESTRUCT: To prevent capture of an advance variable fighter by the enemy, the pilot can activate the self-destruct system, which will cause the fighter to explode after a delay of up to 60 minutes (time is set by the pilot). The explosive damage is contained within a 20 foot (6 m) area and inflicts 1D6*10 M.D. to everything within the radius of the explosion. All internal systems are obliterated. The escape pod will be automatically ejected prior to the explosion unless the pilot overrides the ejection sequence.
STANDARD SURVIVAL KIT: All mecha come equipped with a portable survival kit. Inside the small reinforced box is a medium-sized flashlight, two hand flares, one rocket flare, a compass, infrared distancing binoculars, a small mirror, a pocket knife, dehydrated and concentrated food (can be stretched into a five day supply for one person) and basic first aid items (aspirin, bandages, disinfectants, etc.)
TACTICAL LIFE SUPPORT SYSTEM: The veritech's cockpit is pressurized, and also provides additional air feeds to the pilot's flight suit that provides him with pressurized breathing. The flight suit also contains an upper and lower g-suit that promotes blood circulation even during high-g turns, thus decreasing the possibility of pilot's blacking out in combat.

---
COMBAT BONUSES FOR GHOST TRAINING:
3 attacks per melee (plus those of the pilot).
Add one additional action/attack at levels six and eleven.
+2 to strike
+4 to parry
+3 to dodge in solder, +4 in guardian, and +6 in jet mode.
+3 to roll with a punch or fall with an impact, reducing damage by half.
Critical strike same as pilot's or weapon officer's hand-to-hand.
---
REFERENCES USED IN THIS DESIGN
Robotech Technical Files: Veritech Valkyrie
Palladium Books: "Robotech The Roll Playing Game"