---
DESTABLIZER TANK
(Version 1.0 - Last updated: 05/20/05)
Background and RPG Statistics by Kenneth Olson
Based on a design introduced in Robotech Invasion
BACKGROUND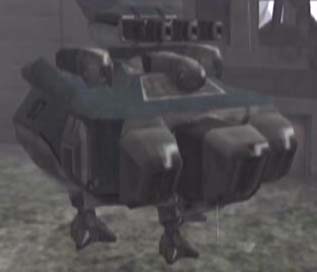 The Destablizer Tank was a experimental hovertank produced by Dr. Osmund, formally of the Advanced Robotech Center on Tirol, during the closing days of the 3rd Robotech War. Approximately 50% of the components on the vehicle were scavenged from destroyed VFB-9 "Beta" fighters including most of the main body and the two Pratt and Whitney JG-102 thrusters mounted on the rear of the unit. The vehicle is nominally manned with a crew of three (commander, gunner, and driver), but can function with a single operator functioning as both driver and gunner albeit at much reduced combat capabilities. In addition to the crew, the tank can hold up to 12 troops and their associated equipment, or half than number of Cyclone riders, in a forward troop bay. The vehicle could be air dropped to reinforce forward deployed units, as its thrusters are capable of slowing decent of the Destablizer Tank, but do not provide the tank with full flight capabilities.
The Destablizer Tank's primary armament consist of three turret mounted EU-17 Destablizer cannons. The turret is capable of traversing a full 360 degree azimuth from -10 to +90 degrees in elevation. The EU-17 is an up scaled version of the EU-12 Destablizer found on the VF-2V "Vindicator". Each cannon draws power directly from the main Protoculture energizers and fires sub-nuclear particles with a maximum beam output of 25 MJ per blast. The particles are tuned to have a specific, disrupting effect on force fields. A single blast will short out a low power force field (less than 100 MDC in strength), while high power fields may locally cease to function. In addition to the turret mounted Destablizer cannons, the vehicle mounts two EU-14s. Each EU-14 fires 2.4 MJ pulses per barrel and can fire in either full automatic mode or all three barrels simultaneously. The placement of the EU-14 limits their field of fire to 240 degrees in azimuth and up to 45 degrees in elevation. This means that each cannon can only fire in the 240 degree azimuth sector away from the main body of the vehicle

As the Destablizer Tank does not have the need to transform nor maintain flight, all of the associated equipment has been removed and much of the saved space is devoted to a significant increase in armor protection. As on the Beta Fighter, the Destablizer Tank is armored with a low-mass composite Chobham plating. The armor provides immunity to all small arms fire and good resistance for rounds up to 55mm in caliber. The unit can only be destroyed by multiple hits from heavy class anti-mecha weaponry. In addition to retaining the armor and body shape of the VFB-9 "Beta", the Destablizer Tank keeps most of the sensors including the short range X-band target acquisition radar to aid in targeting airborne targets at ranges of less than 50 km.

Only a single prototype Destablizer Tank was developed by Dr. Osmund at the end of the Third Robotech War. Dr. Osmund developed the vehicle as his attempt to build a unit which could force its way into Reflex Point and end the 3rd Robotech War. Unfortunately, the vehicle which he spent nearly 16 months developing was only deployed on two occasion in July 2044 during the concluding days of the Invid's occupation of the Earth. The Destablizer Tank's first trial by combat occurred in defense of the small village of Haven, approximately 100 km from Reflex Point. During the battle, the tank was able to destroy nearly 20 Invid without suffering any critical damage but Dr. Osmund left the safety of the Tank and was immobilized. The second, and final, engagement with the tank took place not against Invid forces but against follow REF resistance fighters during which time Dr. Osmund was trying to reacquire a Cyclone sized proto-type Destablizer cannon. The Destablizer tank was immobilized during the fight and instead of surrendering, Dr. Osmund destroyed the tank killing himself in the process. With such a spotty combat record, one might assume that the Destablizer Tank was a complete failure; however, if the unit had been mass produced for the REF it could have been a powerful infantry support weapon.

RPG STATS
Vehicle Type: Destablizer Tank

Class: Combat Hover Tank
Manufacturer: Osmund Experimental Labs
Crew: 3 (Commander in turret right rear, Gunner in turret left, Driver in hull front) and up to 6 Cyclone riders or 12 troops can be carried in the forward combat bays

Service History: Dr Osmund REF resistance group for approximately 2 weeks at the conclusion of the Third Robotech War (July 2044)
MDC BY LOCATION:
| | |
| --- | --- |
| Location | Destablizer Tank |
| Turret | 250 |
| Destablizer Cannons (3) | 100 each |
| Forward Combat Bay Doors (3) | 100 each |
| * Forward Combat Bay | 300 |
| Aft Thrusters (2) | 75 each |
| Lower Supports (3) | 50 each |
| Bottom Thrusters (5) | 35 each |
| ** Main Body | 600 |
| Reinforced Pilots Compartment | 200 |
		 
NOTES: 
* Depleting the MDC of the forward combat bays will expose any troops within directly to enemy fire
** Destruction of the Main Body will immobilize the unit.
SPEEDS:
MAXIMUM SPEED:

Road: 200 kph governed / 300 kph with boosters
Cross-Country: 120 kph / 200 kph with boosters
10-deg upslope: 100 kph
60-deg upslope: 80 kph

ACCELERATION:

0-60 kph: 6.0 / 3.0 seconds with booster augmentation

OBSTACLE:

Vertical: 4.0 m
Trench: 8.0 m

SPACEBORNE OPERATIONS:

Acceleration: 1.2g (although rarely used in space)
Delta V: 0.4 kps with 500 kg of D20 stored internally
STATISTICAL DATA:
LENGTH:

12.3 m

WIDTH

8.5 m

HEIGHT

Main Body: 4.6 m
Top of Turret: 6.2 m

GROUND CLEARANCE

1.2 m

WEIGHT:

60,000 kg empty
72,500 kg with combat load

CARGO:

Forward combat bay with enough room for 12 soldiers with equipment or 6 Cyclone riders

POWER PLANT:

4x RRL-2P Miniaturized Protoculture-cell energizers

MAX ENGINE THRUST:

[Main] 2x PRATT & WHITNEY JG102 FUSION PLASMA-AIR/REACTION MASS INTERMIX TURBINES: Two JG102A engines are retained from the basic VFB-9 design. Each thruster on the rear has a maximum thrust of 356 kN with a specific impulse of 5000 sec.
[Auxiliary] 5x PRATT & WHITNEY HJ-800: Five hover jets are mounted on the underside of the Destablizer Tank. Each thruster can provide up to 75 kN of ground-effect thrust

FUEL CAPACITY:

16 standard canisters of Protoculture
WEAPON SYSTEMS:
3x EU-17 DESTABLIZER: The EU-17 is an up scaled version of the EU-12 Destablizer found on the VF-2V "Vindicator". Each cannon fires sub-nuclear particles with a maximum beam output of 25 MJ. The EU-17 Destablizer draws power directly from the main Protoculture energizers. The particles are tuned to have a specific, disrupting effect on force fields. A single blast will short out a low power force field (less than 100 MDC in strength), while high power fields may locally cease to function.

PRIMARY PURPOSE: Assault
SECONDARY PURPOSE: Anti-force field
RANGE: 2000 m
DAMAGE: 2D6*10 per cannon or 6D6*10 for all three cannons firing simultaneously
RATE OF FIRE: Single shots up to four times per melee
PAYLOAD: Effectively unlimited
NOTES: Each single shot will completely obliterate a force field of less than 100 MDC in strength, while creating a hole of 6D6 meters in diameter for higher power

2 x EU-14 THREE-BARRELED 80MM PARTICLE GUN POD: Two EU-14 cannons are mounted on either side of the Destablizer Tank. Each cannon can fire 170 rounds per minute in full automatic mode or fire all three barrels simultaneously in semiautomatic mode at approximately one shot per second. This weapon fires 2.4 MJ pulses per barrel in each mode, drawing power from the vehicle's main energizer. This gun is the carbine version of the EP-13 gun pod in the later model Alphas. However due to its smaller size, its energy and range are appreciably reduced. This weapon was developed around 2035 and started being widely deployed in 2039.

PRIMARY PURPOSE: Assault
SECONDARY PURPOSE: Anti-Mecha
RANGE: 1000 m
DAMAGE: 2D4 for each Single blast, 1D4*10 for each triple blast, 1D6*10 for each medium burst (up to six times per melee), or 3D4*10 for each full melee burst.
RATE OF FIRE: Single shots or bursts equal to the combined attacks of the pilot.
PAYLOAD: Unlimited.

NOTES:

The weapons can traverse 240 degrees in azimuth, each cannon can only fire in the 240 degree azimuth sector away from the main body of the vehicle, and up to 45 degrees in elevation

HAND TO HAND COMBAT:. As a vehicle the Destablizer Tank can not engage in physical combat as a mecha can. However, the vehicle can ram or crush items in its path.

Ram (30 kph): 3D6 MDC
Ram (60 kph): 6D6 MDC
Crush (only effective against small targets): 1D6*10 MDC
STANDARD EQUIPMENT FOR THE DESTABLIZER TANK:
ACTIVE SENSOR JAMMER: Westinghouse ALQ-250(V) internal ECM providing broadband protection. Estimated system effective radiative power 50 dBW
CHAFF AND FLARE DISPENSERS AN/ALE-55: 40 chaff and 40 flares are stored on either side of the vehicle
COMBAT COMPUTER HP DIGITAL BALLISTIC COMPUTER: The combat computer aids the gunner to identify and track specific enemy targets. The combat computer stabilizes the main gun while the vehicle is in motion.
EXTERNAL AUDIO PICKUP: Range: 300 ft (91.5 m). A sound amplification system that can pick up normal conversation up to 300 feet away.
HEAT AND RADIATION SHIELDS: Special shielding prevents the penetration of life threatening head and radiation. A radiation detection and alarm system are linked with the shields and will sound an alarm if there is a rupture in the shields and what the levels of radiation are.
HOMING SIGNAL: The escape pod of the Destablizer Tank is equipped with a homing device that enables rescue teams to locate a disabled craft or ejected life pod. The range of the signal is 400 miles (640 km). Most REF ships and veritechs can locate and track a homing signal, and the onboard computers will automatically notify their pilots if such a signal is detected.
INFRA-RED COUNTERMEASURES: Westinghouse QRC-100 providing protection from IR guided missiles
INFRA-RED WARNING RECEIVER: OlDelft Infra-red Warning Receiver (IRWR) providing rear aspect coverage from IR guided missiles
LOUDSPEAKER: A loudspeaker system is built into the craft, which can be used to amplify the pilot's voice up to 90 decibels.
OPTICS (INFRARED): Phillips All-View multi-band camera system range 1000 meters. This optical system projects a beam of infrared light that is invisible to the normal eye, but detectable by the mecha's sensors. The system allows the pilot to detect hidden/concealed objects by their IR reflectiveness. The beam will be visible to anyone with IR sensitive optics, however.
OPTICS (NIGHTVISION): Phillips All-View multi-band camera system range 1000 meters. A passive light image intensifier that emits no light of its own, but relies on ambient light which is electronically amplified to produce a visible picture
OPTICS (THERMAL IMAGER): Range 2000 meters. A passive optical heat sensor that detects infrared radiation projected by warm objects and converts that data into a false-color visible image. The system enables the pilot to see in the dark, in shadows, and through smoke, and also adds a +10% bonus to pilots using a tracking skill.
RADIO/VIDEO COMMUNICATION: Long range, directional communications system with satellite relay capabilities. Range: 600 miles (960 km) or can be boosted indefinitely via satellite relay.
RADAR (SHORT RANGE / FIRE CONTROL): Hughes APG-113 X-band pulse-Doppler, providing spherical long-range detection and tracking of targets at all altitudes. (Range 150 km against a 0 dBsm "Invid sized" target)
RADAR WARNING RECEIVER: Marconi Radar Warning Receiver (RWR)
SELF-DESTRUCT: To prevent capture of an advance variable fighter by the enemy, the pilot can activate the Destablizer Tank self-destruct system, which will cause the fighter to explode after a delay of up to 60 minutes (time is set by the pilot). The explosive damage is contained within a 20 foot (6 m) area and inflicts 1D6x10 M.D. to everything within the radius of the explosion. All internal systems are obliterated. The escape pod will be automatically ejected prior to the explosion unless the pilot overrides the ejection sequence.
SMOKE DISPENSERS (M250): 2 x 6 barrel smoke dischargers (24 rounds each). Smoke is mixed with engine exhaust to provide cover up to 20 meters away from unit.
STANDARD SURVIVAL KIT: All REF mecha come equipped with a portable survival kit. Inside the small reinforced box is a medium-sized flashlight, two hand flares, one rocket flare, a compass, infrared distancing binoculars, a small mirror, a pocket knife, dehydrated and concentrated food (can be stretched into a five day supply for one person) and basic first aid items (aspirin, bandages, disinfectants, etc.)
TACTICAL LIFE SUPPORT SYSTEM: The Destablizer Tank cockpit is pressurized, and also provides additional air feeds to the pilot's flight suit that provides him with pressurized breathing. The REF flight suit also contains an upper and lower g-suit that promotes blood circulation even during high-g turns, thus decreasing the possibility of pilot's blacking out in combat

---
COMBAT BONUSES FOR DESTABLIZER TANK:
Number of attacks equal to the combine number of the pilot, gunnery officer, and commander
+2 to strike targets
+1/+2/+3 to dodge above 20/40/60 kph.
---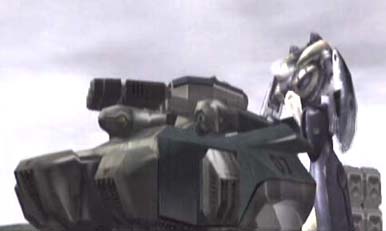 Random Hit Locations
When there is an equal chance of hitting both sides from 1D6
1-3 hits the right side
4-6 hits the left
When there is a preferred side, roll 1D10
1-8 hits the preferred side
9-10 hits the opposite side
Destablizer Tank

FRONT

BACK

SIDES

TOP

BOTTOM

Turret (Main Body)
01-30
01-40
01-25
01-40
-
Destablizer Cannon (Turret)
31-40
41-45
26-35
41-55
-
Forward Combat Bay Doors (Combat Bay)
41-55
-
36-40
56-60
01-10
*Aft Thrusters (Main Body)
-
46-65
41-45
61-65
11-25
Lower Supports (Main Body)
56-60
66-70
46-50
-
26-35
Bottom Thrusters (Main Body)
-
71-75
51-55
-
36-50
Main Body (Pilot's Compartment)
61-00
76-95
56-95
66-90
51-80
Pilot's Compartment
-
96-00
96-00
91-00
81-00
* Will raise into the Main Body 15 seconds after startup
---
SOURCES USED IN CREATION OF DOCUMENT
Palladium Books "The Sentinels": VBF-12 Beta Fighter
Robotech Technical Files: VFB-9 "Beta Fighter"
Robotech.com: VFB-9 "Beta Fighter"
---