---
VF-Z1 VARIABLE BATTLEPOD
(Version 1.01 - Last updated: 11/12/00)
Concept Design from Macross Digital Valkyrie
History and RPG Stats by Todd Derleth tderleth@cfl.rr.com
Additional help from Kenneth Olson
BACKGROUND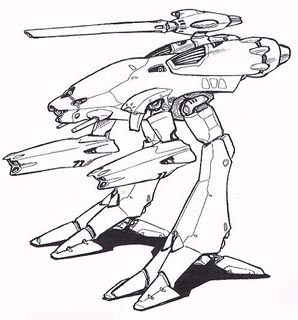 Before the SDF-3 left Earth provisions were set up regarding the creation of mecha for Zentraedi troops. The rules provided for advanced, yet inherently inferior mecha which could easily be overpowered by other mecha should the Zentraedi rebel against the REF.
Once the Invid returned to earth, REF high command issued new orders that upgraded Zentraedi weaponry and mecha be designed for the soldiers in the fleet, maintaining that they had more than proven their loyalty in the conflict with the Invid during the Sentinels campaign. To continue to provide the Zentraedi with inferior mecha would be an insult. The blanket ban on Zentraedi choosing OCC's such as Veritech Pilot and standard Destroid Pilot were lifted, but many Zentraedi still found the more complex REF mecha difficult to master. The standard REF Zentraedi Battlepods were redesigned, including stronger armor, mini-missile launchers, and more powerful energy weapons. Additionally the plans for the Zentraedi Striker Battloid (see The Return of the Masters 2nd Edition) were dusted off, and the unit put into production. Toward the end of the
Third Invid War, REF scientists began developing new mecha designs, one of which was a Zentraedi style design geared more toward Zentraedi troops whom have been acclimated to the more advanced technology of the REF. The VF-1Z is a two mode Advanced Variable Fighter based on the capable Zentraedi Officers Battle Pod of Robotech Masters origin. The mecha proved to be more agile than it's predecessors in Battle Pod configuration, mounting more powerful weapon systems and heavier armor. In fighter configuration the craft if the equal to any Veritech in fighter mode. the VF-1Z saw action at the end of the Third Invid War, and in the years that followed, and gained popularity with both Zentraedi and Human pilots, leading to the commonality of integrated fighter squadrons as the years passed. Five hundred units were produced during the third Invid war. Many of the units survived their initial encounters with the newly reconstituted Invid forces and helped the resistance groups on Earth continue the fight.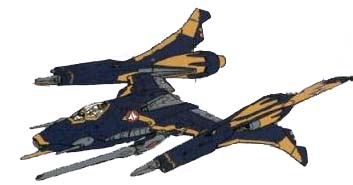 RPG STATS
Vehicle Type: VF-Z1 Variable Battle Pod

Class: Variable Fighter
Manufacturer: REF / Robotech Factory Satellite
Crew: One human sized pilot wearing Tactical Life Support System.
MDC BY LOCATION:
| | |
| --- | --- |
| Location | MDC |
| * Nose Sensor Cluster | 75 |
| Upper Arms (2) | 75 each |
| Weapon Arms(2) | 120 each |
| Impact Cannons(2) | 60 each |
| Legs (2) | 300 each |
| Main Engine Thrusters (2) | 200 each |
| Wings (4) | 175 each |
| Particle Beam Cannon | 75 |
| Pilots Compartment | 250 |
| ** Main Body | 350 |
| Rapid Fire Lasers (2) | 50 each |
NOTES:
* Destroying the nose sensor cluster of the VF-Z1 will knock out the mecha's major sensor systems, including all of the optics systems (infrared, night vision, thermal). Radar and communications will be unaffected.
** Depleting the MDC of the main body will destroy the mecha.
SPEEDS:
RUNNING, SOLDIER CONFIGURATION:

120 kph

LEAPING, SOLDIER CONFIGURATION:

50 ft (15 m) high or 70 ft (21 m) long without thrusters.

FLYING, SOLDIER CONFIGURATION:

482 kph

FLYING, GERWALK/SOLDIER CONFIGURATION:

Mach One (670 mph/1072 kmph) maximum speed limit in an Earth-like atmosphere. Can also hover in place indefinitely.

FLYING, FIGHTER CONFIGURATION:

Max level speed at sea level : 2465 kph (Mach 2.3)
Max level speed at 10,000 meters: Mach 6.0
Max level speed above 10,000 meters: Mach 25+
Stall speed : 125 kph
Initial climb rate : over 40000m per minute
Service ceiling : Can reach orbit

MAX ENGINE THRUST:

2 x Pratt & Whitney ZX929M [Main] Fusion plasma-air/reaction mass intermix turbines: Max thrust, 75,200 kg of thrust each.
ASSORTED AUXILIARY MANEUVERING THRUSTERS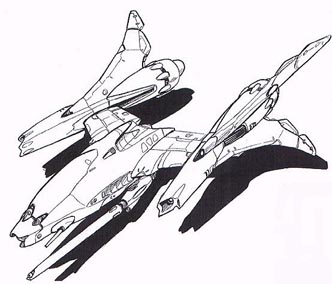 STATISTICAL DATA:
HEIGHT:

15.22m in soldier configuration.
8.12m in gerwalk configuration.
4.04m in fighter configuration.

WIDTH:

6.91m at shoulders in soldier and gerwalk configuration.
15.36m with wings at maximum extension.

LENGTH:

4.27m in soldier configuration.
15.23m in gerwalk configuration.
21.08m in fighter configuration.

WEIGHT:

25,000 kg empty.

PHYSICAL STRENGTH:

Equal to a P.S. of 60

CARGO:

Small compartment behind pilot's seat for personal belongings in addition to the cyclone storage compartment

POWER PLANT:

4 x RRL-2P Miniaturized Protoculture-cell energizer
16 standard canisters of Protoculture
1 dedicated canister for main weapon (if applicable)
150 lit. D2O reactant for fusion engines.

Delta V:

90 kps, however two 50 kps tanks may be mounted on each hardpoint
WEAPON SYSTEMS:
RRG PB-19 PARTICLE BEAM CANNON: Designers felt that the main weapon should be based off a standard Zentraedi design. To this end they upgraded the PB-19 found on the Glaug Zentraedi Officer Pod. The PB-19, unlike its predecessor, is able to fire 60 MJ bursts up to fifty times per minute to a range of 7 kilometers. The Zentreaedi members of the REF took an instant liking to this weapon as it was able to destroy large numbers of Invid at extreme ranges without the necessity of ammunition.

PRIMARY PURPOSE: Assault
SECONDARY PURPOSE: Anti-Mecha
RANGE: 7000m
DAMAGE: 4D6*10 MDC
RATE OF FIRE: Equal to the pilots total hand to hand attacks up to 8 times per melee
PAYLOAD: Unlimited

2 x RRG PBC-12b PARTICLE BEAM CANNONS: Each weapons arm mounts two PBC-12B cannons. Each cannon fires 25 MJ bursts of energy out to 2.4 kilometers. These cannons can fire at twice the rate but only at 75% of the range and 50% of the damage potential. Each cannon can rotate 30 degrees to each side in tandem, rotate up to 10 degrees to each side, and -10 to +30 degrees independently.

PRIMARY PURPOSE: Assault
SECONDARY PURPOSE: Anti-Mecha
RANGE: 2400 m
DAMAGE: 5d10+25 for each single shot or 10d10+25 for each dual shots. For GM's sanity this could be translated as 3D4*10 for each single or 6D6*10 for each dual.
RATE OF FIRE: Four times per melee for each gun. The guns can fire at 1/2 damage however the rate of fire is doubled.
PAYLOAD: Unlimited

2 x COLT E-19B LASER CANNONS: are located behind and on either side of the canopy. The E-19B is an upgraded version of the E-19 found on the Z-1 battlepod; however, the design and purpose proved so successful that they were added to the VF-1 design. Each laser cannon can fire 6 MJ pulses every 1.5 seconds, 10 times per melee. These weapons are designed to protect the mecha from attacks from the rear.

PRIMARY PURPOSE: Assault/Defense
SECONDARY PURPOSE: Anti-mecha
RANGE: 1200 m
DAMAGE: 4D6 for each short burst, or 8D6 for dual short bursts
RATE OF FIRE: Up to 10 short bursts for each gun per melee
PAYLOAD: Unlimited
2 x GU-13S THREE-BARRELED 35MM GUN POD: firing 1400 rounds per minute, 1600 round capacity. Ammunition is a mix of Tungsten-coated depleted Uranium Armor Piercing Spin-Stablized Discarding Sabot (APSSDS), High Explosive Armor Piercing (HEAP) and tracer rounds. This gun is the carbine version of the GU-13 gun pod found in the Alpha fighter. However, due to its shorter barrel, accuracy, penetration, and range are appreciably reduced. Both guns are mounted in the weapon arms underneath the PB-12c.

PRIMARY PURPOSE: Assault
SECONDARY PURPOSE: Anti-Mecha
RANGE: Armor Piercing Spin Stablized Discarding Sabot Rounds (APSSDS) 3500 feet (1100 m), High Explosive Armor Piercing, Standard, and Tracer 3000 ft (900m)
DAMAGE: APSSDS 3d6 short burst, 5d6 medium burst, 1d6*10 full melee burst. HEAP 4d6 short burst, 1d4*10 medium burst, 2d4*10 full melee burst. Tracer rounds reduce damage by 25%. Standard 4d6 short burst, 1d4*10 medium burst, or 2d4*10 full melee burst
RATE OF FIRE: Single shots or bursts equal to the combined attacks of the pilot.
PAYLOAD: 200 short bursts, 100 medium, or 50 full melee
NOTES: APSSDS crits on 18,19,20. HEAP crits on 19,20. Tracers add +2 to strike.
HAND TO HAND COMBAT: If necessary, the VF-Z1 can engage in melee combat rather than use a weapon. The VF-Z1 is extremely agile and can execute most typical hand to hand combat moves, such as punches, jump kicks, leap attacks, rolling with impacts, etc.

DAMAGE:

Punch in Battlepod: 1D6*3
Kick: 1D6*3
Leap Kick: 2D6*3
Body Flip/Throw: 1D6*3
Body Block/Tackle: 1D6*3
Stomp: 1D4*3 . (only effective against small objects)
STANDARD EQUIPMENT FOR THE VF-Z1:
AUTO-PILOT: The VF-Z1 is equipped with a computerized auto-pilot, allowing the pilot to relax or even sleep during long voyages. The auto- pilot can be programmed with a single destination or a complex flight plan involving multiple speeds, directions, and destinations. The onboard computer will alert the pilot when the fighter is near its destination, and can also be set to automatically signal when sensors detect objects near the mecha. The auto-pilot was designed with long intra-system space journeys in mind.
COMBAT COMPUTER: The combat computer tracks and identifies specific enemy targets, and has a database of over 10,000 images stored in memory. The computer can identify and track up to 250 targets simultaneously.
EXTERNAL AUDIO PICKUP: Range: 300 ft (91.5 m). A sound amplification system that can pick up normal conversation up to 300 feet away.
HEAT AND RADIATION SHIELDS: Special shielding prevents the penetration of life threatening head and radiation. A radiation detection and alarm system are linked with the shields and will sound an alarm if there is a rupture in the shields and what the levels of radiation are.
HOMING SIGNAL: The escape pod of the VF-Z1 is equipped with a homing device that enables rescue teams to locate a disabled craft or ejected life pod. The range of the signal is 400 miles (640 km).
LASER TARGETING SYSTEM: Range: 100 miles (160 km). Used for increased accuracy in the striking of enemy targets and is partly responsible for the mecha's strike bonus.
LOUDSPEAKER: A loudspeaker system is built into the craft, which can be used to amplify the pilot's voice up to 90 decibels.
OPTICS: INFRARED: Range: 2000 feet (610 m). This optical system projects a beam of infrared light that is invisible to the normal eye, but detectable by the mecha's sensors. The system allows the pilot to detect hidden/concealed objects by their IR reflectiveness. The beam will be visible to anyone with IR sensitive optics, however.
OPTICS: NIGHTVISION: Range: 2000 feet (610 m). A passive light image intensifier that emits no light of its own, but relies on ambient light which is electronically amplified to produce a visible picture.
OPTICS: THERMAL IMAGER: Range: 2000 feet (610 m). A passive optical heat sensor that detects infrared radiation projected by warm objects and converts that data into a false-color visible image. The system enables the pilot to see in the dark, in shadows, and through smoke, and also adds a +10% bonus to pilots using a tracking skill.
WESTINGHOUSE APG-140: X-band spherical pulse doppler medium range radar. 100 mile range.
RADIO/VIDEO COMMUNICATION: Long range, directional communications system with satellite relay capabilities. Range: 600 miles (960 km) or can be boosted indefinitely via satellite relay.
SELF-DESTRUCT: To prevent capture of an advance variable fighter by the enemy, the pilot can activate the VF-Z1 self-destruct system, which will cause the fighter to explode after a delay of up to 60 minutes (time is set by the pilot). The explosive damage is contained within a 20 foot (6 m) area and inflicts 1D6x10 M.D. to everything within the radius of the explosion. All internal systems are obliterated. The escape pod will be automatically ejected prior to the explosion unless the pilot overrides the ejection sequence.
STANDARD SURVIVAL KIT: All REF Variable Fighters come equipped with a portable survival kit. Inside the small reinforced box is a medium-sized flashlight, two hand flares, one rocket flare, a compass, infrared distancing binoculars, a small mirror, a pocket knife, dehydrated and concentrated food (can be stretched into a five day supply for one person) and basic first aid items (aspirin, bandages, disinfectants, etc.)
TACTICAL LIFE SUPPORT SYSTEM: The VF-Z1 cockpit is pressurized, and also provides additional air feeds to the pilot's flight suit that provides him with pressurized breathing. The flight suit also contains an upper and lower g-suit that promotes blood circulation even during high-g turns, thus decreasing the possibility of pilot's blacking out in combat.
ELETTRONICA RADAR WARNING RECEIVER (RWR)
OLDELFT INFRA-RED WARNING RECEIVER (IRWR)
SELENA SKYWARRIOR ACTIVE/PASSIVE SENSOR JAMMERS
CHAFF AND FLARE DISPENSERS: 12 chaff and 12 flares are stored in the lower legs
---

COMBAT BONUSES FOR VF-Z1 FIGHTER TRAINING:
4 attacks per melee (plus those of the pilot).
Add one additional action/attack at levels five and ten..
+2 on initiative
+1 to strike
+3 to parry
+5 to dodge in battle pod, +6 in jet mode.
+4 to roll with a punch or fall with an impact, reducing damage by half.
Critical strike same as pilot's hand-to-hand.
---
REFERENCES USED IN THIS DESIGN
Palladium Books: "The Sentinels"