---
VERITECH ARTILLERY VA-6 "MOTHRA MONSTER"
(Version 1.01 - Last updated: 05/02/01)
RPG stats and Background by Kenneth Olson
Based on an original mecha design presented in Macross VF-X
BACKGROUND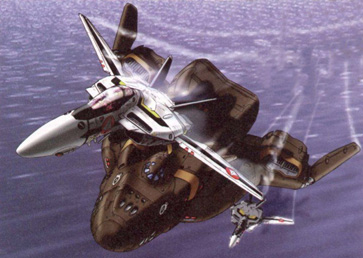 As the war with the Invid proceeded, REF planners saw less and less use for the destroids. Typically, raids on Invid plants were fought out in space with the REF veritech fighters destroying any Invid and then proceed to bombard any Invid installations from orbit. If the need arose for ground forces, veritech fighters supplemented with cyclone riders for support would form the backbone of any ground force. There were some times, however, which heavy artillery was needed to bombard Invid installations that were too well entrenched or difficult to hit from orbit. To fill this roll of heavy artillery with a veritech fighter that could drop in from orbit, land and proceed to demolish, with out the need for venerable horizont dropships, the VA-6 was designed.
The VA-6 is the largest transforming three form veritech fighter that the earth defense forces ever constructed. The guardian configuration is modeled after the MAC-II. The armor was upgraded to the newer Chobham laminar reinforced by a depleted Uranium mesh on the outer plate. The primary weaponry of the MAC-II mark III was keep, as the VA-6 was mounted with 4 of the massive Newport News MK8 381mm (15in) autoloading liquid fueled cannons. These weapons because of the autoloading mechanisms, can only be reloaded in guardian configuration (in soldier configuration they can only fire a single shot). The arm mounted weapons were upgraded to triple barrel MK22 laser cannons. Although, the VA-6 would be protected by large numbers of veritech fighters, 6 EP-4's were added on the nose of the veritech for protection in fighter mode.
The first VA-6 rolled off the production line on Tirol on April 17, 2035 and was immediately stationed on board the SS. Grant (Ikazuchi class). The VA-6 went into combat only 3 months later and participated on the final assault of the Invid main hive on Zt' Sesstie III. The VA-6 was able to keep up a constant bombardment of the protoplex shield with tactical nuclear devices until the shield was overloaded and knocked out of operations. At that point, all Invid resistance on the planet stopped as the Invid brain was destroyed. Although the Mothra was very successful for the purpose it was designed, the invention of the destabilizer and the Syncro Cannon rendered it obsolete. Only 15 units were produced between 2035 and 2040. All were placed in strategic reserve on Tirol during the assaults to reclaim Terra.
Service History:
RPG STATS
Vehicle Type: All-weather aerospace combat mecha.

Class: Variable Fighter
Manufacturer: Robotech Expeditionary Forces
Crew: Three (commander center, pilot right, and gunner left) wearing tactical support system
MDC BY LOCATION:
| | |
| --- | --- |
| Location | MDC |
| * Head | 150 |
| Hands (2) | 75 each |
| Main Cannons (4) | 100 each |
| Armshields / Lower Arms (2) | 600 each |
| Upper Arms (2) | 200 each |
| ** Main Body | 700 |
| Legs (2) | 400 each |
| Wings (2) | 300 each |
| Forward Canards (2) | 100 each |
| Reinforced Pilots Compartment | 300 |
| Rear Engines (4) | 150 each |
| Wing Engines (2) | 200 each |
| Tails (2) | 100 each |
NOTES:
(*) Destroying the head will knockout long range communications (reduced to 60 miles/96 km range) and long range radar (reduce to 20 miles) and laser targeting (-1 to strike)
(**) Depleting the MDC of the main body will destroy the mecha.
SPEEDS:
RUNNING, SOLDIER CONFIGURATION:

40 kph Soldier (32 Gerwalk)

LEAPING, SOLDIER CONFIGURATION:

50 ft (15 m) high or 70 ft (21 m) long without thrusters.

FLYING, SOLDIER CONFIGURATION:

120 kph

FLYING, FIGHTER CONFIGURATION:

Max level speed : 700 kph at sea level (Mach 0.7), 1700 kph at 10000m (Mach 1.7), 3200 kph at 30000M (Mach 3.2)
Stall speed : 250 kph (VTOL rectification possible)
Service ceiling : 35 km (unboosted). VA-6 can achieve orbit over an Earth type planet without additional boosters
MAX ENGINE THRUST:
4 x Pratt & Whitney XK407 [Main] Fusion plasma-air/reaction mass intermix turbines: Engines are mounted on the rear of the mecha Max output, 1500 kN each.
4 x Pratt & Whitney K5-756 [secondary] fusion plasma-air/reaction mass intermix ramjets. Engines are mounted in pairs on the two wings of the Mothra. Each engine is rated to 1000 kN [2000 kN overthrust] within planetary atmosphere.
STATISTICAL DATA:
HEIGHT:

40.7 m in soldier configuration.
22.5 m gerwalk configuration.
6.77m.in fighter configuration.

WIDTH:

12 m at shoulders in soldier and gerwalk configuration
24.42 m in fighter configuration.

LENGTH:

5.0 m in soldier configuration
13 m in gerwalk configuration.
29.78 m in fighter configuration.

WEIGHT:

101,900 kg empty.

PHYSICAL STRENGTH:

Equal to a P.S. of 60

CARGO:

Compartment behind pilot's seat for personal belongings in addition to the cyclone storage compartment. Up to five cyclones can be stored.

POWER PLANT:

4 x RRL-2P Miniaturized Protoculture-cell energizer
128 standard canisters of Protoculture
4,000 lit. D2O reactant for fusion engines.

DELTA V:

200 kps internally
Two extra tanks with 70 kps may be mounted externally.

COMPATIBLE FAST PACKS:

None
WEAPON SYSTEMS:
4 x NEWPORT NEWS MK8 381mm (15 in) AUTOLOADING LIQUID FUELED CANNONS: Each cannon can fire up to fifteen 900kg terminal self-guiding shells. Sustained firing rate is one shot/5 seconds, maximum range about 20km in standard posture. If the Mothra is standing on a inclined surface, or is bending over backwards, the maximum cannon angle will increase and at the optimum angle of 45 degrees the maximum range exceeds 50km. Because of the autoloading features of the autocannons, the Mothra can only fire a single shot in Battloid mode (only the round that was loaded). The cannons can not fire in fighter mode.

PRIMARY PURPOSE: Assault
SECONDARY PURPOSE: Anti-Mecha
RANGE: up to 50km
DAMAGE: 5D6*10 MDC for each plasma shell (2D6*100 for all four)
RATE OF FIRE: Up to three shots per melee
PAYLOAD: 15 shells per cannon, for a total of 60 shells
NOTES: Weapons can not fire in fighter mode, and can only fire a single shot in Battloid mode (the round that was currently loaded).

2 x TRIPLE-BARREL RRG MK22 LASER CANNON: The Mothra has six upgraded laser cannons, similar to those found on the MAC-II; however, the maximum range and damage potential has increased. The MK22's can only fire in Gerwalk or Soldier configuration.

PRIMARY PURPOSE: Assault/Defense
SECONDARY PURPOSE: Anti-mecha
RANGE: 20km
DAMAGE: 3d6*10 for each volley
RATE OF FIRE: Equal to the combined attacks of the pilot and weapons officer
PAYLOAD: Eight triple bursts per melee

6 x EP-4 THREE-BARRELED 80MM PARTICLE GUN POD: Each weapon is mounted on the front of each of the engine thrusters. Each EP-4 can fire 9 MJ bursts of particle energy every second and is powered by the main protoculture generators.

PRIMARY PURPOSE: Assault
SECONDARY PURPOSE: Anti-Mecha
RANGE: 2000 m
DAMAGE: 1d4*10 for each single shot, or 6d4*10 for all six shot.
RATE OF FIRE: Single shots equal to the combined attacks of the pilot.
PAYLOAD: Conditionally unlimited.

HAND TO HAND COMBAT: If necessary, the VA-6 can engage in melee combat rather than use a weapon. The VA-6 can execute most typical hand to hand combat moves, such as punches, jump kicks, leap attacks, rolling with impacts, etc.

DAMAGE:

Punch in Battloid: 5D6*3
Punch in Guardian: 6D4*3
Kick: 6D6*3
Leap Kick: 6D8*3
Body Flip/Throw: 3D6*3
Body Block/Tackle: 6D6*3
Stomp: 1D4*100 . (only effective against small objects)

STANDARD EQUIPMENT FOR THE VA-6:
AUTO-PILOT: The VA-6 is equipped with a computerized auto-pilot, allowing the pilot to relax or even sleep during long voyages. The auto- pilot can be programmed with a single destination or a complex flight plan involving multiple speeds, directions, and destinations. The onboard computer will alert the pilot when the fighter is near its destination, and can also be set to automatically signal when sensors detect objects near the mecha. The auto-pilot was designed with long intra-system space journeys in mind.
COMBAT COMPUTER: The combat computer tracks and identifies specific enemy targets, and has a database of over 10,000 images stored in memory. The computer can identify and track up to 250 targets simultaneously.
EXTERNAL AUDIO PICKUP: Range: 300 ft (91.5 m). A sound amplification system that can pick up normal conversation up to 300 feet away.
HEAT AND RADIATION SHIELDS: Special shielding prevents the penetration of life threatening head and radiation. A radiation detection and alarm system are linked with the shields and will sound an alarm if there is a rupture in the shields and what the levels of radiation are.
HOMING SIGNAL: The escape pod of the VA-6 is equipped with a homing device that enables rescue teams to locate a disabled craft or ejected life pod. The range of the signal is 400 miles (640 km). Most REF ships and veritecs can locate and track a homing signal, and the onboard computers will automatically notify their pilots if such a signal is detected.
LOUDSPEAKER: A loudspeaker system is built into the craft, which can be used to amplify the pilot's voice up to 90 decibels.
RADIO/VIDEO COMMUNICATION: Long range, directional communications system with satellite relay capabilities. Range: 600 miles (960 km) or can be boosted indefinitely via satellite relay.
SELF-DESTRUCT: To prevent capture of an advance variable fighter by the enemy, the pilot can activate the VA-6 self-destruct system, which will cause the fighter to explode after a delay of up to 60 minutes (time is set by the pilot). The explosive damage is contained within a 20 foot (6 m) area and inflicts 5D6x10 M.D. to everything within the radius of the explosion. All internal systems are obliterated. The escape pod will be automatically ejected prior to the explosion unless the pilot overrides the ejection sequence.
STANDARD SURVIVAL KIT: All REFs veritechs come equipped with a portable survival kit. Inside the small reinforced box is a medium-sized flashlight, two hand flares, one rocket flare, a compass, infrared distancing binoculars, a small mirror, a pocket knife, dehydrated and concentrated food (can be stretched into a five day supply for one person) and basic first aid items (aspirin, bandages, disinfectants, etc.)
TACTICAL LIFE SUPPORT SYSTEM: The VA-6 cockpit is pressurized, and also provides additional air feeds to the pilot's flight suit that provides him with pressurized breathing. The REF flight suit also contains an upper and lower g-suit that promotes blood circulation even during high-g turns, thus decreasing the possibility of pilot's blacking out in combat.
WESTINGHOUSE APY-7 MULTI-BAND INTERLEAVED MULTI-MODE RADAR SYSTEM: providing spherical very-long-range detection and tracking of targets at all altitudes in addition to medium range imaging and target identification. This system includes passive modes for "stealthy" detection of targets. (Range 500 kilometers)
2 x ZEISS/THOMSON MULTI-SPECTRUM HIGH-SENSITIVITY SCANNER BOOMS: Each boom features a 30cm CCD-equipped Schmidt-Cassegrain telescope, a 27cm IR telescopic imager, and a 24cm ultra-violet telescope. These two booms are mounted on swiveling arms, and are, when not in use in jet or VTOL mode, folded between the upper main engine sections to avoid FOD damage to the somewhat delicate optics. When used in the above modes, and under normal circumstances in Battloid mode, the optics arms are folded out into a 'T' shape for stereoscopic operation.
PHILLIPS ALL VIEW MULTI-BAND DIGITAL CAMERA SYSTEM: for medium range spherical infra-red imaging, optical and ultra-violet band detection and tracking Thomson LT-5 multi-frequency laser ranger and designator. (Range 30 kilometers)
THOMSON LT-5 MULTI-FREQUENCY LASER RANGER AND DESIGNATOR: (Range 30 kilometers)
MARCONI RADAR WARNING RECEIVER: (RWR)
OLDELFT INFRA-RED WARNING RECEIVER: (IRWR)
WESTINGHOUSE ALQ-248 ACTIVE RADAR JAMMER
WESTINGHOUSE QRC-100 INFRA-RED COUNTER MEASURES: (IRCM)
THOMSON ASD-52 SIGNAL DETECTOR /RECEIVER
SMOKE AND CHAFF DISPENSERS: 50 chaff and 50 smoke
FLARE DISPENSERS: 50 flares
---
COMBAT BONUSES FOR VA-6 FIGHTER TRAINING:
2 attacks per melee (plus those of the pilot and one attack for each of the two co-pilots).
Add one additional action/attack at levels eight and fourteen.
+1 to strike
+3 to parry
+0 to dodge in solder and guardian, +1 in jet mode.
+1 to roll with a punch or fall with an impact, reducing damage by half.
Critical strike same as pilot's hand-to-hand.
---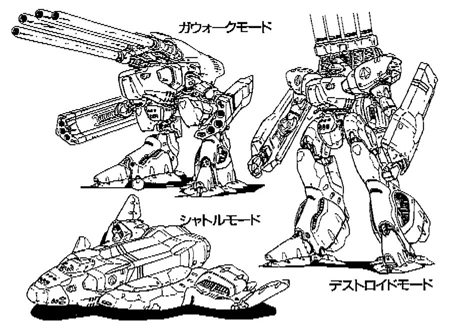 REFERENCES USED IN THIS DESIGN
Robotech Technical Files: "HWR-00 Destroid Monster"
Palladium Books: "Robotech the Roll Playing Game"