---
CUSTOMIZED HWR-00 DESTROID MONSTER (a.k.a 'Big Moe')
(Version 1.0 - Last updated: 05/15/04)
Background and RPG Statistics by Kenneth Olson
Drawings by Fred Perry in Antarctic Press Comics "Robotech #5,#6, and #7"
BACKGROUND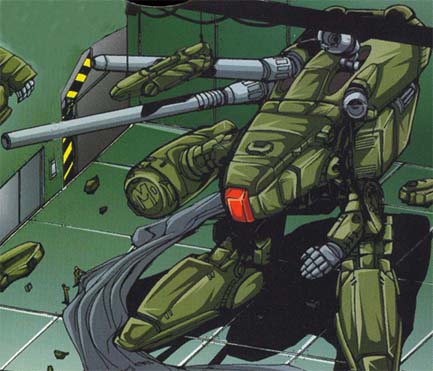 At the conclusion of the 2nd Robotech War, nearly all of the major mecha producing facilities for the Armies of the Southern Cross (ASC) had been destroyed in the final battles with the Robotech Masters. In an effort to keep their dwindling armies outfitted with mecha, the remnants of the ACS began to repair and rebuilt older RDF models. ASC military planners soon discovered that they lacked sufficient parts even to recondition the older designs and did not have the manufacturing capacity to build new units. Therefore in an analogous fashion to the Zentraedi construction of Stingers during the Malcontent Uprisings, ASC mecha engineers were able to cobble together new unique units using combined technologies from RDF, ACS, Zentraedi, and Robotech Master mecha. The newly designed units were given the generic term "Uglies" because of the ungainly outward appearance. Although there were a few exceptions, most of the "Uglies" would fail soon after entering the field because of their haphazard construction method and lack of trained personnel and spare parts.
One of the few designs which proved successful was built by Louie Nichols, formerly of the 15th ATAC, in December of 2030. This design, dubbed "Big Moe" used the main body and legs from one of the last HWR-00 "Monster" Destrroids in existence and mounted the right arm missile pod from a Phalanx long range artillery mecha and the left arm and armored hand of a Spartan main force battloid. "Big Moe" began its career attacking rogue Robotech Master forces by providing long range artillery support against fixed fortified targets. Once the Invid arrived in 2031, "Big Moe" was used in a similar fashion attacking several Invid targets including small stilt hives and communications towers. However as the remaining Earth defense forces were quickly defeated and the survivors morphed into resistance groups, the lack of mobility of the "Big Moe" was a huge liability as the unit could not be used in the hit-and-run attacks. The unit was hidden for nearly two years before it was stripped of all spare parts and abandoned in 2033.
RPG STATS
Vehicle Type: Modified HWR-00 "Monster" (aka 'Big Moe')

Class: Single Seat Heavy Artillery Destroid
Manufacturer: Armies of the Southern Cross
Crew: Three persons wearing tactical life support systems, commander in the center, driver to the right, and gunner to the left

Service History: Specially built unit built for the survivors of the 15th ATAC, served from 2031 until 2033
MDC BY LOCATION:
| | |
| --- | --- |
| Location | 'Big Moe' |
| (1) Top Sensor Pod | 50 |
| Top Mounted 40cm Autocannons (4) | 100 each |
| Right Upper Arm | 100 |
| Right Missile Pod | 150 |
| Left Arm | 150 |
| Left Hand | 50 |
| Legs (2) | 300 each |
| (2) Main Body | 450 |
| Reinforced Pilot's Compartment | 250 |
NOTES:
Destroying the top sensor pod of the Monster will knock out the mecha's long range sensor systems including radar and communications. All of the mecha's major optical systems will remain unaffected (infrared, nightvision, and thermal).
Depleting the MDC of the main body will destroy the mecha.
SPEEDS:

RUNNING:

45 kph maximum; cruising speed is 35 kph

LEAPING:

10 ft (3 m) high or 100 ft (30 m) long without thrusters.
STATISTICAL DATA:
HEIGHT

22.5 m

BREADTH:

24.0 m

LENGTH:

41.1 m with cannons
22.1 m without cannons

WEIGHT:

225,000 kg empty
251,000 kg with combat load

PHYSICAL STRENGTH:

Equal to a P.S. of 60

CARGO:

Small compartment behind pilot's seat for personal belongings in addition to the cyclone storage compartment

POWER PLANT:

Galland WT-1001 protoculture energizer providing a total of 1,000 MW of power

AUXILIARY POWER PLANT:

1x Shinnakasu Industry CT 8P fuel cell system providing 1.02 MW for 12 hours

FUEL CAPACITY:

40 standard canisters of protoculture

COMPATIBLE FAST PACKS:

None
WEAPON SYSTEMS:
4 x VICKERS 406 MM AUTO-LOADING LIQUID-COOLED CANNONS: The primary weapon of the HWR-00 'Monster' are four 406 MM liquid-cooled auto-loading cannons are mounted on the top of the unit. Each cannon can fire high explosive (HE), armor piercing (AP), anti-mecha fragmentation (AMF), or variable yield nuclear armed warheads out to a maximum range of nearly 51 km. The cannons can either fire directly at incoming targets are used to bombard targets beyond visual range. When used in the indirect attack role, the shells are guided to the target through an onboard GPS/INS guidance system which will strike the target to within 20 meters out to the maximum range of the weapon. The 'Little Moe' HWR-00 chassis only had three functioning cannons and spare parts for the fourth was never procured; however, the 'Little Moe' could carry the full 28 rounds of internal ammunition.

PRIMARY PURPOSE: Assault
SECONDARY PURPOSE: Anti-Mecha
RANGE: 21 kilometer with 0 degree inclination, 51 km at 50 degree on planets with Earth standard gravity and atmospheres
DAMAGE:

High Explosive: 4D6*100 MDC (30 m blast radius)
Armor Piercing: 3D6*100 MDC (10 m blast radius)
Fragmentation: 4D4*10 MDC (100 m blast radius)
Nuclear: Selectable from 1 kT up to 24 kT (see rules for nuclear warheads)

RATE OF FIRE: 20 rounds per minute (5 rounds per melee)
PAYLOAD: 28 rounds total
NOTES: -1 to strike targets for every 100 kph of target velocity
NOTES-2: Armor Piercing critical strikes on (17-20)



1x HOWARD SHIM-22 DERRINGER MISSILE SYSTEM: The 'Little Moe' has a single Shim-22 drum mounted long range missile launcher mounted on the right arm. The missile launcher was salvaged from a SDR-04 Phalanx and can hold up to 22 long range Derringer missiles with eleven in ready positions and an additional eleven for reloads.

PRIMARY PURPOSE: Assault/Defense
SECONDARY PURPOSE: Anti-mecha
RANGE: 70 km (A,B,C) / 120 kg (D,E,F,G)

MAX SPEED:

Mach 3.0
DAMAGE:

High Explosive (A,F): 4D4*10 MDC
Plasma (B,G): 3D6*10 MDC
Reflex (C): 4D6*10 MDC
Reflex Multi-Warhead (D): 4D6*10 per missile
Nuclear (E): Selectable from 5 kT to 100 kT (see rules for nuclear warheads)

RATE OF FIRE: One at a time or in volleys of two, four, eight, ten, or all eleven
PAYLOAD: Twenty-two long range Derringer missiles
NOTES: HEAP have critical strikes on 17-20, Mark -A and -B are +2 to strike, Mark -C and -D are +3 to strike against Invid mecha. Subtract -5 for ballistic strikes.



(Optional) 1 x MAUSER EU-11 28MM LASER GUN POD: The 'Big Moe' can hold a Mauser EU-11 in the left arm. The EU-11 is powered directly from the main protoculture generator and is capable of firing 13.5 MJ short bursts out to an effective combat range of 3.5 km.

PRIMARY PURPOSE: Assault

SECONDARY PURPOSE:

Anti-mecha
RANGE: 3500 m
DAMAGE: 1D6*10 per short burst
RATE OF FIRE: Single shots or bursts equal to the number of hand-to-hand attacks
PAYLOAD: Effectively unlimited



HAND TO HAND COMBAT: If necessary, the 'Big Moe' can engage in melee combat rather than use a weapon; however, combat is limited to attacks with the legs and body blocks.

DAMAGE:

Punch: 4D6 MDC
Kick: 1D6*10
Body Block/Tackle: 6D6
Stomp: 3D6*10 (only effective against small objects)
STANDARD EQUIPMENT FOR THE HWR-00:
ACTIVE SENSOR JAMMER: Westinghouse ALQ-198(V) internal ECM providing broadband protection. Estimated system effective radiative power 50 dBW
AUTO-PILOT: The HWR-00 is equipped with a computerized auto-pilot, allowing the pilot to relax or even sleep during long voyages. The auto- pilot can be programmed with a single destination or a complex flight plan involving multiple speeds, directions, and destinations. The onboard computer will alert the pilot when the fighter is near its destination, and can also be set to automatically signal when sensors detect objects near the mecha. The auto-pilot was designed with long intra-system space journeys in mind.
COMBAT COMPUTER: The IBM-200 combat computer tracks and identifies specific enemy targets, and has a database of over 10,000 images stored in memory. The computer can identify and track up to 200 targets simultaneously.
CHAFF AND FLARE DISPENSERS AN/ALE-55: 40 chaff and 40 flares are stored in on the top of the main body firing the countermeasures upwards and to either side of the HWR-00.
EXTERNAL AUDIO PICKUP: Range: 300 ft (91.5 m). A sound amplification system that can pick up normal conversation up to 300 feet away.
HEAT AND RADIATION SHIELDS: Special shielding prevents the penetration of life threatening head and radiation. A radiation detection and alarm system are linked with the shields and will sound an alarm if there is a rupture in the shields and what the levels of radiation are.
HOMING SIGNAL: The HWR-00 is equipped with a homing device that enables rescue teams to locate a disabled craft or ejected life pod. The range of the signal is 400 miles (640 km). Most REF ships, Veritechs, and Destroids can locate and track a homing signal, and the onboard computers will automatically notify their pilots if such a signal is detected.
INFRA-RED COUNTERMEASURES: Westinghouse QRC-100 providing protection from IR guided missiles
INFRA-RED WARNING RECEIVER: OlDelft Infra-red Warning Receiver (IRWR) providing all aspect coverage from IR guided missiles
LASER RANGE FINDER / TARGETING SYSTEM: Thomson LT-5 multi-frequency laser ranger and designator (Range 30 kilometers)
LOUDSPEAKER: A loudspeaker system is built into the craft, which can be used to amplify the pilot's voice up to 100 decibels.
OPTICS (INFRARED): Phillips All-View multi-band camera system range 1000 meters. This optical system projects a beam of infrared light that is invisible to the normal eye, but detectable by the mecha's sensors. The system allows the pilot to detect hidden/concealed objects by their IR reflectiveness. The beam will be visible to anyone with IR sensitive optics, however.
OPTICS (NIGHTVISION): Phillips All-View multi-band camera system range 1000 meters. A passive light image intensifier that emits no light of its own, but relies on ambient light which is electronically amplified to produce a visible picture.
OPTICS (THERMAL IMAGER): Phillips All-View multi-band camera system range 1000 meters. A passive optical heat sensor that detects infrared radiation projected by warm objects and converts that data into a false-color visible image. The system enables the pilot to see in the dark, in shadows, and through smoke, and also adds a +10% bonus to pilots using a tracking skill.
RADIO/VIDEO COMMUNICATION: Long range, directional communications system with satellite relay capabilities. Range: 600 miles (960 km) or can be boosted indefinitely via satellite relay.
RADAR (SHORT RANGE / FIRE CONTROL): Hughes APG-198 X-band pulse-Doppler, providing spherical long-range detection and tracking of targets at all altitudes. (Range 50 km against a 0 dBsm "Invid sized" target)
RADAR WARNING RECEIVER: Elettronica Radar Warning Receiver (RWR) providing all aspect detection of radar guided missiles.
SELF-DESTRUCT: To prevent capture of an advance variable fighter by the enemy, the pilot can activate the HWR-00 self-destruct system, which will cause the Destroid to explode after a delay of up to 60 minutes (time is set by the pilot). The explosive damage is contained within a 20 foot (6 m) area and inflicts 3D6*10 M.D. to everything within the radius of the explosion. All internal systems are obliterated. The pilot will be automatically ejected prior to the explosion unless the pilot overrides the ejection sequence.
SMOKE DISPENSERS: Enough smoke is stored for 30 second of continuous coverage. After 2040, smoke was formulated to cover protoculture emissions, hence providing temporary protection for the Tiger.
STANDARD SURVIVAL KIT: All RDF Destroids come equipped with a portable survival kit. Inside the small reinforced box is a medium-sized flashlight, two hand flares, one rocket flare, a compass, infrared distancing binoculars, a small mirror, a pocket knife, dehydrated and concentrated food (can be stretched into a five day supply for one person) and basic first aid items (aspirin, bandages, disinfectants, etc.)
TACTICAL LIFE SUPPORT SYSTEM: The Monster's cockpit is pressurized, and also provides additional air feeds to the pilot's flight suit that provides him with pressurized breathing. The RDF's flight suit also contains an upper and lower g-suit that promotes blood circulation even during high-g turns, thus decreasing the possibility of pilot's blacking out in combat.

---
COMBAT BONUSES FOR MONSTER TRAINING:
1 attacks per melee (plus those of the pilot and weapons officer)
Add one additional action/attack at levels six and eleven.
+1 to strike
+0 to dodge
+0 to roll with a punch or fall with an impact, reducing damage by half
Critical strike same as pilot's hand-to-hand.
COMBAT BONUSES FOR MONSTER BASIC TRAINING:
-1 attacks per melee (plus those of the pilot and weapons officer)
Add one additional action/attack at levels seven and thirteen
-2 to strike
-3 to dodge
-3 to roll with a punch or fall with an impact, reducing damage by half
Critical strike same as pilot's hand-to-hand
---
Random Hit Locations
When there is an equal chance of hitting both sides from 1D6
1-3 hits the right side
4-6 hits the left
When there is a preferred side, roll 1D10
1-8 hits the preferred side
9-10 hits the opposite side
| | | | | | |
| --- | --- | --- | --- | --- | --- |
| 'Big Moe' | FRONT | BACK | SIDES | TOP | BOTTOM |
| Top Sensor Pod (Main Body) | 01 | - | 01 | 01-02 | - |
| Auto Cannons (Main Body) | 02-10 | 01-05 | 02-15 | 03-16 | 01-05 |
| Right Upper Arm (Main Body) | 11-15 | 06-10 | 16-20 | 17-25 | 06-10 |
| Right Missile Pod (Right Upper Arm) | 16-25 | 11-17 | 21-30 | 26-35 | 11-20 |
| Left Arm (Main Body) | 26-32 | 18-25 | 31-36 | 36-41 | 21-26 |
| Left Hand (Left Arm) | 33-35 | 26-28 | 37-38 | 42-43 | 27-29 |
| Legs (Main Body) | 36-55 | 29-55 | 39-65 | 44-60 | 30-70 |
| Main Body (Pilot's Compartment) | 56-95 | 56-00 | 66-98 | 61-90 | 71-95 |
| Pilot's Compartment | 96-00 | - | 99-00 | 91-00 | 96-00 |
---
REFERENCES USED IN THIS DESIGN
Antarctica Press Comics: #5, #6, and #7
Palladium Books: Macross
Robotech Technical Files: HWR-00 "Monster"