---
ROBOTECH MASTER COMBAT DROID
(Version 1.10 - Last updated: 8/13/98)
Concept and Background by Kenneth Olson
Background Information derived from Robotech Technical Files
BACKGROUND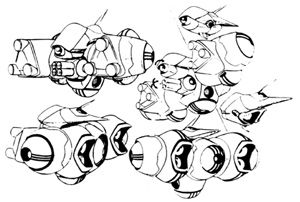 As the war with the Armies of the Southern Cross proceeded, the Robotech Masters soon came to the realization that their bioroid clones were becoming increasingly defenseless to the perceived Terran emotional attacks. In response, the Robotech Masters ordered their scientists to build a improved Robotech sentinel which could replace the increasingly inefficient clones. The Science Masters, taking from the previous AI Robotech units which guarded their Robotech Factories, created the Triumviroid and later the Combat Droid. Both of these units are self-containing devices which are independently capable of performing the three basic functions of combat: data accumulation, analysis and response all within milliseconds. Weapons that were to perform as perfectly as the Masters themselves. The Robotech Masters believed that they would no longer have to depend on bioroid clones such as Zor Prime.
The Triumviroid was to be the first of the series of new combat robots. The second in this series was to be a more advanced combat unit armed with the latest in particle beam weaponry and the most advanced medium range missiles ever produced. These Z'tzenri medium range missiles have the range and damage potential of medium range plasma warheads; however, these missiles have a reflex seeker mounted in their warhead. These missiles were the ultimate extension of an advanced robotic unit, missiles that were able to analysis combat situations on its own.
Like the Triumviroid, a lack of protoculture and manufacturing capacity plagued the Combat Droid project. The Robotech Masters were unable to even mass produce quantities of Triumviroids, Warlocks, and Bioroid Warrior all of which research had progressed further than the Combat Droid. As a result, the Combat Droid project was unable to get out of the experimental phase. Still some 100 units were produced before the end of the 2nd Robotech War. The initial plan was to integrate the Combat Droids into the Masters bioroid forces. These initial experimental units proved themselves incredibly unreliable. They were known to attack targets at random or not at all. The few scientists that were assigned to fix this problem determined that the fault laid in the advanced AI computer that controlled the unit. Although new AI units could not be fabricated, a stop-gap measure was found by using parts from each unit a "new" Combat Droid could be produced. The remaining units were cannibalized to produced some 20 combat ready units. These were immediately placed into survived during the final battle of the 2nd Robotech War. All the Combat Droids are believed to have been destroyed in the final battle, only after proving there worth destroying an average of 2 Southern Cross units for every combat loss.
RPG STATS
Vehicle Type: Robotech Master Combat Droid

Class: Robotech Sentinel
Manufacturer: Robotech Masters
Crew: None
MDC BY LOCATION:
| | |
| --- | --- |
| Location | Combat Droid |
| (1) Main Body | 125 |
| (2) Sensor Eye | 30 |
| Particle Beam Cluster | 50 |
| Missile Launcers (2) | 50 |
| Antenna | 2 |
| Rear Thruster Clusters (2) | 30 |
NOTES: 
Depleting the MDC of the main body will destroy the mecha. This vehicle is extremely small, maneuverable and hard to hit. This translates into game play as -2 to strike and 5 and 6 misses.
Distruction of the sensor eye will effectively blind the unit, no strike bonus only 1 attack per melee. However that target is extremely difficult to hit -4 to strike, with 5 and 6 missies
STATISTICAL DATA:
MAXIMUM SPEED:

500 kph in plantary type atmospheres.

LENGTH:

2.0 m

WIDTH

4.0m

HEIGHT

3.0m

WEIGHT:

2300 kg fully loaded

POWER PLANT:

One Ttsteni-X10 micro-protoculture generator. Maximum output is 100 MW

Propulsion in Spaceborne operations:

2x Bstizzi Anti-gravity units and 4 T'zchi rear thrusters providing 25 kN of thrust each

Delta V:

Umlimited with use of Antigrav units, acceleration up to 3 gravities near planatary bodies. Rear thrusters have enough fuel for 25 kps of delta v

Generator Endurance:

4 years
WEAPON SYSTEMS:
PARTICLE BEAM CANNONS: The combat droid possess a dorsal cluster of three particle beam cannons. Each cannon can fire single 5 MJ shots up to 5 times per melee. The chin turret can rotate +10 and -120 degrees from horizontal and +-70 degrees to the left and right.

PRIMARY PURPOSE: Assault/Defense
SECONDARY PURPOSE: Anti-Aircraft
RANGE: 8,000 ft (2400m)
DAMAGE: 3d6 for each single, 1d4*10 for dual, or 1d6*10 MDC for three, or 2d4*10 for all four blasts.
RATE OF FIRE: Up to 5 times per melee
PAYLOAD: Up to 60 blasts per hour

2 x Z'TZENRI MEDIUM RANGE MISSILE SYSTEM: Ten advanced Z'Tzenri medium range missiles are mounted in two launchers on either side of the sensor eye. Each launcher can rotate +-60 degrees from horizontal. The missiles are the most advanced fielded to date by the Robotech Masters, each missile has the size and damage potential of a standard plasma medium range warhead; however, each possesses an advanced reflex type seeker head.

PRIMARY PURPOSE: Assault/Defense
SECONDARY PURPOSE: Anti-mecha
RANGE: 40 km
DAMAGE: 2d6*10 MDC
RATE OF FIRE: One at a time or in volleys of two, three, four or all six
PAYLOAD: 10 Z'Tzenri medium range missile per launcher for a total of 20 missiles
NOTE: These missiles have reflex guidance systems +4 to strike, +2 to dodge, 2 attacks per melee.

HAND TO HAND COMBAT: The combat droid will only engage in hand to hand attacks as a last resort

Ram: 1d4*10 MDC - The triumrvoid will be take 5d6 MDC
Full Speed Ram: 3d4*10 - However, the triumrivoid will be destroyed in the process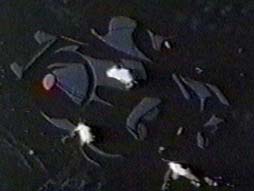 STANDARD EQUIPMENT FOR THE COMBAT DROID:
COMBAT COMPUTER: The Combat Droid has a sophisticated combat computer that performs the three basic functions in combat: data accumlation, analysis and response all within milliseonds. The Triumviroid can than either act on this information or wait for further orders from the Science Masters
EXTERNAL AUDIO PICKUP: Range: 300 ft (91.5 m). A sound amplification system that can pick up normal conversation up to 300 feet away.
LASER COMMUNICATIONS: Long range, directional communication system. Effective range: 100,000 miles
LASER TARGETING SYSTEM: Range: 50 miles (160 km). Used for increased accuracy in the striking of enemy targets and is partly responsible for the mecha's strike bonus.
LOUDSPEAKER: A loudspeaker system is built into the craft, which can be used to amplify sounds up to 90 decibels.
OPTICS: NIGHTVISION: Range: 2000 feet (610 m). A passive light image intensifier that emits no light of its own, but relies on ambient light which is electronically amplified to produce a visible picture.
OPTICS: THERMAL IMAGER: Range: 2000 feet (610 m). A passive optical heat sensor that detects infrared radiation projected by warm objects and converts that data into a false-color visible image. The system enables the pilot to see in the dark, in shadows, and through smoke, and also adds a +10% bonus to pilots using a tracking skill.
RADAR: range 40 mile (64 km)
RADIO/VIDEO COMMUNICATION: Long range, directional communications system with satellite relay capabilities. Range: 600 miles (960 km) or can be boosted indefinitely via satellite relay.
---

COMBAT BONUSES FOR COMBAT DROID:
6 attacks per melee
+4 to strike
+4 to Roll
+7 to dodge
---
SOURCES USED IN CREATION OF DOCUMENT
Palladium's Robotech RPG Book IV: Southern Cross
---