---
Tirolian Skysled
(Version 1.02 - Last updated: 9/24/98)
RPG Stats by Kenneth Olson
Background Information derived from Robotech Technical Files
BACKGROUND

See Robotech Technical Files. The purpose of this entry is to create RPG stats for the skysled which are more in line with the characteristics seen in Robotech.
RPG STATS
Vehicle Type: One mecha transport sled

Class: Skysled
Manufacturer: Robotech Masters
Crew: One bioroid. However, two may be carried under extreme conditions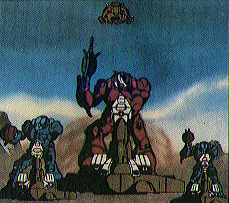 MDC BY LOCATION:
| | |
| --- | --- |
| Location | MDC |
| (1) Main Body | 70 |
| Bioroid Controller | 25 |
| Anti-Gravity Units (3) | 25 |
| Ion-Guns (2) | 25 |
NOTES:
Depleting the MDC of the main body will destroy the mecha
SPEEDS:
FLYING:

415 kph in plantary atmospheres
STATISTICAL DATA:
LENGHT:

9.4 m

WIDTH:

4.1 m

WEIGHT:

8.4 metric tons

CARGO:

One or Two bioroids

POWER PLANT:

45 standard protoculture cells.
One anti-gravity system.
Two plasma turbines, max. output estimated at 0.9 MW.

Propulsion in Spaceborne operations:

One anti-gravity system.

Delta V:

Conditionally unlimited

Generator Endurance:

500 hours of continual use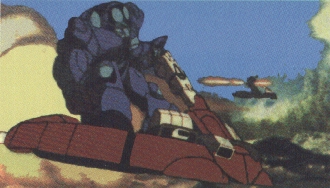 WEAPON SYSTEMS:
Twin Ion pulse Cannons:

PRIMARY PURPOSE: Assault/Defense
SECONDARY PURPOSE: Anti-Aircraft
RANGE: 6,000 ft (1800 m)
DAMAGE: Single Bursts 1d4*10, or dual bursts 2d4*10
RATE OF FIRE: Equal to the total number of H-to-H attacks
PAYLOAD: Conditionally Unlimited. The ion cannons can shoot up to 25 short burst in one minute before depleting its energy reserve. After which point the weapons drum can only fire short bursts at a rate of 4 per melee until the energy reserve is replenished
STANDARD EQUIPMENT FOR SKYSLED:
RADAR : One spherical phased array radar with surveillance modes, effective range over 245 km.
OPTICS: NIGHTVISION: Range: 2000 feet (610 m). A passive light image intensifier that emits no light of its own, but relies on ambient light which is electronically amplified to produce a visible picture.
OPTICS: THERMAL IMAGER: Range: 2000 feet (610 m). A passive optical heat sensor that detects infrared radiation projected by warm objects and converts that data into a false-color visible image. The system enables the pilot to see in the dark, in shadows, and through smoke, and also adds a +10% bonus to pilots using a tracking skill.
ACTIVE PASSIVE JAMMING SYSTEMS: These systems can be used to jam both sensors and missiles.
---
COMBAT BONUSES FOR Bioroid Training:
To all Bioroids
+2 to strike with ion guns, no other bonuses apply
+5 to Dodge
---
SOURCES USED IN CREATION OF DOCUMENT
Palladium's Robotech RPG Book IV: Southern Cross
The Robotech Technical Files: Skysled
---