---
Tirolian Szatchi'dohl "Warrior" Bioroid
(Version 1.00 - Last updated: 7/8/98)
Concept and Background by Kenneth Olson
Background Information derived from Robotech Technical Files
BACKGROUND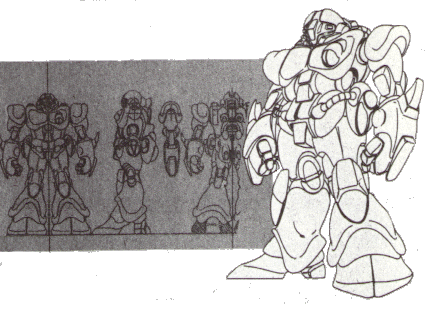 With the successful mass production of the 2nd generation of Bioroids (Scout and Invid Fighter), the Robotech Weapons Masters took it upon themselves to design a replacement for the standard blue bioroid. Although the Invid Fighter was mass produced in great quantities near the end of the Second Robotech War, the cost of production for both the fighter and the advanced clones along with the inherent weakness in the advanced pysionic sensor made the Invid Fighter an expensive substitute for the standard combat bioroid. A new easily mass produced mecha that would be piloted by simpler clones and could withstand and incredible amount of damage was needed to lessen the burden on the dwindling protoculture reserves. The Weapons Scientist came up with two new designs which would meet these design criteria. The first was the Tzensi'dohl "Warlock" Bioroid which was to be the most advanced command bioroid ever produced. While Szatchi'dohl was to become the new mass produced standard combat mecha.
The final version of the the Warrior Bioroid entered production only 1 week before the end of the Second Robotech War. As a result only 400 units were produced and a majority of these were destroyed in fighting during the end of the Second Robotech War and the numerous skirmishes that took place in the years leading up to the Invid Invasion. The design proved to be extremely effective in fighting the remnants of the Armies of the Southern Cross and could have proven decisive if designed and deployed earlier in the war. Once the final "known" Robotech Master stronghold fell in 2033, none of these units were believed to survive. This was mainly due to the inability of the more primitive clones to survive without constant supervision from the clone masters.
RPG STATS
Vehicle Type: One person all weather ground combat mecha

Class: Advanced Tirolian Bioroid
Manufacturer: Robotech Masters
Crew: One pilot wearing advanced pysionic gear. Although possible a second person can sit on the pilots lap. However, this was rarely if ever done.
MDC BY LOCATION:
| | |
| --- | --- |
| Location | Statchi'dohl "Warrior" Bioroid |
| (1) Main Body | 300 |
| (2) Head | 75 |
| Reinforced Pilots Compartment | 75 |
| Hands (2) | 40 |
| Arms (2) | 100 |
| Legs (2) | 200 |
| Hand Weapon (1) | 75 |
		 
NOTES: 
Depleting the MDC of the main body will destroy the mecha. Because Bioroids resistance to critical hits, characters only natural 20's will result in a critical shot. This translates into game play as any critical hits on 18, or 19 will still do double damage, but no additional effects will be rolled.
Unlike the Bioroid Invid Fighter, the destruction of the head does not destroy the unit.
SPEEDS:
RUNNING:

95 kph

LEAPING, SOLDIER CONFIGURATION:

15 m
STATISTICAL DATA:
HEIGHT:

8.0m

WEIGHT:

14.5 metric tonnes

PHYSICAL STRENGTH:

Equal to a P.S. of 60

CARGO:

None

POWER PLANT:

1 x Zorr'lev-12a-DCr protoculture generator

Propulsion in Spaceborne operations:

Use of Skysled

Delta V:

None

Generator Endurance:

7 years
WEAPON SYSTEMS:

Advanced Weapons Drum: The Warrior uses an advanced version of the weapons drum found on the first generation of bioroids. The weapon can fire 15 MJ short bursts or up to 25 times in one minute before depleting its energy reserve or fifteen 30 MJ long bursts.

PRIMARY PURPOSE: Assault/Defense
SECONDARY PURPOSE: Anti-Aircraft
RANGE: 6,000 ft (1800 m)
DAMAGE: short bursts 1d6*10 and 2d6*10 for long bursts
RATE OF FIRE: Equal to the total number of H-to-H attacks
PAYLOAD: Conditionally Unlimited. The weapons drum can shoot up to 25 short burst in one minute before depleting its energy reserve. After which point the weapons drum can only fire short bursts at a rate of 4 per melee until the energy reserve is replenished

HAND TO HAND COMBAT:.

Restrained Punch 1d6*3
Full Punch: 2d6*3
Power Punch: 2d6*3+12
Tear or Pry: 1d6*3
Kick: 1d6*3
Leap Kick: 2d6*3
Leap Kick: 2d6*3
Body Block/Tackle: 2D6*3.
Stomp: 1d4*3 MDC (only effective against small objects)

STANDARD EQUIPMENT FOR SZATCHI'DOHL "WARRIOR" BIOROIDS:
COMBAT COMPUTER: All bioroids are linked with the the Combat Scientists. As a result each unit posesses all the information known to the whole.
RADAR: One spherical phased array radar with surveillance modes, effective range 50 km
EXTERNAL AUDIO PICKUP: Range: 300 ft (91.5 m). A sound amplification system that can pick up normal conversation up to 300 feet away.
HEAT AND RADIATION SHIELDS: Special shielding prevents the penetration of life threatening heat and radiation. A radiation detection and alarm system are linked with the shields and will sound an alarm if there is a rupture in the shields and what the levels of radiation are.
LASER COMMUNICATIONS: Long range, directional communication system. Effective range: 100,000 miles
LASER TARGETING SYSTEM: Range: 50 miles (160 km). Used for increased accuracy in the striking of enemy targets and is partly responsible for the mecha's strike bonus.
LOUDSPEAKER: A loudspeaker system is built into the craft, which can be used to amplify the pilot's voice up to 90 decibels.
OPTICS: NIGHTVISION: Range: 2000 feet (610 m). A passive light image intensifier that emits no light of its own, but relies on ambient light which is electronically amplified to produce a visible picture.
OPTICS: THERMAL IMAGER: Range: 2000 feet (610 m). A passive optical heat sensor that detects infrared radiation projected by warm objects and converts that data into a false-color visible image. The system enables the pilot to see in the dark, in shadows, and through smoke, and also adds a +10% bonus to pilots using a tracking skill.
RADIO/VIDEO COMMUNICATION: Long range, directional communications system with satellite relay capabilities. Range: 600 miles (960 km) or can be boosted indefinitely via satellite relay.
ACTIVE PASSIVE JAMMING SYSTEMS: These systems can be used to jam both sensors and missiles.
---
COMBAT BONUSES FOR SZATCHI'DOHL "WARRIOR" BIOROIDS:
7 attacks per melee
+5 to roll with the punch
+3 to strike / +2 with sled
+4 to parry
+6 to dodge / +11 with sled
---
SOURCES USED IN CREATION OF DOCUMENT
Palladium's Robotech RPG Book IV: Southern Cross
The Robotech Technical Files: Bioroid
---