---
EREBAR-BALNOR ZENTRAEDI GUNBOAT
(Version 1.00 - Last updated: 06/12/01)
RPG Stats and Background by Kenneth Olson
Based off an original design presented in Macross DYRL Sega Source Book
Background Information derived from Robotech Technical Files
BACKGROUND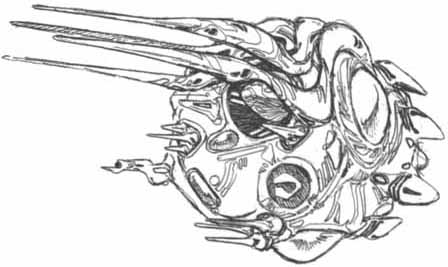 Initial Robotech Master mecha designs for the Zentraedi were massed produced with little thought placed in the defensive capabilities of the unit. The Masters believed that mass quantities of units alone would intimidate most cultures into submission. As such a majority of the Zentraedi designs were meant to be easily massed produced with little though placed in the defensive capabilities of the units.
After the initial battles with the Disciples of Zor and the continuing conflict with the Invid, the Robotech Masters came to the realization that quality possesses its own quantity. The Masters had always valued their officers more than the common soldiers by providing them more advanced and capable mecha.
The Erebar-Balnor is an upgraded version of the Zentraedi Gunboat. The Erebar has a crew of four: commander, pilot, weapons officer, and defensive operator. All can operate any of the weapon systems if necessary; however, only the pilot and commander can pilot the craft.
The vessel is protected with the most advanced Chobham armor composite available to the Masters at the time. The armor is invulnerable to all small arms fire and provides excellent protection to medium mecha mounted weaponry (55mm GU-11 class weapons). Only massive missile volleys or heavy anti-mecha weaponry have any chance of penetrating the armor.
Two massive Varshtann Type-101 plasma shock engines are mounted on the rear. Each engine is capable of producing 3000 kN of thrust on overboost; however, the mecha is so heavy that the main and auxiliary engines can only accelerate the unit at 1.6g. In order to break free from the planetary gravities two RRG-27 anti-gravity units were supplied; although, they are not used for space borne propulsion.
The onboard weapon systems are optimized for use against capital ships. Two massive Makral Mossil 920 particle beam cannons are mounted on top of the vessel. Each cannon can fire 200 MJ shots every 15 seconds out to a maximum effective range of 300,000 kilometers. The small size of the unit means that unless the enemy capital ships are within 1,000 kilometers there is a good possibility that the enemy ships would not be able to effectively track the Erebar. For anti-mecha operations, the Erebar has four Kuexer-27 laser cannons. Three are mounted to the front and one towards the rear. Two Moldile Mistraedkor-50 80mm automatic grenade launchers are placed on either side of the unit. Finally, two Touwhaug Rasilszt-11 medium range missile launchers are mounted on either side of the unit. Each launcher can hold 21 Vlwheralt Awhaug MPA-3 missiles with a full set of reloads.
Ten Erebar Balnor's were deployed with Dolza's fleet during the Rain of Death. All were eventually destroyed during the final battle; however, not before they destroyed two Tou Redir Sloops and heavily damaging three Thurverl Salan Destroyers. Their anti-mecha weaponry proved to be the weakness of the units. Several squadrons of VF-1s were able to close to 500 meters and destroy the point defenses. At which point the longer range weaponry was not able to effectively track the much smaller and faster variable fighters.
RPG STATS
Vehicle Type: Zentraedi Gunboat

Class: Zentraedi Spacecraft
Manufacturer: Robotech Masters
Crew: One, two, three, or four pilots
MDC BY LOCATION:
| | |
| --- | --- |
| Location | Erebar Balnor |
| * Sensor Antenna (2) | 40 each |
| Particle Beam Cannons (2) | 200 each |
| Laser Turrets (4) | 100 each |
| Autocannons (2) | 75 each |
| Missile Launchers (2) | 150 each |
| Main Engines (2) | 250 each |
| Auxiliary Engines (4) | 100 each |
| Pilot's Compartment | 200 |
| ** Main Body | 600 |
		 
NOTES: 
* Destroying the communications antenna will knock out all of the short range communication systems for the Erebar Balnor; However, attackers are -6 to strike
** Depleting the MDC of the main body will destroy the mecha
SPEEDS:
FLYING SPACE:

Max Linear Acceleration Space: 1.68 g empty / 1.58g fully loaded
Delta V: 300 kps

FLYING ATMOSPHERE (rarely used in atmospheric operations):

Max level speed at sea level : 200 kph
Max level speed: 350 kph @ 30,000 m
Stall speed : 0 kph - with use of anti-gravity units
Initial climb rate : over 1000m per minute
Service ceiling : Unlimited - with use of anti-gravity units
STATISTICAL DATA:
HEIGHT:

60 m

LENGTH:

80.1 m

WIDTH:

25.2 m

WEIGHT:

425.1 metric tonnes (empty) 450 fully loaded

PHYSICAL STRENGTH:

Equal to a P.S. of 60

CARGO:

None

POWER PLANT:

1 x Zorrelev-7625-Distsvan protoculture-fueled Reflex furnace. The powerplant can deliver up to 500 Gigawatts of power.

PROPULSION IN SPACEBORNE OPERATIONS:

2 x VARSHTANN TYPE-101 PLASMA SHOCK ENGINES: Max output of 3 GN of thrust
4 x AUXILIARY X'TERRA TYPE-71 PLASMA SHOCK ENGINES: Max output 500 kN of thrust
2 x RRG-27 ANTI-GRAVITY SYSTEM: Used to break planetary atmospheres of limited use in spaceborne operations
ASSORTED AUXILIARY MANEUVERING THRUSTERS

GENERATOR ENDURANCE:

15 days of continuous use
WEAPON SYSTEMS:
2 x MAKRAL MOSSIL 920 PARTICLE BEAM CANNONS: Two long range Makral Mossil Type 920 particle beam cannons are mounted on top of the vessel. The particle beam cannons are modified version of the type 918 systems found on most of the Zentraedi capital ships. Each weapon can fire 200 MJ shots every 15 seconds. Although the weapons are optimized for anti-ship operations, the sensor system has been adjusted to allow more rapid acquisition of mecha sized units

PRIMARY PURPOSE: Anti-Ship
SECONDARY PURPOSE: Assault
RANGE: 300,000 kilometers
DAMAGE: 2D4*100 for each shot
RATE OF FIRE: Up to once per melee
PAYLOAD: Unlimited
NOTES: See Robotech RPG Book 3 page 25 for penalties. However, penalties are 1/2 that listed.

4 x KUEXER 27 LASER CANNONS: Four Kuexer light laser cannons are mounted on the vessel, three facing forward and one towards the rear. Each cannon can fire 30 MJ laser bursts up to four times per melee. The turrets and associated sensors are optimized for anti-mecha use; however they are often used to target specific locations on capital ships (gun turrets, sensor arrays, etc).

PRIMARY PURPOSE: Anti-Mecha
SECONDARY PURPOSE: Anti-Ship
RANGE (Mecha/Ship): 50 kilometers / 500 kilometers
DAMAGE: 2D6*10 per shot
RATE OF FIRE: Up to 4 times per melee
PAYLOAD: Unlimited

2 x MOLDILE MISTRAEDKOR-50 (82.0 mm Grenade Launcher): Mounted on each either side of the Erebar Balnor are two Moldile Mistraedikor-50 grenade launchers. Each cannon fires semi-active laser guided HESH-grenades with a maximum speed of 300m/s at 200 rpm to a maximum effective range of 1000 m. Each launcher has an internal capacity of 200 rounds.

PRIMARY PURPOSE: Assault
SECONDARY PURPOSE: Anti-personnel
RANGE: 1000 m
DAMAGE: single shots 3D8, or short burst (5 rounds) 1D6*10
RATE OF FIRE: Equal to the total number of H-to-H attacks
PAYLOAD: 200 rounds
NOTES: The laser targeting system provides an additional +2 to strike targets with speeds less than 100 mph.

2 x TOUWHAUG RASILSZT-11 MEDIUM RANGE MISSILE LAUNCHERS: Two Touwhaug Rasilszt-11 missile launchers are mounted on either side of the mecha. Each launcher can hold 21 Vlwheralt Awhaug MPA-3 missiles with an additional full reload of 21. Each missile is armed with a single high explosive warhead

PRIMARY PURPOSE: Assault/Defense
SECONDARY PURPOSE: Anti-mecha
RANGE: 35 km (atmosphere) / 20 kps (space)
DAMAGE: 4D6*10 MDC
RATE OF FIRE: One at a time or in volleys up to 21 missiles
PAYLOAD: 42 medium range missiles

HAND TO HAND COMBAT: The Erebar rarely engages in direct hand to hand combat because of its lack of true arms and legs; however, if necessary it use ramming attacks.

Body Block/Ram: 2D4*10.
Crush: 1D4*10 MDC (only effective against immobile objects)


STANDARD EQUIPMENT FOR EREBAR BALNOR POWER ARMOR:
COMBAT COMPUTER: The combat computer can identify and track 250 targets.
VPAS2-SS X-BAND RADAR: The Erebar Balnor possesses a short range radar with a range of 55km.
VSA-511 VHF SURVEILLANCE RADAR: Range 200 km against mecha size targets
EXTERNAL AUDIO PICKUP: Range: 300 ft (91.5 m). A sound amplification system that can pick up normal conversation up to 300 feet away.
HEAT AND RADIATION SHIELDS: Special shielding prevents the penetration of life threatening heat and radiation. A radiation detection and alarm system are linked with the shields and will sound an alarm if there is a rupture in the shields and what the levels of radiation are.
LASER TARGETING SYSTEM: Range: 50 miles (160 km). Used for increased accuracy in the striking of enemy targets and is partly responsible for the mecha's strike bonus.
LOUDSPEAKER: A loudspeaker system is built into the craft, which can be used to amplify the pilot's voice up to 90 decibels.
OPTICS: NIGHTVISION: Range: 2000m . A passive light image intensifier that emits no light of its own, but relies on ambient light which is electronically amplified to produce a visible picture.
OPTICS: THERMAL IMAGER: Range: 2000m . A passive optical heat sensor that detects infrared radiation projected by warm objects and converts that data into a false-color visible image. The system enables the pilot to see in the dark, in shadows, and through smoke, and also adds a +10% bonus to pilots using a tracking skill.
VPAS2-SS: Radar Warning Receiver (RWR)
VPASS2-SS: Infra-Red Warning Receiver (IRWR)
OPTICS: Telescopic optics (x10 magnification)
RADIO/VIDEO COMMUNICATION: Long range, directional communications system with satellite relay capabilities. Range: 100,000 or can be boosted indefinitely via satellite relay.
HYPERSPACE COMMUNICATION: The Erebar Balnor has a hyperspace communication system which allows the unit to communicate with friendly forces up to 50 light-years away
VPAS2-SS LOW POWER BROAD BAND SENSOR JAMMER: These systems can be used to jam both sensors and missiles; however the Zentraedi systems are no where near the effectiveness of the REF or the Robotech Masters
VPAS2-SS: Chaff and flare dispenser, 200 chaff and 200 flares are stored in the weapons arm.
---
COMBAT BONUSES FOR EREBAR BALNOR ARMOR:
4 attacks per melee (plus those of any additional pilots)
+1 to roll with the punch
+3 to strike
+2 to parry
+4 to dodge
Critical strike are the same as the pilot's/gunners hand to hand
One additional attack at levels 5 and 10
---
SOURCES USED IN CREATION OF DOCUMENT
Palladium's Robotech RPG Book I: Macross
The Robotech Technical Files: ZentCom-1 Gunboat
Battle Seven Flight Deck: Advanced Zentraedi Flying Gunship
---