---
SHELLCAIR GAR POWER ARMOR
(Version 1.00 - Last updated: 03/27/01)
Original design presented in Macross: 2036
Background by Kenneth Olson
Background Information derived from Robotech Technical Files
BACKGROUND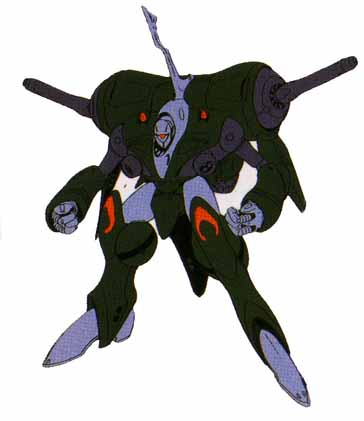 Initial Robotech Master mecha designs for the Zentraedi were massed produced with little thought placed in the defensive capabilities of the unit. The Masters believed that mass quantities of units alone would intimidate most cultures into submission. As such a majority of the Zentraedi designs were meant to be easily massed produced with little though placed in the defensive capabilities of the units.
After the initial battles with the Disciples of Zor and the continuing conflict with the Invid, the Robotech Masters came to the realization that quality possesses its own quantity. The Masters had always valued their officers more than the common soldiers by providing them more advanced and capable mecha.
The Queadluun-Rau was the very probably the most effective and finest Zentraedi mecha to be developed in mass quantities. However, the masters felt that an upgraded officers version was needed. Designing improvements on a mecha which had already shown itself to be the ultimate balance between amour, weaponry, and maneuverability proved difficult.
Several attempts were made in improving the standard Quadlunn-Rau, the second design was the Shellcair Gar power armor. The Shellcair took the basic frame of the Quadlunn-Rau including the leg mounted Diwhaug Ratsatoul-8 missile launchers.; however, the top mounted missiles were replaced by two advanced Makral Martszur-7 particle beam cannons. Two 82mm grenade guided grenade launchers were added to either side of the center torso. Although, they are of limited use against heavily armored units, their high rate of fire was designed to destroy large numbers of swarming Invid. The armor protection was retained; however, the communication antenna was armored. Master weapon designers found that during combat many Quadlunn-Rau formations would separate after their initial contact with Invid forces because their unarmored communication antenna would be destroyed.
Two hundred and fifty Shellcair Gars were produced for Krashaver's border fleet. Of these only 58 were destroyed during the years leading up to the Ebolian conflict with the RDF. The Shellcair Gar proved to be a unsuccessful design not because of any inherent flaws with the mecha, but due to the simple fact that the elite Zentraedi warriors which piloted the Shellcair Gars found them undergunned in comparison to the standard Quadlunn-Rau. Most of the pilots found that the replacement of 84 maggot missiles with two particle beam cannons was not an even trade. During the conflict with the Earth Defense Forces the remaining craft were used in combat as replacements for Quadlunn-Rau in the later phases of the conflict. All the remaining Shell Gars are believed to have been destroyed at the end of the Ebolian conflict.
An RPG supplement for Robotech Crystal Dreams will be released by Robotech Research in the near future (estimated release date March 2001)
RPG STATS
Vehicle Type: One person all weather ground combat mecha

Class: Zentraedi Power Armor
Manufacturer: Robotech Masters
Crew: One pilot
MDC BY LOCATION:
| | |
| --- | --- |
| Location | Shellcair Gar |
| * Communications Antenna (2) | 5 each |
| Armored Antenna | 30 |
| ** Face Plate / Sight system | 50 |
| Shoulder Particle Beam cannons (2) | 100 each |
| Arms (2) | 70 each |
| Hands (2) | 25 each |
| Grenade Launchers (2) | 35 each |
| Leg Missile Launchers (2) | 60 each |
| Engine Thrusters (2) | 50 each |
| Legs (2) | 120 each |
| *** Main Body | 200 |
		 
NOTES: 
* Destroying the communications antenna will knock out all of the short range communication systems for the Shellcair Gar; However, attackers are -6 to strike
** Destroying the face plate of the Shellcair Gar will knock out most of the sensor systems including all of the optics systems (infrared, nightvision, thermal) and radar; however, communications will be unaffected. Attackers are -6 to strike.
*** Depleting the MDC of the main body will destroy the mecha
SPEEDS:
FLYING:

1300 kph in planetary atmospheres

RUNNING:

200 kph

LEAPING, SOLDIER CONFIGURATION:

30 m
STATISTICAL DATA:
HEIGHT:

16.8m

WEIGHT:

30.1 metric tonnes (empty)

PHYSICAL STRENGTH:

Equal to a P.S. of 60

CARGO:

None

POWER PLANT:

1 x Xot'zerr-8-DCr protoculture generator with multiple protoculture canisters

PROPULSION IN SPACEBORNE OPERATIONS:

Engines: Two Varshtanna type 34 plasma-shock expansion engines with vectorable exhaust. The thrusters are located in the back. Each has a maximum burst output of 260 kN and a maximum sustained output of 170 kN.

DELTA V:

60 kps

GENERATOR ENDURANCE:

15 days of continuous use
WEAPON SYSTEMS:
2 x MAKRAL MARTSZUR-7 PARTICLE BEAM CANNONS: The Shellcair Gar possesses two advanced versions of the four -barreled rotary particle beam cannon -4 model found standard on the Regult Tactical Battlepod. Each barrel can fire 5 MJ particle bursts every second. All four can be fired at once or in series to increase the probability of a successful strike at the price of lowering the amount of energy on target.

PRIMARY PURPOSE: Assault
SECONDARY PURPOSE: Anti-mecha
RANGE: 3000 m
DAMAGE: 2d10 per barrel, 2d4*10 for all four barrels
RATE OF FIRE: Equal to the total number of H-to-H attacks
PAYLOAD: Unlimited

2 x DIWHAUG RATSATOUL-8: Two standard Ratsatoul-8 circular missile launchers are mounted on the outside of either leg. Each launcher carries 21 Maggot Universal Dogfight missiles, without any reloads.

PRIMARY PURPOSE: Assault/Defense
SECONDARY PURPOSE: Anti-mecha
RANGE: Varies with missile type
DAMAGE: Varies with missile type
RATE OF FIRE: One at a time or in volleys of 2, 3, 6, 9, 12, or all 21
PAYLOAD: 21 short range missiles per leg launcher

2 x MOLDILE MISTRAEDKOR-50 (82.0 mm Grenade Launcher): Two single barrel rotary liquid-fueled grenade launchers are mounted on either side of the center torso. The Moldile Mistraekor-50 was taken from the Logran Low power armor and placed on the Shellcair Gar as an secondary armament. The cannon fires semi-active laser guided HESH-grenades with a maximum speed of 300m/s at 200 rpm to a maximum effective range of 1000 m. Each launcher has an internal capacity of 50 rounds.

PRIMARY PURPOSE: Assault
SECONDARY PURPOSE: Anti-personnel
RANGE: 1000 m
DAMAGE: single shots 3D8, or short burst (5 rounds) 1D6*10
RATE OF FIRE: Equal to the total number of H-to-H attacks
PAYLOAD: 50 rounds
NOTES: The laser targeting system provides an additional +2 to strike targets with speeds less than 100 mph.

1 or 2 x KARATSZON QUILLO-171 ZENTRAEDI LASER: The Shellcair Gar is capable of holding one or two rapid fire pulse lasers. The laser fires 12.5 MJ bursts and is powered directly by the main protoculture generator through energy conduits which connect to the gun pod in the hand.

PRIMARY PURPOSE: Assault/Defense
SECONDARY PURPOSE: Anti-mecha
RANGE: 2500 m
DAMAGE: short bursts 6d6
RATE OF FIRE: Equal to the total number of H-to-H attacks
PAYLOAD: Unlimited

HAND TO HAND COMBAT:.

Restrained Punch 1d6*3
Full Punch: 2d6*3
Power Punch: 2d6*3+12
Tear or Pry: 1d6*3
Kick: 1d6*3
Leap Kick: 2d6*3
Body Block/Tackle: 2D6*3.
Stomp: 1d4*3 MDC (only effective against small objects)

STANDARD EQUIPMENT FOR SHELLCAIR GAR POWER ARMOR:
COMBAT COMPUTER: The combat computer can identify and track 48 targets.
VPAS2-SS X-BAND RADAR: The Shellcair Gar possesses a short range radar with a range of 55km.
EXTERNAL AUDIO PICKUP: Range: 300 ft (91.5 m). A sound amplification system that can pick up normal conversation up to 300 feet away.
HEAT AND RADIATION SHIELDS: Special shielding prevents the penetration of life threatening heat and radiation. A radiation detection and alarm system are linked with the shields and will sound an alarm if there is a rupture in the shields and what the levels of radiation are.
LASER TARGETING SYSTEM: Range: 50 miles (160 km). Used for increased accuracy in the striking of enemy targets and is partly responsible for the mecha's strike bonus.
LOUDSPEAKER: A loudspeaker system is built into the craft, which can be used to amplify the pilot's voice up to 90 decibels.
OPTICS: NIGHTVISION: Range: 2000 feet (610 m). A passive light image intensifier that emits no light of its own, but relies on ambient light which is electronically amplified to produce a visible picture.
OPTICS: THERMAL IMAGER: Range: 2000 feet (610 m). A passive optical heat sensor that detects infrared radiation projected by warm objects and converts that data into a false-color visible image. The system enables the pilot to see in the dark, in shadows, and through smoke, and also adds a +10% bonus to pilots using a tracking skill.
VPAS2-SS: Radar Warning Receiver (RWR)
VPASS2-SS: Infra-Red Warning Receiver (IRWR)
OPTICS: Telescopic optics (x10 magnification)
RADIO/VIDEO COMMUNICATION: Long range, directional communications system with satellite relay capabilities. Range: 600 miles (960 km) or can be boosted indefinitely via satellite relay.
VPAS2-SS LOW POWER BROAD BAND SENSOR JAMMER: These systems can be used to jam both sensors and missiles; however the Zentraedi systems are no where near the effectiveness of the REF or the Robotech Masters
VPAS2-SS: Chaff and flare dispenser, 50 chaff and 50 flares are stored in each leg.
---
COMBAT BONUSES FOR SHELLCAIR GAR:
4 attacks per melee (plus those of the pilot)
+4 to roll with the punch
+3 to strike
+2 to parry
+8 to dodge
Critical strike are the same as the pilot's hand to hand
One additional attack at levels 5 and 10
---
SOURCES USED IN CREATION OF DOCUMENT
Palladium's Robotech RPG Book I: Macross
The Robotech Technical Files: Queadlunn Rau Tactical Power Armor
Battle Seven Flight Deck: Roguren-Rau Power Armor
Macross: 2036
---