---
M-5 "Dark Knight" Main Battle Tank
(Version 1.00 - Last updated: 06/03/02)
Background and RPG stats by Kenneth Olson
Based on a design shown in Robotech Episode 1 "Boobytrap"
BACKGROUND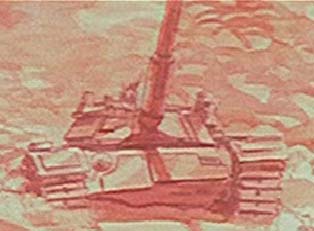 The M-5 "Dark Knight" was an produced for the United States Armed Forces during the Global Civil War of the late 1990's as an upgraded version of the M1A2 Abrams tank. The M-5 is armed a manually loaded 120 mm smoothbore M257 120 mm cannon. The weapon is stabilized using a Hughes combat computer and can dire a broad range of projectiles including two types of Armor-Piercing Fin Stabilized Discarding Sabot (APFSDS) and High Explosive Armor Piercing (HEAP) rounds.
The Dark Knight's high mobility is achieved through the use of a 1700 hp gas turbine engine. The turbine is more compact and starts more readily than a diesel engine; however, it has a lower fuel efficiency from a similarly configured diesel and thus the Dark Knight has a smaller combat radius over contemporary tanks of its time with a nominal radius of 465 km on diesel. The turbine provides the M-5 with a top end speed of 70 kph on the road or 55 kph cross country.
Protection is afforded by an advanced laminate "Chobham" armor similar to that on the earlier M1A2 "Abrams". The armor provides near immunity from signal shots fired by contemporary tanks. Passive protection includes stowage of the main gun's ammunition in a bustle separated from the rest of the turret by fast-closing doors. The bustle design is intended to reduce the secondary effects of a hit in the turret by blocking the explosion with the door and venting it through roof blow-out panels. A fire detection and suppression system covers both the crew and the engine compartments. The pilot's compartment is fully pressurized to provide full nuclear, biological, and chemical protection to the crew at all times.
A total of 3750 units were produced for the United States Army and an additional 350 vehicles for the United States Marine Corps. The Black Knight demonstrated a convincing superiority over Eastern Co-Prosperity Sphere forces as well as greater reliability and mobility than had been predicted by many analysis during the design phase. Although, many other main battle tanks were incorporated in the United Earth Defense Forces to promote harmony, Black Knights comprised nearly 50% of the amour corps units. Although, several battles were fought against anti-unification forces throughout the decade after the crash of the SDF-1, the massive tank battles which marked the Global Civil War and for which the Black Knight was designed had passed into history.
The M-5 proved to be an effective tank killer; however, tanks proved to be completely helpless against fast moving mecha forces. In practice the Black Knight was incapable of hitting targets traveling at speeds greater than 150 kph and as such as soon as the Destroid and Veritech squadrons became fully operation in 2009 the remaining Black Knights were placed into reserve. The Black Knight continued to soldier on for nearly a decade more as it was given to the newly formed Armies of the Southern Cross for which used the M-5 in combat operations in South American to varying degrees of success. All the Dark Knights were finally placed into reserve in 2020 when M-10 Anaconda tanks replaced the Black Knights in ASC combat and civil defense units.
RPG STATS
Vehicle Type: M-5

Class: Main Battle Tank
Manufacturer: General Dynamics Land Systems (GDLS) Lima Ohio
Crew: 4 (Commander, Gunner, Loader, Driver)

Service History:

United States Army and Marine Corps from 1995 until 2002
Robotech Defense Forces: 2002 until 2015
Southern Cross Tactical Corp: 2014 until replaced by the M-10 Anaconda in 2020
MDC BY LOCATION:
| | |
| --- | --- |
| Location | Dark Knight |
| * Turret | 250 |
| 120 mm Main Gun | 50 |
| 7.62 mm Machine Gun | 20 |
| Treads (2) | 70 each |
| ** Main Body | 250 |
| Reinforced Pilots Compartment | 150 |
		 
NOTES: 
* Depleting the MDC of the turret will kill the commander, gunner, and loader. Depleting the MDC of the main body will destroy the mecha.
** Destruction of the Main Body will immobilize the unit.
SPEEDS:
MAXIMUM SPEED:

Road: 70 kph governed
Cross-Country: 55 kph
10-deg upslope: 35 kph
60-deg upslope: 10 kph

ACCELERATION:

0-32 kph: 6.5 seconds

OBSTACLE:

Vertical: 1.07 m
Trench: 2.75 m
Fording w/o preparation: 1.22 m
Fording w preparation: 2.0m
STATISTICAL DATA:
LENGTH:

Hull: 7.95 m
Gun Forward: 9.80 m

WIDTH

w/o Skirts: 3.48 m
w Skirts: 3.65 m

HEIGHT

Turret Roof: 2.40 m
Top of Cupola: 2.80 m

GROUND CLEARANCE

Center: 0.45 m
Sides: 0.42 m

SUSPENSION:

Advanced torsion bar 7 road wheels with 15-in travel wheels

LENGTH OF TRACK ON GROUND

4.60 m

TRACK WIDTH

0.63 m

WEIGHT:

45,000 kg empty
60,000 kg with combat load

CARGO:

Small area for crew belongings

ENGINE:

Textron-Lycoming AGT-1700 2-spool free-shaft, multi-fuel turbine power plat Detroit Diesel X-1100-3B hydro-kinetic transmission; 4 fwd/2 reverse gears.

MAX POWER:

1,700 hp at 3,000 rpm

POWER-TO-WEIGHT RATIO:

25.00 hp/metric ton

FUEL CAPACITY:

2,000 liters of diesel or petrol fuel

MAXIMUM RANGE:

Diesel: 465 km
Petro: 391 km
WEAPON SYSTEMS:
1 x M257 120mm MOTION-STABILIZED SMOOTHBORE CANNON: The weapon is fitting with a Hughes digital ballistic computer to stabilize the cannon. The weapon is fitted with night vision and integrated Hughes Nd-YAG laser range finder. The cannon is fitted with a fume extractor and thermal sleeve with ammunition loaded manually by loader in main body. The gun is an upgraded version of the M256 found on the M1A2 tank of the early 1990's. The weapon is capable of firing up to 6 rounds per minute.

PRIMARY PURPOSE: Assault
SECONDARY PURPOSE: Anti-mecha
RANGE: 2500 m
DAMAGE: HEAP 3D6*10 MDC and APSSDS 3D4*10 per shot
RATE OF FIRE: 6 times per melee
PAYLOAD: 50 rounds
NOTES: APSSDS crits on 17,18,19,20. HEAP crits on 19,20.

1 x 7.62 mm MACHINE GUN: Located on top of the main turret the 7.62mm is controlled by the commander of the tank. Although the weapon is not capable of inflicting damage to armored vehicles it can disable lightly armored vehicles and personal.

PRIMARY PURPOSE: Anti-personnel
RANGE: 900m
DAMAGE: 5D6 SDC per shot, 1D6*10 per short burst (5 rounds), or 3D4*10 SDC per long burst (10 rounds)
RATE OF FIRE: Equal to the number of attacks of the commanding officer
PAYLOAD: 5000 rounds

HAND TO HAND COMBAT:. As a vehicle the Dark Knight can not engage in physical combat as a mecha can. However, the vehicle can ram or crush items in its path.

Ram (30 kph): 3D6 MDC
Ram (60 kph): 6D6 MDC
Crush (only effective against small targes): 1D6*10 MDC
STANDARD EQUIPMENT FOR THE DARK KNIGHT:
COMBAT COMPUTER HUGHES DIGITAL BALLISTIC COMPUTER: The combat computer aids the gunner to identify and track specific enemy targets. The combat computer stabilizes the main gun while the vehicle is in motion.
LASER TARGETING SYSTEM (GEC AVIONICS/KOLLSMAN): The CO2 laser range finder is eye safe and provides range estimates up to 8,000 meters from the target with an accuracy of less than 10 meters.
NAVIGATION (SMITH INDUSTRIES POS/NAV SYSTEM): Provides inertial as well as navigation through the global positioning system
OPTICS (NIGHTVISION): Range 1500 meters. A passive light image intensifier that emits no light of its own, but relies on ambient light which is electronically amplified to produce a visible picture.
OPTICS (TEXAS INSTRUMENTS THERMAL IMAGER): Range 2000 meters. A passive optical heat sensor that detects infrared radiation projected by warm objects and converts that data into a false-color visible image. The system enables the pilot to see in the dark, in shadows, and through smoke, and also adds a +10% bonus to pilots using a tracking skill.
RADIO/VIDEO COMMUNICATION: Long range, directional communications system with satellite relay capabilities. Range: 100 miles (960 km) or can be boosted indefinitely via satellite relay.
SELF-DESTRUCT: To prevent capture the pilot can activate the Dark Knight self-destruct system, which will cause the vehicle to explode after a delay of up to 60 minutes (time is set by the pilot). The explosive damage is contained within a 50 foot (6 m) area and inflicts 4D6*10 M.D. to everything within the radius of the explosion. All internal systems are obliterated.
SMOKE DISPENSERS (M250): 2 x 6 barrel smoke dischargers (24 rounds each). Smoke is mixed with engine exhaust to provide cover up to 20 meters away from unit.
STANDARD SURVIVAL KIT: All RDF vehicles come equipped with a portable survival kit. Inside the small reinforced box is a medium-sized flashlight, two hand flares, one rocket flare, a compass, infrared distancing binoculars, a small mirror, a pocket knife, dehydrated and concentrated food (can be stretched into a five day supply for one person) and basic first aid items (aspirin, bandages, disinfectants, etc.)
TACTICAL LIFE SUPPORT SYSTEM: The Dark Knight's cockpit is pressurized to provided the occupants with full nuclear chemical and biological protection.

---
COMBAT BONUSES FOR DARK KNIGHT:
Number of attacks equal to the combine number of the pilot, gunnery officer, and commander
+1 to strike targets less than 30 kph; however, the unit is incapable of engaging units with speeds greater than 150 kph
+1/+2/+3 to dodge above 15/30/45 kph.
---
Random Hit Locations
When there is an equal chance of hitting both sides from 1d6
1-3 hits the right side
4-6 hits the left
When there is a preferred side, roll 1d10
1-8 hits the preferred side
9-10 hits the opposite side
| | | | | | |
| --- | --- | --- | --- | --- | --- |
| Dark Knight | FRONT | BACK | SIDES | TOP | BOTTOM |
| Turret (Main Body) | 01-40 | 01-40 | 01-40 | 01-60 | - |
| Main Cannon (Turret) | 40-50 | - | 41-55 | 61-70 | 01-05 |
| Machine Gun (Turret) | 51-55 | 41-45 | 56-60 | 71-80 | - |
| Treads (Main Body) | 56-60 | 46-50 | 61-80 | 81-85 | 06-50 |
| Main Body (Pilot's Compartment) | 61-00 | 51-00 | 81-00 | 86-00 | 51-00 |
| Pilot's Compartment | - | - | - | - | - |
---
SOURCES USED IN CREATION OF DOCUMENT
Periscope: M1 Abrams entry
Federation of American Scientists (FAS.org): M1 Abrams entry
Palladium Books "RDF Field Guide": Dark Knight entry
---