---
QF-4000E "SUPERGHOST"
(Version 1.00 - Last updated: 01/26/99)
Background and RPG Statistics by Kenneth Olson
Based on an original mecha design by Lee Duhig and Herb Mallette
Published in Antarctic Press "Robotech Wings of Gibraltar #1 & 2
BACKGROUND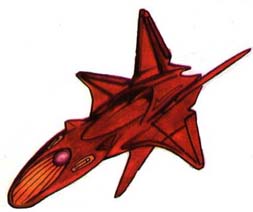 Before the Zentraedi invasion, several RDF research stations were created in the outer fringes of the solar system. Research Station Gibraltar was located in the asteroid field between Mars and Jupiter. The base produced several prototype mecha under the Chief Research Scientist Janel Chase. One such unit was an upgraded QF-3000 Ghost Fighter.
The upgraded unit was designed to out fight, out fly, and out think the QF-3000 series of Ghostfighters. To this first end, the QF-3000's aging GU-9's were replaced with a single EP-4x experimental particle gun. Both weapons have similar damage potentials at all ranges; however the EP-4x had slightly increased range as well as the main advantaged that the energy for the weapon is drawn from the main protoculture generator. The missile bays on either side of the ghost fighter were deleted, not for any technical reason; however, RDF fighter pilots were quite weary of the system when the earlier model ghost fighters accidentally fired on friendly units. The QF-4000 was given three Pratt and Whitney JG99B Fusion Turbines which would give the QF-4000e 10% more thrust than the most advanced of the QF-3000 engines. In addition the Superghost because of the single particle cannon and lack of ammunition supplies is some 5 metric tons lighter than the Ghostfighter and as a result able to significantly outmaneuver the older models. Finally, the Superghost was given the upgraded mk3a Robotech Research Heuristic Expert Piloting/Combat System, which is able to detect, analyze, and respond at a much more rapid pace than the earlier mk3 system.
Only a thirty five Superghosts are known to be produced. Soon after the initial test runs in January 23, 2010 an elite force of Zentraedi led by Major Calen attacked Research Station Gibraltar. The Superghosts performed well, however they were quickly overwhelmed by the vastly superior Zentraedi forces both in number and in quality of forces. However in a last minute reversal of fortune (the then) Lt. Max Sterling piloted the VF-I2 and destroyed Major Calen. Unfortunately, the station undertook so much much damage that the fusion reactor ignited and annilhated the remaining Zentraedi as well as the remaining Superghosts. The destruction of the station destroyed all the research material and no known versions are believed to have survived.
RPG STATS
Vehicle Type: QF-4000E

Class: Unmanned aerospace fighter
Manufacturer: Robotech Defense Forces
Crew: None.
MDC BY LOCATION:
| | |
| --- | --- |
| Location | Super Ghost |
| Main Body | 100 |
| Engine Thrusters (1) | 50 |
| Wings (6) | 50 |
| EP-4a (1) | 50 |
NOTES:
Destroying the MDC of the main body will destroy the mecha
FLYING, FIGHTER CONFIGURATION:

Max level speed at sea level : 1200 kph
Max level speed: 6100 kph @ 30,000 m
Stall speed : 250 kph
Initial climb rate : over 40000m per minute
Service ceiling : 40 km (unboosted).
MAX ENGINE THRUST:
3 x PRATT & WHITNEY JG99B FUSION TURBINES: Max output of 121 kN each
ASSORTED AUXILIARY MANEUVERING THRUSTERS

STATISTICAL DATA:
HEIGHT:

4.1m

WIDTH:

6.5m

LENGTH:

10.4m

WEIGHT:

7,000 kg empty.

CARGO:

None

Delta V:

100 kps

Fuel Capacity:

12 standard canisters of protoculture, 150 liters of D20 reactant for fusion engines.
WEAPON SYSTEMS:
1 x EP-4x: The cannon is charged directly from the main protoculture generator and can fire up to 9 MJ of particle energy every second. The weapon proved to be so successful that the later VF-4 "Lightning" incorporated a version of the EP-4 as its main weaponry.

PRIMARY PURPOSE: Assault
SECONDARY PURPOSE: Anti-Mecha
RANGE: 1500 m
DAMAGE: 1d4*10 for each shot
RATE OF FIRE: Single shots
PAYLOAD: Effectively unlimited
STANDARD EQUIPMENT FOR THE SUPERGHOST:
2 x ROBOTECH RESEARCH GROUP MK3A HEURISTIC EXPERT PILOTING/COMBAT SYSTEM: The QF-4000e possesses an upgraded artificial intelligence system from the GF-3000. The system performs the three basic functions of combat: detection, analysis, and response. Although the earlier units had some problems of detection of enemy threats, the production models performed excellent
COMBAT COMPUTER: The combat computer tracks and identifies specific enemy targets, and has a database of over 2000 images stored in memory. The computer can identify and track up to 250 targets simultaneously.
LASER TARGETING SYSTEM: Range: 100 miles (160 km). Used for increased accuracy in the striking of enemy targets and is partly responsible for the fighter's strike bonus.
WESTINGHOUSE APG-145 X-BAND PULSE OMNI-DIRECTIONAL RADAR: 200 mile range.
RADIO/VIDEO COMMUNICATION: Long range, directional communications system with satellite relay capabilities. Range: 300 miles (960 km) or can be boosted indefinitely via satellite relay.
ELETTRONICA RADAR WARNING RECEIVER (RWR)
OLDEFT INFRA-RED WARNING RECEIVER (IRWR)
SELENIA SKY WARRIOR ACTIVE/PASSIVE SENSOR JAMMERS
CHAFF AND FLARE DISPENSERS: 24 chaff and 24 flares
---
COMBAT BONUSES FOR THE QF-4000E:
5 attacks per melee
+2 to strike
+3 to dodge
---
REFERENCES USED IN THIS DESIGN
Robotech Technical Files: QF-3000 Ghost Drone Fighter
Palladium Books: "Robotech the Roll-Playing Game"