---
QF-9IE GHOST II "PHANTOM"
(Version 1.00 - Last updated: 05/02/01)
Background and RPG Statistics by Kenneth Olson
Background Information derived from Robotech Technical Files
Illustration by Kazutaka Miyatake
BACKGROUND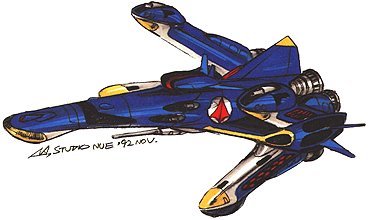 At the end of the First Robotech War, weapon designers returned to investigating the possibilities with automated defense systems. In principle, these systems freed from human pilots could out perform manned units in all respects. The first major unmanned offensive system was the QF-3000 "Ghost". 512 QF-3000 were built between 2007 and 2012; however, their combat effectiveness was questionable. First and foremost, the QF-3000 MK3 Artificial Intelligence had developmental difficulties. The computer in mass combat would accidentally hit friendly units with its missiles. As a result until the QF-3000 were upgraded to the Block 'E' version in 2012, none of the QF-3000 units were loaded with missiles in combat situations.
After the Zentraedi "Rain of Death" and the subsequent RDF rebuilding, an upgrade to the Ghost was proposed. The QF-9IE would possess an upgraded artificial intelligence (AI). The RRG MK4-AI system is a substantial upgrade over the MK3 system found on the QF-3000 "Ghost" fighter. The MK4 system allows the Phantom to mount a substantial missile load. This is because the MK4 system provides greater protection against friendly fire incidents projecting the flight path of the missiles and compensating for potential friendly intercepts.
The Phantom "smarts" were not only upgraded, but the weaponry and armor as well. The main body and weapons arms were armored with the same Chobam composite armor found on the VF-6 "Alpha". Long range fire power is supplied from two 35mm Gauss rifles mounted underneath. For short range defense, four GU-11C are mounted two on each side. Four weapon arms are mounted radially around the central body. Four Boeing MM-12 missile launchers were added for a total capacity of 48 Starbursts short range missiles. On each of the weapon arms, a single PB-3 particle beam cannon capable of firing 6 MJ bursts up to 36 times per minute was added.
Two hundred units were produced from 2014 until 2017. All of the units were brought with the REF. The Phantom was first deployed against the Invid Regent once the SDF-3 defolded into Tirol. Fifty-Seven of the units were destroyed during initial assault and subsequent follow up attacks against the occupational forces. After the liberation of Tirol, the remaining units were placed in reserve guarding initially the REF fleet and later the rebuilt orbiting shipyards. All of the remaining 127 units were captured by Edwards and his faction during the REF rebellion of 2039-2040. These units were subsequently destroyed in July 2040 once the loyalist forces reconquered the planet.
Although no additional QF-9IE were produced during the Sentinel era, the design had profound impact on later events. The successful combat record of the QF-9IE proved to weapon designers that unmanned units could provide substantial support to the always outnumbered REF forces. The Vandal VQ-6S shadow drone's advanced Mk83 Neural Net Learning System CPU was a further improvement on the MK-4 system incorporating many of the lessons learned from the QF-9IE unit.
RPG STATS
Vehicle Type: QF-9IE

Class: Unmanned aerospace fighter
Manufacturer: Robotech Defense Forces
Crew: None.
MDC BY LOCATION:
| | |
| --- | --- |
| Location | Phantom |
| * Main Body | 150 |
| Main Engine Thrusters (2) | 75 each |
| Auxiliary Engine Thrusters (3) | 50 each |
| Missile Launchers (4) | 75 each |
| Gauss Rifles (2) | 30 each |
| PB-3 Particle Beam Cannons (4) | 30 each |
| GU-11C (4) | 25 each |
NOTES:
* Destroying the MDC of the main body will destroy the unit
FLYING SPACE:

Max Linear Acceleration Space: 7.5 g (loaded) 11.2 g (empty)
Delta V: 150 kps

FLYING ATMOSPHERE (rarely used in atmospheric operations):

Max Linear Acceleration Space: 11.2 g
Max level speed at sea level : 700 kph
Max level speed: 800 kph @ 30,000 m
Stall speed : 250 kph
Initial climb rate : over 10000m per minute
Service ceiling : 40 km (unboosted).
MAX ENGINE THRUST:
2 x PRATT & WHITNEY JG107B FUSION TURBINES: Max output of 150 kN of thrust and 250 kN in overboost
3 x PRATT & WHITNEY JG107A FUSION TURBINES: Max output 100 kN of thrust and 200 kN in overboost
ASSORTED AUXILIARY MANEUVERING THRUSTERS

STATISTICAL DATA:
HEIGHT:

8.0 m

WIDTH:

7.5 m

LENGTH:

10.4 m

WEIGHT:

15,000 kg fully loaded / 10,000 empty

CARGO:

None

DELTA V:

150 kps

FUEL CAPACITY:

12 standard canisters of protoculture, 150 liters of D20 reactant for fusion engines.

WEAPON SYSTEMS:
2 x 35mm HUGHES GAUSS RIFLES: Two 35 mm Gauss Rifles are mounted underneath the main fuselage of the unit. The cannons provide the phantom with a long range anti-mecha capability. Each cannon fires short bursts of three 34mm nickel rounds out to an effective range of 3000 m for smaller maneuverable targets and 10000m for larger relatively immobile targets.

PRIMARY PURPOSE: Assault
SECONDARY PURPOSE: Anti-Mecha
RANGE: 3000 m / 10000m (see above)
DAMAGE: 6D6 MDC for each short burst
RATE OF FIRE: Up to 7 times per melee
PAYLOAD: 300 rounds or 100 short bursts per cannon

4 x HUGHES GU-11C 55MM THREE BARRELED SMOOOTHBORE ROTARY CARBINE: Four carbine versions of the GU-11 are mounted in the main body of the unit. Each gun has a 300 round capacity and fires HEAP (High Explosive Armor Piercing) rounds at 500 rounds/minute.

PRIMARY PURPOSE: Assault
SECONDARY PURPOSE: Anti-Mecha
RANGE: 1000 m
DAMAGE: 3D4 for short burst, 4D6 for medium, 1D4*10 for each full melee burst
RATE OF FIRE:
PAYLOAD: 300 rounds per clip or 30 short bursts, 15 long bursts, or 8 full melee per weapon

4 x PB-3 PARTICLE BEAM CANNONS: Each cannon is charged directly from the main protoculture generator. Each PB-3 can fire up to 6 MJ of particle energy every second; however, because of the lack of focusing coils the effective range is limited to 1000 meters.

PRIMARY PURPOSE: Assault
SECONDARY PURPOSE: Anti-Mecha
RANGE: 1000 m
DAMAGE: 4D6 MDC for each burst
RATE OF FIRE: Single shots up to seven times per melee
PAYLOAD: Effectively unlimited

4x BOEING-12 SHORT RANGE MISSILE LAUNCHERS: The Phantom has four short range Boeing HMM-02 Starburst missiles. Each missile possesses a 8 kilogram high explosive warhead optimized for anti-mecha operations.

PRIMARY PURPOSE: Assault/Defense
SECONDARY PURPOSE: Anti-mecha
RANGE: 10 km / 2.5 kps delta-v
DAMAGE: 1D6x10 MDC per missile
RATE OF FIRE: 1, 2, 4, 6, 8, 10, or all 12 missiles
PAYLOAD: 12 missiles per launcher for a total of 48 short range missiles
STANDARD EQUIPMENT FOR THE PHANTOM:
ROBOTECH RESEARCH GROUP MK4 HEURISTIC EXPERT PILOTING/COMBAT SYSTEM: The QF-9IE possesses the most advanced artificial intelligence system developed to that time by the Robotech Defense Forces. The system performs the three basic functions of combat: detection, analysis, and response.
COMBAT COMPUTER: The combat computer tracks and identifies specific enemy targets, and has a database of over 2000 images stored in memory. The computer can identify and track up to 250 targets simultaneously.
LASER TARGETING SYSTEM: Range: 100 miles (160 km). Used for increased accuracy in the striking of enemy targets and is partly responsible for the fighter's strike bonus.
WESTINGHOUSE APG-146 X-BAND PULSE OMNI-DIRECTIONAL RADAR: 250 mile range in space.
RADIO/VIDEO COMMUNICATION: Long range, directional communications system with satellite relay capabilities. Range: 300 miles (960 km) or can be boosted indefinitely via satellite relay.
ELETTRONICA RADAR WARNING RECEIVER (RWR)
OLDEFT INFRA-RED WARNING RECEIVER (IRWR)
SELENIA SKY WARRIOR ACTIVE/PASSIVE SENSOR JAMMERS
CHAFF AND FLARE DISPENSERS: 48 chaff and 48 flares for use against IR and RF threats
---
COMBAT BONUSES FOR THE QF-9IE:
7 attacks per melee
+2 to strike
+3 to dodge
---
REFERENCES USED IN THIS DESIGN
Robotech Technical Files: QF-3000 Ghost Drone Fighter
Palladium Books: "Robotech the Roll-Playing Game"
New Macross Archives: LDR-04 Maverick
Macross: Remember ME NEC PC9801