---
GA-15 40mm REF GAUSS RIFLE
(Version 1.01 - Last updated: 07/19/01)
Background and RPG Statistics by Kenneth Olson
---
BACKGROUND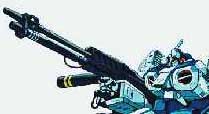 As the Sentinel campaign progressed, REF scientists once again looked at the potential advantages of the Gauss Rifle over the standard rotary gun pod, GA-13 and the newer energy pod EU-13. Gauss rifles had originally been investigated in 2013 cumulating with the production of the 30mm GA-12. design. The weapon proved popular with the RDF and the weapon was used in the early portion of the war with the Invid Regent. However, as improved Invid designs became more prevalent, and upgraded version was needed.
In 2035, research produced the GA-15 40mm REF Gauss Rifle. In all respects, the weapon was superior than the earlier GA-12. The GA-15 had 67% percent increased range and a 100% increase in damage. The weapon was even able to break through the armored exoskeleton of early model inorganics. However, the weapon was somewhat unwieldy to fire and pilots soon complained that the weapon was unable to track targets under 500m. As a result, the GA-15 was generally issued only during space combat and often the pilots would discard the weapon once the Invid entered into EU-13 range.
RPG STATS
PRIMARY PURPOSE: Assault
SECONDARY PURPOSE: Anti-Mecha
RANGE: 5.0 km
DAMAGE: 2D4*10 for single shot
RATE OF FIRE: The GA-15 fires up to 60 rounds per minute. The pilot can fire as many single shots as his combined hand to hand attacks per melee.
PAYLOAD: 50 rounds stored internally.
NOTES: -4 to strike within 500m
---
REFERENCES USED IN THIS DESIGN
Palladium Books: "The Sentinels"