---
Command Scrim "Red Scrim"
(Version 1.1 - Last updated: 12/03/02)
Background and RPG Statistics by Kenneth Olson
Based on an original mecha design by Bill Spangler, Tim Eldred and Fred Perry
Published in Eternity Comics "Robotech The Sentinels: Book 1"
Drawing by Kevin Long
BACKGROUND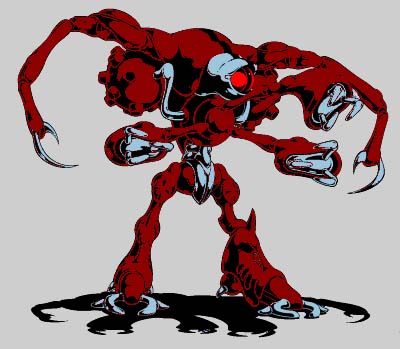 Although the standard Scrim was one of the most effective Invid units in engaging the enemy in melee combat, the Invid's enemies soon learned they could be easily dispatched with long range attacks. The Invid Regent was well aware of this flaw and ordered Tesla, his chief scientist, to build a new version of the Scrim which could engage the enemy well beyond visual range. As the continuing conflict with the Robotech Masters placed a strain on the resources available, the most effective solution was to modify the existing Scrim design to fulfill these new requirements. The gas globes on either side of the unit, which were useless against armored enemies, were replaced with short range missile launchers and two light plasma cannons were added on either side of the central arm.
The first Command Scrim was produced in time for the final assault against Tirol and proved itself a formidable enemy against the weaken Bioroid forces of the Robotech Masters, destroying three units for every loss. However, the new design did suffer some expected difficulties. The most critical was the Invid's lack of experience with missile weaponry, as a result these first generation weapons had difficulties tracking high speed targets, those above 500 kph. This flaw was not apparent when fighting the relatively slow moving Bioroid and Zentraedi ground mecha targets, but would turn out to be a fatal flaw against REF Veritech fighters. The second problem with the Command Scrim, was that the Regent was never able to effectively mass produce the design and even towards the end of the Sentinel conflict a single Command Scrim could only be manufactured at the price of five of the "standard" model.
A total of 6500 Command Scrims were produced from the end of the conflict with the Robotech Masters through the Sentinel campaigns; however, the design which showed so much promise during the initial assault on Tirol proved virtually no better suited to fight the REF than the standard blue Scrim which could be built far more efficiently. As the war progressed and the the Regent's forces were constantly losing ground, the Command Scrim was discontinued. However, many of the lessens learned incorporated into the Black Death class of Inorganics produced just prior to the fall of Optera.
RPG STATS
Vehicle Type: Command Scrim

Class: Invid Inorganic
Manufacturer: Invid Regent
Crew: None

Service History:

Command Scrim: Served with the Invid Regent's Forces from 2020 until 2030
MDC BY LOCATION:
| | |
| --- | --- |
| Location | Command Scrim |
| Missile Launchers (2) | 70 each |
| Blade Claws/Arms (2) | 65 each |
| Chest Arms (3) | 50 each |
| Hands (3) | 35 each |
| Legs (2) | 100 each |
| 2 Head | 150 |
| 1 Main Body | 200 |
NOTES:
Depleting the MDC of the main body will destroy the mecha
Depleting the MDC of the head will blind the inorganic, but it retains other artificial senses. The Command Scrim will suffer -4 to strike, parry, and dodge.
SPEEDS:
MAXIMUM RUNNING SPEED:

150 kph (90 mph)

LEAPING:

25 ft (15 m) high and 50 ft lengthwise

UNDERWATER PERFORMANCE:

15 kph (10 mph)

FLYING IN ATMOSPHERE:

N/A

DESIGNED G LIMITS:

+20 to -10 g

MAX ACCELERATION SPACE:

None, although the Command Scrim can operate outside a planetary atmosphere

DELTA V:

N/A
STATISTICAL DATA:
HEIGHT:

11.0 ft

WIDTH:

7.0 ft

LENGTH:

6.0 ft

WEIGHT:

5000 kg with a full missile load, 3000 kg without missiles

PHYSICAL STRENGTH:

Equal to a P.S. of 30

CARGO:

None

POWER PLANT:

[MAIN] MICRONIZED RELLERA PROTOCULTURE CELL ENERGIZERS: Scattered throughout exoskeleton, protoculture equivalent to 6 canisters

GENERATOR ENDURANCE:

1000 hours of operational use

BOOSTER UNITS:

None
WEAPON SYSTEMS:
SHORT RANGE MISSILE SYSTEM IM-8: The Command Scrim has replaced the two largely ineffective gas generators on either side of of the unit a with two short range missile launchers. As the IM-8 system was the Invid's first attempt at developing a missile system, there were several developmental problems. The most notable was the inability to effectively engage fast moving targets (see notes below for game context).

PRIMARY PURPOSE: Assault
SECONDARY PURPOSE: Anti-mecha
RANGE: Varies (typically 5 km)
DAMAGE: Varies, although plasma is the most common warhead (1D6*10).
RATE OF FIRE: One at a time or in volleys of two, four, six, or eleven
PAYLOAD: 10 short range missiles
NOTES: This system proved to be incredibly inaccurate, as a result it will only hit targets traveling faster than 500 kph on 10-20 and missiles on 18-20

2 x PL-3L PLASMA CANNONS: The Command Scrim mounts two plasma cannons on either side of the central arm. Both cannons are identical to those found on the standard Invid Armored Scout and are usually fired simultaneously. Each cannon can fire 2.5 MJ bursts of plasma energy out to an effective combat range of 1.2 km.

PRIMARY PURPOSE: Assault
SECONDARY PURPOSE: Anti-mecha
RANGE: 4000 ft (1200m)
DAMAGE FOR EACH ARM: One single blast 1D6 MDC, dual blasts 2D6, or dual bursts of 4D6
RATE OF FIRE: Equal to the pilot's combined hand to hand attacks
PAYLOAD: Unlimited

HAND TO HAND COMBAT: As with its predecessor, the Command Scrim often engages in melee combat to capture or cripple its prey. In this area the terminator excels taking much from the design of the scrim

Blade/Claw: 2D4*10 MDC
Punch: 1D6*10 MDC
Tear/Pry: 1D4*10 MDC
Knee Kick: 1D4*10
Kick: 1D4*10
Leap Kick: 1D6*10 (counts as two attacks)
Stomp: 4D6 (effective only against objects that are smaller than 4 ft)
Body Block/Tackle: 1D4*10 M.D

STANDARD EQUIPMENT FOR COMMAND SCRIM:
EXTERNAL AUDIO PICKUP: Range 150 ft (91.5 m) for normal conversation.
OPTICS [NIGHTVISION]: Range: 200 meters. A passive light image intensifier that emits no light of its own, but relies on ambient light which is electronically amplified to produce a visible picture. However the system is more primitive than standard REF or Robotech forces.
OPTICS [THERMAL IMAGER]: Range: 2000 feet (610 m). A passive optical heat sensor that detects infrared radiation projected by warm objects and converts that data into a false-color visible image. The system enables the Inorganic to see in the dark, in shadows, and through smoke.
OPTICS [VISUAL]: Capable of times 4 magnification.
MOTION TRACKERS: Short range ultrasonic motion trackers, Range 400 ft.
RADAR X-BAND IMTR-1R: The Command Scrim possesses a short range radar (range 15 kilometers for alpha size target). The design is quiet limited as compared to complimentary Earth mecha; however, it does possess limited track (up to 5 targets) and search capabilities.
---
COMBAT BONUSES FOR THE COMMAND SCRIM:
6 attacks per melee
+5 to strike
+5 to parry
+6 to dodge
+5 to initiative
Critical strikes on a roll of 18, 19, or 20
---
Random Hit Locations:
When there is an equal chance of hitting both sides from 1D6
1-3 hits the right side
4-6 hits the left
When there is a preferred side, roll 1D10
1-8 hits the preferred side
9-10 hits the opposite side
| | | | | | |
| --- | --- | --- | --- | --- | --- |
| Scrimm | FRONT | BACK | SIDES | TOP | BOTTOM |
| Missile Launchers (Main Body) | 01-05 | 01-09 | 01-12 | 01-04 | 01-20 |
| Blade Claws/Arms (Main Body) | 06-08 | 10-12 | 13-17 | 05-07 | 21-23 |
| Chest Arms (Main Body) | 09-15 | 13-17 | 18-25 | 08-14 | 24-30 |
| Hands (Arms) | 16-25 | 18-20 | 26-29 | 15-18 | 31-34 |
| Legs (Main Body) | 26-44 | 21-50 | 30-50 | 19-30 | 35-65 |
| Head (Main Body) | 45-59 | - | 51-60 | 31-50 | 66-84 |
| Main Body | 60-00 | 51-00 | 61-00 | 51-00 | 85-00 |
---
SOURCES USED IN CREATION OF DOCUMENT
Palladium's Robotech RPG: Sentinels
Robotech.com: Invid Scout, Armored
The Robotech Technical Files: Scrim
---