---
Lagur Light Aerospace Mecha
(Version 1.0 - Last updated: 10/02/01)
Concept and Background by Kenneth Olson
Background Information derived from Robotech Technical Files
Based off an original design presented in Animedia's Genesis Climber Mospeada Color Graffiti (pg 118)
BACKGROUND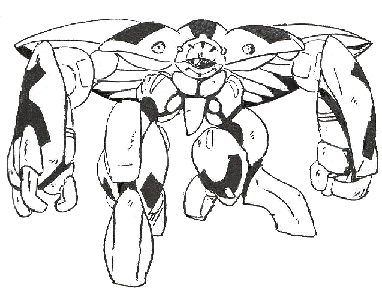 The Lagur was a first generation design produced by the Invid only four months after the Zentraedi attack on Optera. The mecha was quickly mass produced after the attack using destroyed Zentraedi mecha as the bases for the design. Considering its origins and the hast for which the Lagur was assembled, the mecha proved to extremely influential for later Invid designs. REF intelligence estimates that the Lagur and later Ligaa models share almost 60% common components.
The Lagur possesses only light armor offering less protection than that on contemporary Zentraedi units. The armor is composed of a first generation metallic, ceramic, organic mix that is still not fully understood by REF scientists; however, it provides immunity from all anti-personal weaponry and is capable of surviving several direct strikes from light anti-mecha weaponry.
Two ILG-X pulse cannons are mounted on either torso. However, like the larger IHG-X pulse cannons found on the Guyar Shock Trooper, these weapons tended to overheat when used continuously. Each cannon is capable of firing short bursts of 3 MJ of plasma energy.
The flight performance of the Lagur are primitive to comparable Zentraedi and Robotech Master systems of the time. As a result the flight and combat performance is sluggish compared to later Ligaa models.
The Lagur was only produced for 15 years during which period some 2 million units are estimated to have been constructed. However, the unit did provide the Invid with valuable experience for the more advanced Ligaa. Lagurs were encountered several times, albeit still infrequently during the Sentinel campaigns. In 2028, advanced forces from the SS. Roosevelt attacked an Invid outpost on Celi-5. REF intelligence estimates that the Invid commander was forced to supplement his meager forces with several hundred Lagur's which had been placed into storage. REF intelligence believes that throughout the Sentinel campaign a sizable fraction, perhaps as many as 100,000, Lagur's were kept in strategic storage because of their combat qualities.
RPG STATS
Vehicle Type: Lagur Light Aerospace Mecha

Class: Aerospace mecha
Manufacturer: Invid Regent / Regis
Crew: One pilot
MDC BY LOCATION:
| | |
| --- | --- |
| Location | Lagur |
| Hand (2) | 5 each |
| Forearms (2) | 25 each |
| Upper Arms (2) | 15 each |
| Legs & Feet (2) | 30 each |
| Main Engine Thruster (rear) | 15 |
| Pulse Beam Cannon (2) | 10 each |
| * Sensor Eye | 5 |
| ** Main Body | 40 |
| Reinforced Pilots Compartment | 10 |
		 
NOTES: 
* The sensor eye is the most vulnerable place on the Invid's mecha body. Destruction of the sensor eye will destroy the mecha and pilot. However, it is a small target protected by surrounding shielding, thus, to hit the player must make a called shot at -3.
** Depleting the MDC of the main body will destroy the mecha.
SPEEDS:
FLYING:

850 kph in planetary atmospheres
40 km service ceiling

RUNNING:

50 kph

LEAPING:

30 m w/o boosters
STATISTICAL DATA:
HEIGHT:

2.5 m

DEPTH:

3.2

WEIGHT:

5.0 metric tonnes

PHYSICAL STRENGTH:

Equal to a P.S. of 35

CARGO:

None

POWER PLANT:

1 x L'treera protoculture cell energizer with 4 protoculture canisters

PROPULSION IN SPACEBORNE OPERATIONS:

Engines: one IE-X one vectorable plasma shock thruster with total output of 60 kN

DELTA V:

30 kps

GENERATOR ENDURANCE:

120 hours of operational use

BOOSTER UNITS:

None
WEAPON SYSTEMS:
2 x ILG-X PLASMA CANNONS: The Lagur Scout mounts two first generation ILG-X light plasma cannons on either side of the sensor eye. Each cannon stores plasma generated from the main protoculture energizer and releases the plasma in discrete bursts, dubbed "annihilation discs' by the REF. Typically, the ILG-X fires one-second bursts with kinetic and thermal energy of approximately 3.0 MJ. Each cannon can store enough plasma for up to 20 seconds of continuous firing; however, the weapon will overheat if fired continuously for 15 seconds requiring a full 30 seconds to cool down before they can be used again.

PRIMARY PURPOSE: Assault
SECONDARY PURPOSE: Anti-mecha
RANGE: 800m
DAMAGE: One single blast 1D2, dual blasts 1D4 (two simultaneous shots from both cannons), 2D6 MDC for short bursts, or 4D4 for medium bursts
RATE OF FIRE: Equal to the pilot's hand to hand attacks
PAYLOAD: Conditionally unlimited
NOTES: he weapons will overheat if the pilot fires three medium bursts in any given melee (15 seconds)

HAND TO HAND COMBAT:. The Invid Lagur possesses a considerable ability to engage in hand to hand combat

Punch/Claw: 4D6*3
Crush with Hand: 1D6*3
Tear or Pry: 1D6*3
Kick: 2D6*3
Body Block/Tackle: 2D6*3.
Stomp: 1D4*3 MDC (only effective against small objects)

STANDARD EQUIPMENT FOR LAGUR SCOUT:
EXTERNAL AUDIO PICKUP: Range: 150 ft (91.5 m).
VISUAL: Capable of times 4 magnification
OPTICS: NIGHTVISION: Range: 200 meters. A passive light image intensifier that emits no light of its own, but relies on ambient light which is electronically amplified to produce a visible picture. However the system is more primitive than standard REF or Robotech forces.
SHORT RANGE ULTRASONIC MOTION TRACKERS: Range: 400 ft.
---
COMBAT BONUSES FOR INVID LAGUR:
Three attacks per melee
+0 to strike
+0 to parry
+0 to dodge on ground
+2 to dodge in flight
+4 to dodge at maximum speed
+1 to roll with the impact
Related abilities: Prowl - 25%, Detect Ambush - 20%, Detect Concealment - 10%, Track - 10%
---
SOURCES USED IN CREATION OF DOCUMENT
Palladium's Robotech RPG: Invid Invasion
Robotech.com: Invid Scout, Armored
The Robotech Technical Files: Gurab Shock Trooper and Ligaa Armored Scout
---