---
VHT-2 "Hoplite" Veritech Hovertank

(Version 1.0 - Last updated: 07/23/03)
Background and RPG Statistics by Kenneth Olson
Background Information derived from Robotech.com and Robotech Technical File
Based off an original design shown in This is Animation #10: Super Dimension Cavalry: Southern Cross
Color drawing of Hovertank mode by Long Vo, Charles Park, and Saka of Udon in Wildstorm Comics "Robotech: Love and War #1"


BACKGROUND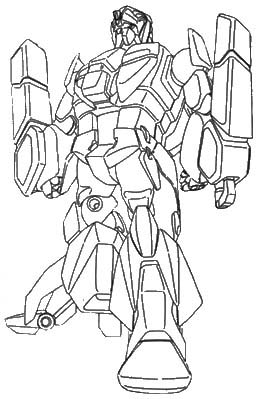 The Hoplite was developed in parallel with its much larger cousin the VHT-1 Spartas Hovertank in an effort by the United Earth Government (UEG) high command to develop a new ground scout vehicle to replace the aging Centaur Veritech tank. While both of the hovertank designs possessed greater mobility than the Centaur, or even the much older RDF Destroid designs, the VHT-2 Hoplite focuses on speed and maneuverability while the much larger VHT-1 on armor and firepower. As the two hovertanks are complimentary, the UEG had originally planned on outfitting the next generation of armored cavalry using the Hoplite for scouting roles and the Spartas for combat.

The Hoplite's only internal weapons are two Oerlikon PP-36 triple-barreled plasma pulse cannons mounted in armored housings inside either arm shield. Although the PP-36 possesses only a fraction of the armor penetration capabilities of the 120mm smoothbore cannon found on the VHT-1, the two rapid fire cannons are capable of firings 5 MJ bursts of energy up to 20 times per minute out to an effective combat range of nearly 1,200 meters. In addition to the two PP-36 pulse cannons, the Hoplite can hold small gun pods in either hand such as the GU-13 or E-20; although, the use of gunpods preclude the PP-36 from extending from their housings or transforming into other modes while holding the weapons.

The Hoplite is armored with the latest Chobham low-mass composite plate providing immunity from all anti-personnel and good protection from medium class (55mm caliber or less) anti-mecha weaponry. The Hoplite does have two arm shields that are capable of absorbing hits that would normally disable the unit; however, the VHT-2 only possesses approximately 50% of the armor protection of the larger VHT-1 Spartas.

The first Hoplites were produced in 2018 with combat squadrons forming for the REF Army two years later. The Armies of the Southern Cross (ACS) which had always been more enamored with the larger and more powerful VHT-1 Spartas, decided that their more limited resources would be better spent elsewhere and only purchased 25 units which were used mainly for testing purposes. These ASC Hoplites only served into the mid 2020's at which point they were all retired and were not brought back for the 2nd Robotech War.

While the ASC had totally shunned the Hoplite, the REF did procure nearly 200 units of which 150 were sent with the Robotech Expeditionary Force to Tirol. For the next decade, the Hoplite proved to be a adequate scout mecha for the REF Army and Marines providing warning to ground based units of incoming inorganic attacks. By the 2030 however, the constant attrition from combat and lack of spare parts signaled the end of service in the REF for the VHT-2 "Hoplite". The REF sent most of the remaining 80 operational units back to Earth in the belief that the ASC could use the Hoplites as either reinforcements for combat mecha or as spare parts for their VHT-1 units, as the Hoplites share nearly 50% common parts. Unfortunately, most of the REF supplies arrived too late for the 2nd Robotech War and were subsequently destroyed during the Invid Invasion of 2031. However, several Hoplites survived the initial attacks and were prized additions to resistance groups because of their maneuverability and small size that was easy to conceal.


RPG STATS
Vehicle Type: VHT-2 "Hoplite", single seat-all-weather variable hovertank scout

Class: Variable hovertank

Manufacturer: Robotech Expeditionary Force mecha facilities on Earth
Crew: One pilot wearing tactical life support system

Service History

VHT-2: Served with the REF Army and Marines from 2018 until retired in 2031, served with the Armies of the Southern Cross Tactical Division from 2018 until 2025


MDC BY LOCATION:
Location
VHT-2 "Hoplite"


(1)

Head

35

Headlights (2)

2 each

Hands (2)
30 each

Arms (2)
100 each

Arm Shields (2)
200 each

Legs (2)
175 each

(2) Side Hover Jets (2)
40 each

(2) Feet Hover Jets (2)

50 each

Triple Barrel Plasma Cannons (2)

75 each

(3) Main Body
250

Armored Hood

100

Reinforced Pilot's Compartment
150

(Optional) EU-12 (1 or 2)

100

(Optional) EU-20 (1 or 2)

75

NOTES:
Destroying the head will knockout long range communications (reduced to 60 miles/96 km range), long range radar (reduce to 20 miles) and laser targeting (-1 to strike)
Destroying each one of the hover jets will reduce the top speed by 75% and subtract -1 to dodge while in hovertank mode.

Depleting the MDC of the main body will destroy the mecha.
SPEEDS:
RUNNING, SOLDIER CONFIGURATION:

95 kph

LEAPING, SOLDIER CONFIGURATION:

15 m high or 30 m long without thrusters.

MAX SPEED, TANK CONFIGURATION:

20 kph

MAX SPEED, HOVERCRAFT CONFIGURATION :

210 kph with maximum sustained hover height of 2.5 meters


DESIGNED G LIMITS:

+12.0/-6.5 (Computer overrides at 9.5g)

MAX ACCELERATION: SPACE

1.6g (although rarely used in space)


DELTA V:

0.6 kps with 250 kg of D20 stored internally
Drop Tanks count be mounted on the rear of the unit which will provide an additional delta v of:

1300 liters - 3.2 kps
2310 liters - 5.5 kps
4000 liters - 9.0 kps
STATISTICAL DATA:
HEIGHT

5.1 m (battloid)
2.1 m (hovertank)

WIDTH:

2.6 m (battloid)
2.1 m (hovertank)

LENGTH:

6.3 m (soldier)
16.8 m (hovertank)

WEIGHT:

15,200 kg empty.

PHYSICAL STRENGTH:

Equal to a P.S. of 60

CARGO:

Small compartment behind pilot's seat for personal belongings


POWER PLANT:

1 x SCRA Miniaturized protoculture-cell energizer

MAX ENGINE THRUST

[Main] 4 x Pratt & Whitney HJ-900. Four hover jets are mounted in the undercarriage of the hoplite in hovercraft mode or in the bottoms of the feet in battloid and tank providing 50 kN of ground-effect thrust each.
[Auxiliary] 2 x Turbo-Union ATF-380 miniaturized fusion plasma-air/reaction mass intermix ramjets. Two fusion plasma engines are mounted on the rear of the unit for spaceborne operations. Each engine is rated to 43.1 kN standard thrust, max overboost to 86.2 kN each (specific impulse of 4000 sec).


FUEL CAPACITY

6 standard canisters of protoculture
250 liters of D20 for reaction mass (used only for spaceborne operations)

COMPATIBLE FAST PACKS:

None

WEAPON/DEFENSIVE SYSTEMS:
2 x OERLIKON TRIPLE BARREL 36MM PLASMA PULSE CANNON: Two Oerlikon 36mm pulse cannons are mounted on either arm and are the primary armament of the Hoplite. Each cannon fires 5 MJ bursts of plasma annihilation discs out to an effective combat range of 1200 meters. The weapon is powered directly from the main protoculture energizers with plasma taken directly from the protoculture cell energizers with each weapon storing enough plasma for up to 20 short bursts per minute.

PRIMARY PURPOSE: Assault
SECONDARY PURPOSE: Anti-Mecha
RANGE: 1200 m

DAMAGE: 6D6 MDC per short burst

RATE OF FIRE: Short bursts equal to the number of hand-to-hand attacks of the pilot

PAYLOAD: Effectively unlimited, up to 20 short bursts per minute




(Optional) 1 or 2 x MAUSER EU-11 LASER GUN POD: A Mauser EU-11 can be carried in either arm while the Hoplite is in battloid mode. Each EU-11 is powered directly from the main protoculture energizers and are capable of firing 13.5 MJ short bursts out to an effective combat range of 3500 meters.

PRIMARY PURPOSE: Assault

SECONDARY PURPOSE:

Anti-mecha

RANGE: 3500 m

DAMAGE: 1D6*10 per short burst

RATE OF FIRE: Single shots or bursts equal to the number of hand-to-hand attacks

PAYLOAD: Effectively unlimited
NOTES: Use of the EU-11 precludes the use of the Oerlikon pulse cannon on that arm and prohibits the Hoplite from transforming out of battloid



(Optional) 1 or 2 x GENERAL ELECTRIC E-20 LASER GUN POD: A General Electric EU-20 pulse laser can be carried in either arm while the Hoplite is in battloid mode. Each E-20 is powered directly from the main protoculture energizers and are capable of firing 10 MJ short burst out to an effective combat range of 1200 meters up to 60 times per minute.

PRIMARY PURPOSE: Anti-mecha
SECONDARY PURPOSE: Assault/Defense
RANGE: 1200 m
DAMAGE: 1D4*10 per short burst
RATE OF FIRE: Short bursts equal to the number of hand to hand attacks of the pilot.
PAYLOAD: Effectively Unlimited
NOTES: Use of the EU-20 precludes the use of the Oerlikon pulse cannon on that arm and prohibits the Hoplite from transforming out of battloid

HAND TO HAND COMBAT: If necessary, the Hoplite can engage in melee combat rather than use a weapon. The VHT-2 can execute most typical hand to hand combat moves, such as punches, jump kicks, leap attacks, rolling with impacts, etc.

DAMAGE:

Punch in Battloid: 3D6
Punch in Guardian: 3D4
Kick: 3D6
Leap Kick: 6D6
Body Flip/Throw: 3D6
Body Block/Tackle: 3D6
Stomp: 3D4 (only effective against small objects)
STANDARD EQUIPMENT FOR VHT-2 "HOPLITE":
ACTIVE SENSOR JAMMER: Westinghouse ALQ-250(V) internal ECM providing broadband protection. Estimated system effective radiative power 50 dBW
AUTO-PILOT: The Hoplite is equipped with a computerized auto-pilot, allowing the pilot to relax or even sleep during long voyages. The auto- pilot can be programmed with a single destination or a complex flight plan involving multiple speeds, directions, and destinations. The onboard computer will alert the pilot when the fighter is near its destination, and can also be set to automatically signal when sensors detect objects near the mecha. The auto-pilot was designed with long intra-system space journeys in mind.
COMBAT COMPUTER: The IBM-210 combat computer tracks and identifies specific enemy targets, and has a database of over 10,000 images stored in memory. The computer can identify and track up to 250 targets simultaneously.
EXTERNAL AUDIO PICKUP: Range: 300 ft (91.5 m). A sound amplification system that can pick up normal conversation up to 300 feet away.
HEAT AND RADIATION SHIELDS: Special shielding prevents the penetration of life threatening head and radiation. A radiation detection and alarm system are linked with the shields and will sound an alarm if there is a rupture in the shields and what the levels of radiation are.
HOMING SIGNAL: The VHT-2 is equipped with a homing device that enables rescue teams to locate a disabled craft or ejected life pod. The range of the signal is 400 miles (640 km). Most REF ships and veritechs can locate and track a homing signal, and the onboard computers will automatically notify their pilots if such a signal is detected.
INFRA-RED COUNTERMEASURES: Westinghouse QRC-100 providing protection from IR guided missiles
INFRA-RED WARNING RECEIVER: OlDelft Infra-red Warning Receiver (IRWR) providing rear aspect coverage from IR guided missiles
LASER RANGE FINDER / TARGETING SYSTEM: Thomson LT-5 multi-frequency laser ranger and designator (Range 30 kilometers)
LOUDSPEAKER: A loudspeaker system is built into the craft, which can be used to amplify the pilot's voice up to 100 decibels.
OPTICS (INFRARED): Phillips All-View multi-band camera system range 1000 meters. This optical system projects a beam of infrared light that is invisible to the normal eye, but detectable by the mecha's sensors. The system allows the pilot to detect hidden/concealed objects by their IR reflectiveness. The beam will be visible to anyone with IR sensitive optics, however.
OPTICS (NIGHTVISION): Phillips All-View multi-band camera system range 1000 meters. A passive light image intensifier that emits no light of its own, but relies on ambient light which is electronically amplified to produce a visible picture.
OPTICS (THERMAL IMAGER): Phillips All-View multi-band camera system range 1000 meters. A passive optical heat sensor that detects infrared radiation projected by warm objects and converts that data into a false-color visible image. The system enables the pilot to see in the dark, in shadows, and through smoke, and also adds a +10% bonus to pilots using a tracking skill.
RADIO/VIDEO COMMUNICATION: Long range, directional communications system with satellite relay capabilities. Range: 600 miles (960 km) or can be boosted indefinitely via satellite relay.
RADAR (SHORT RANGE / FIRE CONTROL): Westinghouse TPG-113 X-band pulse-Doppler, providing spherical long-range detection and tracking of targets at all altitudes. (Range 40 km against a 0 dBsm "Invid sized" target)
RADAR WARNING RECEIVER: Marconi Radar Warning Receiver (RWR)
SELF-DESTRUCT: To prevent capture of an advance variable fighter by the enemy, the pilot can activate the VHT-2 self-destruct system, which will cause the fighter to explode after a delay of up to 60 minutes (time is set by the pilot). The explosive damage is contained within a 20 foot (6 m) area and inflicts 1D6*10 M.D. to everything within the radius of the explosion. All internal systems are obliterated. The pilot will be automatically ejected prior to the explosion unless the pilot overrides the ejection sequence.
STANDARD SURVIVAL KIT: All REF veritechs come equipped with a portable survival kit. Inside the small reinforced box is a medium-sized flashlight, two hand flares, one rocket flare, a compass, infrared distancing binoculars, a small mirror, a pocket knife, dehydrated and concentrated food (can be stretched into a five day supply for one person) and basic first aid items (aspirin, bandages, disinfectants, etc.)
TACTICAL LIFE SUPPORT SYSTEM: The VHT-2 cockpit is pressurized, and also provides additional air feeds to the pilot's flight suit that provides him with pressurized breathing. The REF flight suit also contains an upper and lower g-suit that promotes blood circulation even during high-g turns, thus decreasing the possibility of pilot's blacking out in combat.

---
COMBAT BONUSES FOR VHT-2 "HOPLITE" COMBAT TRAINING:
4 attacks per melee (plus those of the pilot)
Add one additional action/attack at levels five and ten
+1 to strike
+3 to parry
+3 to dodge in solder, +0 in tank, and +4 in hovercraft
+3 to roll with a punch or fall with an impact, reducing damage by half
Critical strike same as pilot's hand-to-hand
COMBAT BONUSES FOR VHT-2 "HOPLITE" BASIC TRAINING:
1 attacks per melee (plus those of the pilot)

Add one additional action/attack at levels seven and thirteen

+0 to strike
+1 to parry
+1 to dodge in solder, +0 in tank, and +2 in hovercraft
+1 to roll with a punch or fall with an impact, reducing damage by half
Critical strike same as pilot's hand-to-hand
---
Random Hit Locations
When there is an equal chance of hitting both sides from 1D6
1-3 hits the right side
4-6 hits the left
When there is a preferred side, roll 1D10
1-8 hits the preferred side
9-10 hits the opposite side
| | | | | | |
| --- | --- | --- | --- | --- | --- |
| Hoplite Battloid | FRONT | BACK | SIDES | TOP | BOTTOM |
| Head (Main Body) | 01-05 | 01-05 | 01-10 | 01-20 | - |
| Head Lights (Main Body) | - | - | - | - | - |
| Hands (Arms) | 06-09 | 06-09 | 11-15 | 21 | 01-05 |
| Arms (Main Body) | 11-25 | 11-25 | 16-20 | 22-35 | 06-15 |
| Arm Shields (Arms) | 26-40 | 26-40 | 21-50 | 36-55 | 16-25 |
| Legs (Main Body) | 41-57 | 41-57 | 51-70 | 56-60 | 26-50 |
| Side Hover Jets (Upper Legs) | - | - | - | - | - |
| Feet Hover Jets (Legs) | 58-62 | 58-62 | 71-75 | - | 51-65 |
| Plasma Cannons (Arm Shields) | 63 | 63 | 76-77 | 61-62 | 66-70 |
| Main Body (Pilot's Compartment) | 64-98 | 64-85 | 78-90 | 63-85 | 71-85 |
| Armored Hood (Pilot's Compartment) | - | 86-95 | 91-96 | 86-90 | 86-90 |
| Pilot's Compartment | 99-00 | 96-00 | 97-00 | 91-00 | 91-00 |
| | | | | | |
| --- | --- | --- | --- | --- | --- |
| Hoplite Tank | FRONT | BACK | SIDES | TOP | BOTTOM |
| Head (Main Body) | - | - | - | - | 01-03 |
| Head Lights (Main Body) | - | - | - | - | - |
| Hands (Arms) | 01-05 | - | 01-02 | - | 04-05 |
| Arms (Main Body) | 06-10 | 01-05 | 03-07 | 01-05 | 06-10 |
| Arm Shields (Arms) | 11-20 | 06-15 | 08-20 | 06-20 | 11-15 |
| Legs (Main Body) | 21-40 | 16-35 | 21-40 | 21-30 | 16-55 |
| Side Hover Jets (Upper Legs) | - | - | - | - | - |
| Feet Hover Jets (Legs) | 41-50 | 36-45 | 41-50 | 31-35 | 56-70 |
| Plasma Cannons (Arm Shields) | 51-60 | 46-55 | 51-60 | 36-50 | 71-76 |
| Main Body (Pilot's Compartment) | 61-80 | 56-85 | 61-85 | 51-70 | 77-95 |
| Armored Hood (Pilot's Compartment) | 81-96 | 86-95 | 86-97 | 71-95 | - |
| Pilot's Compartment | 97-00 | 96-00 | 98-00 | 96-00 | 96-00 |
| | | | | | |
| --- | --- | --- | --- | --- | --- |
| Hoplite Hovertank | FRONT | BACK | SIDES | TOP | BOTTOM |
| Head (Main Body) | - | - | - | - | 01-05 |
| Head Lights (Main Body) | 01-03 | - | 01 | 01-02 | - |
| Hands (Arms) | 04-08 | - | 02-03 | - | 06-10 |
| Arms (Main Body) | 09-15 | 01-05 | 04-10 | 03-10 | 11-25 |
| Arm Shields (Arms) | 16-30 | 06-15 | 11-35 | 11-30 | 26-30 |
| Legs (Main Body) | 31-40 | 16-35 | 36-55 | 31-40 | 31-60 |
| Side Hover Jets (Upper Legs) | 41-45 | 36-40 | 56-60 | 41-45 | 61-65 |
| Feet Hover Jets (Legs) | 46-50 | 41-50 | 61-65 | 46-49 | 66-70 |
| Plasma Cannons (Arm Shields) | 51-55 | - | 66-67 | 50-52 | 71-73 |
| Main Body (Pilot's Compartment) | 56-80 | 51-70 | 68-80 | 53-60 | 74-95 |
| Armored Hood (Pilot's Compartment) | 81-97 | 71-95 | 81-97 | 61-95 | - |
| Pilot's Compartment | 98-00 | 96-00 | 98-00 | 96-00 | 96-00 |
---
REFERENCES USED IN THIS DESIGN
Palladium Books: Book 4 "The Southern Cross"

Robotech.com: VHT-1 "Spartas" Veritech Hovertank
Robotech Technical Files: VHT-2 "Spartas" Veritech Hovertank