---
Assault Power Armor (Queadlunn-Yau)
(Version 2.00 - Last updated: 11/29/00)
RPG Stats and Background by Kenneth Olson
Based on an original mecha design by Lee Duhig and Herb Mallette
Published in Antarctic Press "Robotech Wings of Gibraltar"
BACKGROUND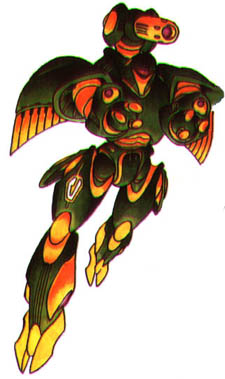 The development of the Queadlunn-Ger (Tactical Power Armor) power armor provided the male Zentraedi an equivalent counterpart to the highly successful Queadlunn-Rau. The Robotech Masters looked at other ways to improve the standard male power armor to fill other tactical requirements. One design improvement was to produce a highly mobile cavalry unit which could be quickly deployed to key areas of the battlefield or used for special operations.
The Assault Power Armor (Queadlunn Yau) was developed 5 years after the Tactical Power Armor to fulfill these needs. Although, the Assault Armor does not have nearly the armor nor the firepower of the standard Tactical Power Armor, it still outclasses the standard Male Power Armor. The highly successful PB-11 was kept as the primary long range weapon; however, the missile load was reduced to 42 short range missiles mounted in two SL-21 launchers on either shoulder. Two carbine versions of the venerable PB-10, found on all combat models of the Regult Battle Pod, were added to either arm for short range defense.
The Queadlunn Yau never made it past the experimental stage. Only 250 models were produced immediately before the Zentraedi campaign to recapture the SDF-1. Approximately 50 Assault Armors were included in Breetai's forces to reclaim the SDF-1. The masters felt that the special operations nature of the mission would fit in with the design parameters of the Assault Armor. All the the units were subsequently destroyed on a raid of the RDF research faculty Gibraltar just outside of the asteroid belt.
RPG STATS
Vehicle Type: One person all weather ground combat mecha

Class: Zentraedi Power Armor
Manufacturer: Robotech Masters
Crew: One pilot
MDC BY LOCATION:
| | |
| --- | --- |
| Location | Assault Power Armor |
| (1) Main Body | 200 |
| Head/Helmet | 80 |
| Zentraedi Plasma Rifle (PL-4) | 50 |
| Shoulder Missile Launchers (2) | 100 |
| Hands (2) | 30 |
| Arms (2) | 75 |
| Legs (2) | 125 |
| Particle Beam | 75 |
| Engine Thruster (2) | 50 |
		 
NOTES: 
Depleting the MDC of the main body will destroy the mecha.
Destruction of the Head will kill the pilot and render the mecha useless.
SPEEDS:
FLYING:

800 kph in planetary atmospheres

RUNNING:

150 kph

LEAPING, SOLDIER CONFIGURATION:

40 m
STATISTICAL DATA:
HEIGHT:

14.5m

WEIGHT:

23.0 metric tonnes

PHYSICAL STRENGTH:

Equal to a P.S. of 60

CARGO:

None

POWER PLANT:

1 x Xot'zerr-8-X protoculture generator with multiple protoculture canisters

Propulsion in Spaceborne operations:

Engines: two plasma-shock expansion thrusters in the back, output 260 kN.

Delta V:

25 kps

Generator Endurance:

15 days of continuous use
WEAPON SYSTEMS:
PARTICLE BEAM CANNON: The Tactical Power Armor has a PB-11 particle beam cannon. This cannon can discharge more energy per shot and fire more shots per minute than the standard PB-10 cannon found on male power armors

PRIMARY PURPOSE: Assault/Defense
SECONDARY PURPOSE: Anti-mecha
RANGE: 3200 m
DAMAGE: 5D10+25
RATE OF FIRE: Up to 4 times per melee
PAYLOAD: Unlimited

2 x SL-21 : Two short range missile launchers are mounted on either shoulder Tactical Armor. Each launcher contains 21 Maggot short range missiles ready for launching.

PRIMARY PURPOSE: Assault/Defense
SECONDARY PURPOSE: Anti-mecha
RANGE: Varies with missile type
DAMAGE: Varies with missile type
RATE OF FIRE: One at a time or in volloys of 2, 4, 8, 16, or 21.
PAYLOAD: Each launcher has 21 short range missile

2 x PB-10c : Two carbine versions of the standard PB-10 found on all combat versions of the Regult Battlepods are placed in either arm. Each PB-10 have four barrels that can fire 2.5 MJ every second. Each barrel can be fired in parallel for maximum localized damage or in series for increased chances of a hit.

PRIMARY PURPOSE: Assault/Defense
SECONDARY PURPOSE: Anti-mecha
RANGE: 1000m
DAMAGE: 1D4x10 per four blasts
RATE OF FIRE: Up to 15 times per melee
PAYLOAD: Unlimited

ZENTRAEDI PLASMA RIFLE (PL-4): The Robotech Masters provided the Queadlunn-Gerr with an improved version of the standard PL-3 Zentraedi Plasma rifle. Unlike the original PL-3, the PL-4 does not suffer from the sporadic malfunctions and tendency to discharge when damaged during combat.

PRIMARY PURPOSE: Assault/Defense
SECONDARY PURPOSE: Anti-mecha
RANGE: 1000 m
DAMAGE: 1D6*10 per short burst
RATE OF FIRE: Equal to the total number of H-to-H attacks
PAYLOAD: 20 Bursts

HAND TO HAND COMBAT:.

Restrained Punch 1d6*3
Full Punch: 2d6*3
Power Punch: 2d6*3+12
Tear or Pry: 1d6*3
Kick: 1d6*3
Leap Kick: 2d6*3
Leap Kick: 2d6*3
Body Block/Tackle: 2D6*3.
Stomp: 1d4*3 MDC (only effective against small objects)
STANDARD EQUIPMENT FOR ASSAULT POWER ARMOR:
COMBAT COMPUTER: The combat computer can identify and track 48 targets.
LONG RANGE SPHERICAL RADAR: The Assault Power Armor possesses a long range radar with a range of 150 km.
EXTERNAL AUDIO PICKUP: Range: 300 ft (91.5 m). A sound amplification system that can pick up normal conversation up to 300 feet away.
HEAT AND RADIATION SHIELDS: Special shielding prevents the penetration of life threatening heat and radiation. A radiation detection and alarm system are linked with the shields and will sound an alarm if there is a rupture in the shields and what the levels of radiation are.
LASER TARGETING SYSTEM: Range: 50 miles (160 km). Used for increased accuracy in the striking of enemy targets and is partly responsible for the mecha's strike bonus.
LOUDSPEAKER: A loudspeaker system is built into the craft, which can be used to amplify the pilot's voice up to 90 decibels.
OPTICS: NIGHTVISION: Range: 2000 feet (610 m). A passive light image intensifier that emits no light of its own, but relies on ambient light which is electronically amplified to produce a visible picture.
OPTICS: THERMAL IMAGER: Range: 2000 feet (610 m). A passive optical heat sensor that detects infrared radiation projected by warm objects and converts that data into a false-color visible image. The system enables the pilot to see in the dark, in shadows, and through smoke, and also adds a +10% bonus to pilots using a tracking skill.
OPTICS: Telescopic optics (x10 magnification)
RADIO/VIDEO COMMUNICATION: Long range, directional communications system with satellite relay capabilities. Range: 600 miles (960 km) or can be boosted indefinitely via satellite relay.
LOW POWER BROAD BAND SENSOR JAMMER: These systems can be used to jam both sensors and missiles; however the Zentraedi systems are no where near the effectiveness of the REF or the Robotech Masters
---
COMBAT BONUSES FOR ASSAULT POWER ARMOR:
4 attacks per melee (plus those of the pilot)
+4 to roll with the punch
+2 to strike
+3 to parry
+4 to dodge
Critical strike are the same as the pilot's hand to hand
One additional attack at levels 5 and 10
---
SOURCES USED IN CREATION OF DOCUMENT
Palladium's Robotech RPG Book I: Macross
The Robotech Technical Files: Personal Body Suit
---