---
Stealth Raulonve Fighter Pod
(Version 1.0 - Last updated: 01/04/03)
Background and RPG Statistics by Kenneth Olson
Based on an original design presented in Macross Digital Mission VF-X
BACKGROUND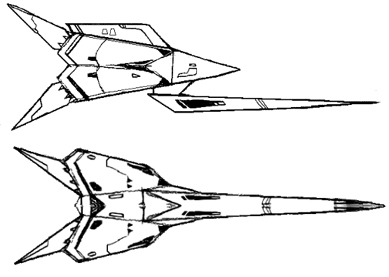 The Raulonve Fighter Pod was the standard aerospace fighter for the Imperial Zentraedi Forces until the end of the Robotech Empire. The Raulonve, like the Regult Tactical Battle Pod, was simple to operate, maintain, and easy to mass produce. REF intelligence estimates that over 500 million Raulonve Fighter Pods were produced throughout the Robotech Wars. Like all Zentraedi designs, the major fault in the standard Raulonve Fighter Pod was its lack of armor which is incapable of resisting damage from anti-mecha weaponry of any caliber. As the war with the Disciples of Zor and the continuing conflict with the Invid continued to drain away resources, the Robotech Masters could no longer afford their disposable Zentraedi mecha. They quickly came to the conclusion that in order to win, they must field higher quality units.
The Stealth Raulonve Fighter pod retains much from its earlier design, including the basic internal structure and relatively simple flight controls. Zentraedi warriors previous trained in the standard design could be quickly taught to pilot the newer stealthy version with under 5 hours of training. The newer design, however, is a major upgrade from the standard model and possess improved armor, weaponry, and a much reduced radar cross section. The new design mounts two single-barreled Makral Martszur Type 5A particle beam cannons on a strut coming out of the main body. Each particle cannon is capable of firing nearly twice the energy of the earlier Mk-3 models. The Stealth Fighter Pod mounts two Touwhaug Gativar-12 medium range missile launcher on the ventral and dorsal sides of the fighter. Each missile launcher can fire medium range Whernid Awhaug missiles in volleys up to three missiles, with an additional nine missile ready to fire.
The armor on the Stealth Fighter Pod is an advanced titanium alloy. Although, not capable of with standing the damage of contemporary Earth units, the Stealth Raulonve is resistant against all small arms and weaponry up to 20 mm in caliber. However, multiple hits from medium caliber weapons, such as the 55mm GU-11, or single shots from heavy weapons, such as the 120mm Smoothbore cannon on the Spartas Hovertank, will quickly destroy the unit. The unit is designed to have a reduced radar cross section and is covered with an advanced radar absorbing material which reduces the units radar cross section to approximately 5 dBsm at X-Band.
Unfortunately for the Robotech Masters, the depletion of resources caused by the incessant fighting made mass production of the Stealth Fighter Pod impossible. Only 45,000 units were produced from 1984 until production ended just prior to the departure of the Imperial Fleet in 2011. Nearly all of the Stealth Fighter Pods were destroyed during the Zentraedi Rain of Death on 18-April 2011; however, REF forces did encounter several units armed with Stealth Raulonve during the Sentinel campaign and subsequent mop-up operations.
RPG STATS
Vehicle Type: Stealth Raulonve "Stealth Fighter Pod"

Class: One person Zentraedi Aerospace Fighter
Manufacturer: Tirolian Empire
Crew: One pilot wearing Tactical Life Support System

Service History:

Stealth Raulonve: Served with the Zentraedi Imperial Forces from 1985 until 2011
MDC BY LOCATION:
| | |
| --- | --- |
| Location | MDC |
| Particle Beam Cannons | 50 each |
| Engine Thrusters (4) | 40 each |
| 1 Main Body | 100 |
		 
NOTES: 
Depleting the MDC of the main body will destroy the mecha.
SPEEDS:
FLYING:

Max level speed: 1300 kph at sea level (in Earth-like atmosphere)
Max level speed: 5800 kph at 40000m (in Earth-like atmosphere)
Stall speed: 250 kph
Initial climb rate: over 25,000m per minute
Service ceiling: Effectively unlimited, can enter into low orbit after completing combat missions in Terrestrial type atmosphere

DESIGNED G LIMITS:

+12.0/-6.5 (Computer overrides at 9.5g)

MAX ACCELERATION: SPACE

3.82 g

DELTA V:

10.7 kps with 10,000 kg of D20
Drop Tanks (although not normally used) will provide an additional delta v of:

1300 liters - 1.2 kps
2310 liters - 2.1 kps
4000 liters - 3.6 kps
STATISTICAL DATA:
HEIGHT

12.0 m

WIDTH:

12.0 m

LENGTH:

20.8 m

WEIGHT:

32,000 kg (empty)
41,000 kg (full load)

CARGO:

None

POWER PLANT:

Esbeliben 1.4 GGV Protoculture Furnace

MAX ENGINE THRUST

[Main] 4 x VARREBOTZS TYPE-57 PLASMA-SHOCK ENGINES: Four plasma-shock engines are mounted on the rear of the stealth fighter pod. Each engine has a maximum thrust of 350 kN of static thrust (450 kN augmented) in the atmosphere or 300 kN using internal reaction mass for spaceborne operations (specific impulse of 5000 sec).

FUEL CAPACITY:

50 standard canisters of protoculture

GENERATOR ENDURANCE:

30 days of continuous use

COMPATIBLE FAST PACKS:

None
WEAPON SYSTEMS:
2 x MAKRAL MARTSZUR-5A PARTICLE BEAM CANNONS: Two mk-5 single barrel particle beam cannons are mounted in radar stealthy mount projecting from the main body. Each cannon can fire 10 MJ bursts of energy once every two seconds out to a maximum combat range of turrets on either side of the main body. Each cannon can fire 10 MJ bursts of energy once every 2 seconds out to a maximum combat range of 5000 meters. In order to keep the developmental costs of down, the Mk-5a cannons are extremely similar to the Mk-5 found on the Stealth Regult. The only two major differences are: the Mk-5a are in a fixed mount and not capable of firing at independent targets, and second the Mk-5a have twice the number of columnating magnetic coils providing the much longer range.

PRIMARY PURPOSE: Assault/Defense
SECONDARY PURPOSE: Anti-mecha
RANGE: 5000m
DAMAGE: 1D4*10 per cannon or 2D4*10 MDC for a dual burst.
RATE OF FIRE: Equal to the pilot's combined hand to hand attacks up to 8 shots per melee.
PAYLOAD: Effectively Unlimited

2 x TOUWHAUG GATIVAR-12: Like the standard fighter pod, the stealth version mounts two missile launchers on dorsal and ventral surface of the pod. Each launcher can fire up to three medium range Whernid Awhaug missiles with an additional nine missiles in a ready position.

PRIMARY PURPOSE: Assault
SECONDARY PURPOSE: Anti-mecha
RANGE: Varies with missile type (typically 100 km)
DAMAGE: Varies with missile type (2D6*10 for plasma)
RATE OF FIRE: Volleys of 1 to 3 missiles per launcher.
PAYLOAD: 12 missiles Whernid Awhaug medium range plasma missiles per launcher, although any medium range missile can be substituted.

2 x VBPS2-SS CHAFF/FLARE DECOY DISPENSERS: Two chaff flare decoy dispensers are located in the rear of the aircraft. Each dispenser can hold up to 50 decoys apiece with the standard load out consisting of 50% chaff bundles and 50% flares. The type and number of each decoy is triggered manually by the pilot.

PRIMARY PURPOSE: Anti-missile
RANGE: 100 m
RATE OF FIRE: Up to 10 decoys per attack
PAYLOAD: 50 decoys per dispenser
NOTES: In game play only chaff bundles will affect RF missiles and flares affect IR missiles. The player must declare after the missile strike, without knowledge of the natural strike roll of the missile attack, which type of decoy he is deploying. For each effective decoy deployed subtract -3 from the natural die roll for dumb missiles (those with strike rolls +2 or less), -2 from the natural die from for standard missiles (+3 to strike), -1 from the natural die roll from intelligent missiles (+4 or greater to strike). If the natural die roll, with out any strike bonuses added falls below +5 then the decoys are effective and the missile(s) will miss their intended target.

HAND TO HAND COMBAT: Although not suited to hand-to-hand combat, the Stealth Fighter Pod can ram or block enemy targets.

Ram: 2D6*10 MDC (destroying the pod in the process)
Body Block: 6D6 MDC

STANDARD EQUIPMENT FOR STEALTH RAULONVE:
ACTIVE SENSOR JAMMER VBPS2-SS: Although not normally used as it would remove its stealthy features, the Stealth Fighter Pod has an internal ECM providing broadband protection. Estimated system effective radiative power 40 dBW.
CHAFF AND FLARE DISPENSERS VBPS2-SS: 50 chaff and 50 flares are stored in rear of the fighter.
COMBAT COMPUTER: The combat computer tracks and identifies specific enemy targets, and has a database of over 1,000 images stored in memory. The computer can identify and track up to 48 targets simultaneously.
EXTERNAL AUDIO PICKUP: A sound amplification system that can pick up normal conversation up to 300 feet away.
INFRA-RED WARNING RECEIVER VBPS2-SS: Providing rear aspect protection from IR guided missiles
HEAT AND RADIATION SHIELDS: Special shielding prevents the penetration of life threatening heat and radiation. A radiation detection and alarm system are linked with the shields and will sound an alarm if there is a rupture in the shields and what the levels of radiation are.
LASER TARGETING SYSTEM: Range 50 miles (160 km). Used for increased accuracy in the striking of enemy targets and is partly responsible for the mecha's strike bonus.
LOUDSPEAKER: A loudspeaker system is built into the craft, which can be used to amplify the pilot's voice up to 90 decibels.
OPTICS (NIGHTVISION): Range 1000 m. A passive light image intensifier that emits no light of its own, but relies on ambient light which is electronically amplified to produce a visible picture.
OPTICS (THERMAL IMAGER): Range 1000 m. A passive optical heat sensor that detects infrared radiation projected by warm objects and converts that data into a false-color visible image. The system enables the pilot to see in the dark, in shadows, and through smoke, and also adds a +10% bonus to pilots using a tracking skill.
OPTICS (VISUAL): Telescopic optics (x10 magnification) and comes with a multi-band digital camera.
RADIO/VIDEO COMMUNICATION: Long range, directional communications system with satellite relay capabilities. Range: 600 miles (960 km) or can be boosted indefinitely via satellite relay.
RADAR: The Stealth Fighter Pod possesses a short range radar X-band pulse Doppler radar. Detection radar against 0 dBsm target 90 km. System consists of conformal antenna on the main body and legs of the mecha thereby reducing the passive radar cross section.
RADAR WARNING RECEIVER VBPS2-SS (RWR): Providing all aspect broadband protection from RF guided missiles.
RADAR EM-ABSORBING SKIN COVER: The unit is covered with a radar absorbing material which absorbs EM radiation from radio through ultra-violet wavelengths, and emitting only weakly in these bandwidths. This reduces the detection range of conventional radar systems to 10% of nominal.
TACTICAL LIFE SUPPORT SYSTEM: The Stealth Raulonve cockpit is pressurized, and also provides additional air feeds to the pilot's flight suit that provides him with pressurized breathing. Zentraedi armor also contains an upper and lower g-suit that promotes blood circulation even during high-g turns, thus decreasing the possibility of pilot's blacking out in combat.
---
COMBAT BONUSES FOR STEALTH RAULONVE:
2 attacks per melee (plus those of the pilot)
+2 to roll with the punch
+2 to strike
+5 to dodge
Critical strike are the same as the pilot's hand to hand
One additional attack at level 5 and 10
---
Random Hit Locations
When there is an equal chance of hitting both sides from 1D6
1-3 hits the right side
4-6 hits the left
When there is a preferred side, roll 1D10
1-8 hits the preferred side
9-10 hits the opposite side
| | | | | | |
| --- | --- | --- | --- | --- | --- |
| Stealth Fighter | FRONT | BACK | SIDES | TOP | BOTTOM |
| Particle Cannons (Main Body) | 01-20 | 01-10 | 01-30 | 01-25 | 01-35 |
| Engine Thrusters (Main Body) | 21-31 | 11-60 | 31-50 | 26-50 | 36-55 |
| Main Body | 31-00 | 61-00 | 51-00 | 51-00 | 56-00 |
---
SOURCES USED IN CREATION OF DOCUMENT
---