"Where we perform the impossible"

History of Players

Members:
Active Forces

Reserve Forces

Staff Sergeant (E7) Alec Halvord (6th Level REF Veritech Pilot)
Corporal Kenneth (E5) "Robotech-Master" Olson (2nd Level Field Scientist)

Members in the Hall of Honor

1st Lt. (O2) Geoff Tyner (KIA)
Staff Sergeant (E7) Jensen Brent (missing presumed dead)
Staff Sergeant (E7) John Whitehawk (KIA)
Sergeant (E6) Charles Doane (KIA)
Corporal (E5) Compet (MIA)
Private First Class (E3) Steve "The-Blade" Steel (KIA)
Private First Class (E3) Dead-Sucker I (KIA)
Private First Class (E3) Kyle Wallace (KIA)
Private Second Class (E2) Ryol Wallace (KIA)
Private (E1) Dead-Sucker II (KIA)

Current Mission:
Date: 21 January 2030

Location: South America, RDF sector headquaters Juaquin

Mission: Prevent the Mechant Republic from taking RDF sector headquaters at Juaquin

Previous Missions Kill Sheet (13 June 1998):

Major David Olson - 2 Commanchero and 3 L.V.T.
Staff Sergeant Milo Bloom -None
Staff Sergeant Daran Solarian - 2 L.V.T's and 1 MIG-29
Sergeant Eirn Adkins - None
Sergeant Schelp - 1 Commanchero, Howard LH-2000 and 1 L.V.T.
Private Gabriel Prescot - None

Next Meeting: Saturday June 21, 1998 at 3026 Aspen Ct.

Pictures of Gaming Sessions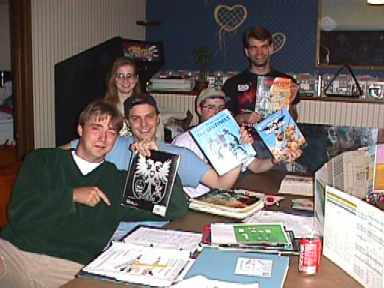 Rogue Squadron Hard at Work
May 2, 1998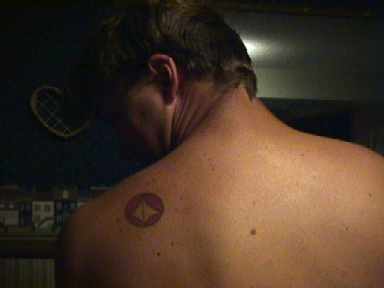 Milo Bloom shows his team spirit!

Comments or Questions? E-mail